ECHL
Reading Royals Celebrate Hockey's Return After Opt-Out
Reading Royals Celebrate Hockey's Return After Opt-Out
The Reading Royals have competed in every season since 2001. This is what happened when the team opted out of the 2020-21 season.
Oct 14, 2021
by Jason Guarente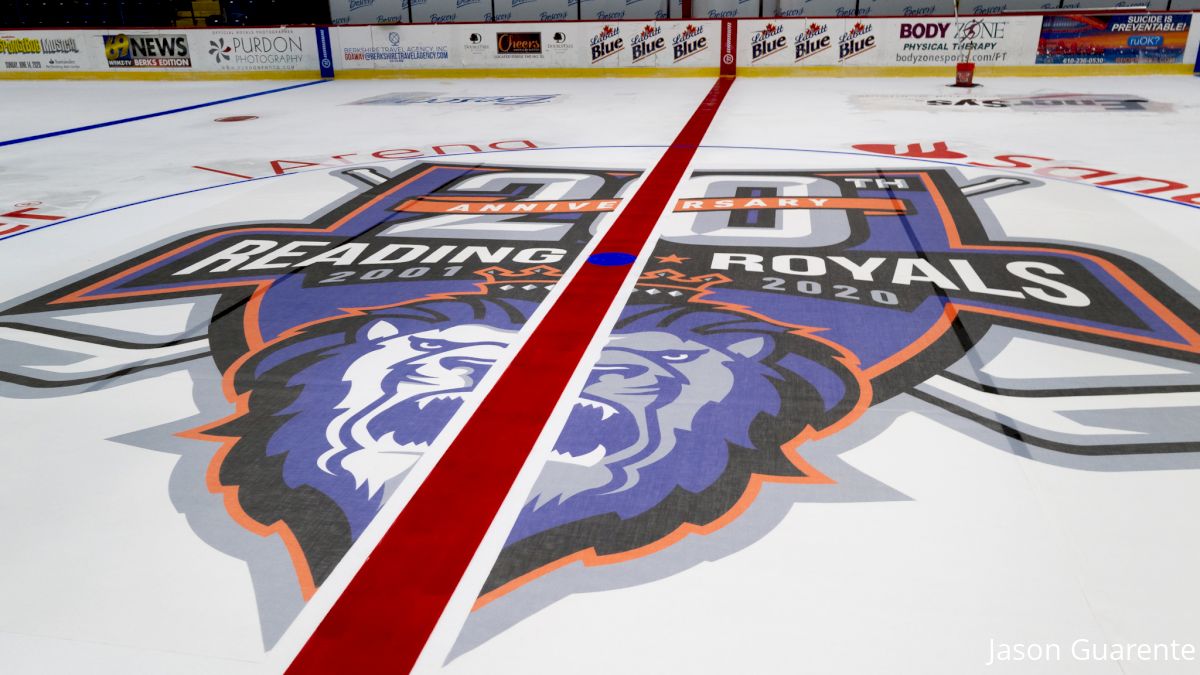 The trip from head coach Kirk MacDonald's office to the rink requires two quick turns. First, a left down a hallway that celebrates the Reading Royals' players who have reached the NHL; then a right up the tunnel to the bench.
MacDonald has taken those steps a thousand times in his nine seasons as a Royals forward, assistant coach and head coach. If it was any day between October and April, he knew what he'd find at the end. A practice. A game. The ice.
Until, suddenly, all of those things were gone. There was no longer a reason to even make that trip.
"It was pretty depressing," MacDonald said of his time away from hockey. "It was dead here. There was nobody around."
Once the Royals opted out of the 2020-21 season, MacDonald was thrown into a surreal solitude. There weren't any games for 18 months. There was no team to build and no expectation to compete.
MacDonald still visited Santander Arena for his workouts. He flipped on the emergency lights so he could run the stairs and the concourse. He sprinted past the beer and hot dog stands that were no longer angling for a sale.
Then the emergency lights went off and the coach went home.
"The hot water in the shower didn't even work half the time," MacDonald said. "I took a lot of cold showers after my workouts. There was nothing much going on."
The Royals' last game was a morning matchup at Wheeling on March 10, 2020. Hayden Hodgson and Thomas Ebbing each scored twice and the Royals won 5-1.
No one thought much about it at the time. The team made the 300-mile trip to Reading and prepared for a Saint Patrick's Day celebration that would never take place. The COVID-19 pandemic abruptly canceled the rest of the ECHL season and the Royals melted the green ice they were about to unveil.
Hockey has been gone from Santander Arena ever since. The players went their separate ways, some resurfacing with other ECHL teams, some heading overseas, some retiring. MacDonald went into a kind of purgatory.
"During the winter it was so far away it didn't even register as far as counting down to next season," MacDonald said. "It was just getting up and trying to have a routine."
MacDonald and assistant coach Nick Luukko, now Jacksonville's head coach, were still getting paid. They tried to make their time valuable. They broke down mountains of video. They studied how other teams played. They tried to learn as much as they could outside of their own systems.
The Royals' affiliates, the Philadelphia Flyers and AHL Lehigh Valley Phantoms, were close enough that the coaches could attend every home game. They felt like they were still part of the organization even if they weren't shuffling players back and forth down Route 222.
"I think we learned a lot," MacDonald said. "It was just a long time to learn and not work."
It wasn't until the summer, 16 months after that Wheeling win, that MacDonald's routine returned to normal. Players could officially sign on July 9 and another roster could be constructed. The Royals quickly had 13 players under contract.
When the first day of practice finally arrived this month, it was like no other.
"Everybody has been eager to get back," MacDonald said. "It's been fun. It was the best opening of training camp I've ever seen for this league. Guys were snapping around. I didn't have to stop any drills. It was crisp. That's obviously reason for optimism. We'll see where it goes."
The Royals' opener is Friday, October 22, against the Norfolk Admirals, with a home opener the following night. Fans will soon file through the gates and experience the sights and sounds of the place they've called home for 36 dates each year. They'll put on their novelty jerseys, sway to their goal song and yell at the referee.
MacDonald will take those two turns from his office, one left and one right, and find his way back to the ice.