Men's Big Ten Hockey
CCHA Reasons To Watch: Notre Dame Vs. MTU; Lake State Vs. St. Thomas
CCHA Reasons To Watch: Notre Dame Vs. MTU; Lake State Vs. St. Thomas
This week, Notre Dame takes on two great Michigan programs, Bemidji plays North Dakota, and Lake Superior clashes with a newly-minted Div-I program.
Oct 14, 2021
by Tim Rappleye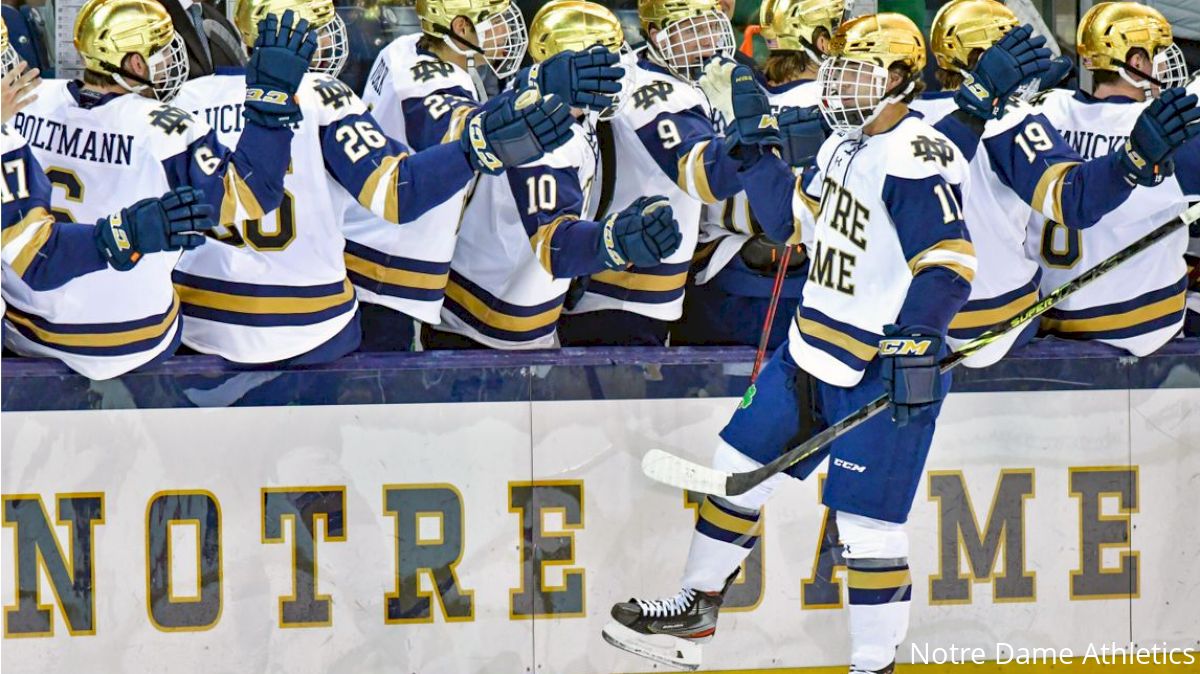 College hockey reuturns and so does inter-conference play.
The tastiest matchup is Friday Night out on the Keweenaw Peninsula, as Michigan Tech hosts the golden domers of Notre Dame. Fighting Irish coach Jeff Jackson has been partial to Michigan's Upper Peninsula since coaching Lake Superior to three straight NCAA title games in the '90s. He maintains a summer home in St. Ignace, and always keeps room on his schedule for U.P. Teams. In 2019-20, the last year of true inter-conference play, his Irish swept a pair from Lake State, and cut down Northern Michigan the year before. But on Friday, Tech hopes to ambush the No. 17-ranked Irish after their eight hour bus ride from South Bend.
The Huskies come off an historic sweep of Wisconsin in Madison, puncturing the national rankings with their upset of then No. 13 Wisco. It was a series in which Joe Shawhan's veteran club appeared to be in mid-season form: near perfect on special teams, elite goaltending, and deadly sniping. The Pietila twins were a fraternal wrecking ball in Mad-Town, shredding the Badgers on both ends of the rink.
Notre Dame will be formidable, their lineup is littered with familiar names who have carried the Irish deep into the NCAA postseason: Cam Burke, Landon and Graham Slaggert, along with nationally-recognized goaltender Matt Galajda.
But Notre Dame's dominance over the clubs now wearing the CCHA patch will be severely tested Friday Night. A classic sports axiom is not who you play, but when you play them. This is precisely the wrong time to be playing Michigan Tech.
Two Nights, Two Michigans
A night later, Notre Dame commutes 90 miles east to Northern Michigan, where a loaded Wildcat squad awaits. Cats coach Grant Potulny remembers well his club's painful 2018 loss in South Bend, his second year as a head coach.
Unlike past years, his Wildcats have layers of scoring depth filtering through four lines. Northern blistered the St. Thomas defenders for a dozen goals last weekend, spoiling the CCHA coaching return of Enrico Blasi. And, for the first time since the loss of Finnish star Atte Tolvanen, Potulny has a goalie he can trust in sophomore Rico DiMatteo.
Despite Northern's recent success, Notre Dame should regroup before busing south to Indiana. Potulny claims that success in hockey translates to "winning the race to three." The Irish will win that race, and the game.
Bemidji Takes On North Dakota
No. 20 Bemidji State hosts No. 7 North Dakota Friday in a battle of ranked teams, a traditional North Country autumn matchup. Bemidji has had recent success against national power North Dakota, thanks to outstanding play in goal from the likes of departed seniors Zach Driscoll and Henry Thomas. Driscoll is now wearing the other green uniform in Friday's return to the Sanford Center in Bemidji, giving the visiting Fighting Hawks a distinct advantage.
Lake State Clashes With The Tommies
Finally, Lake Superior hosts St. Thomas on a banner-raising night for the WCHA tournament champions. The Lakers will likely prevail in what should be a fabulous hockey jamboree in old Taffy Arena. But, Blasi's Tommies have shown to be a plucky bunch, competing and even challenging the likes of No. 2 St. Cloud and Northern Michigan in each of their last three games.