NCAA DI Men's Hockey
CCHA Reasons To Watch: MNSU Vs. St. Cloud; Bemidji St. Vs. Duluth
CCHA Reasons To Watch: MNSU Vs. St. Cloud; Bemidji St. Vs. Duluth
CCHA Week 2 brings fans some tasty matchups including the mirror-image clash of Minnesota's two supreme defenders and the collision of two No. 1 squads.
Oct 6, 2021
by Tim Rappleye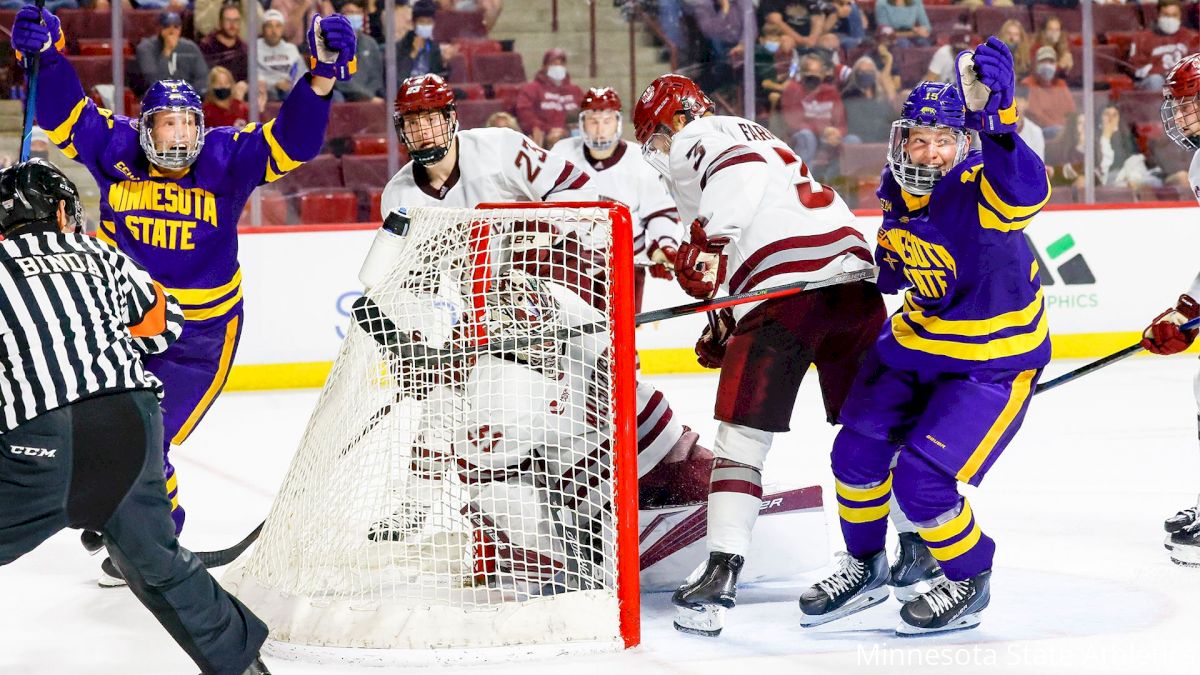 Week 2 in the CCHA brings fans a tripleheader of tasty matchups: the mirror-image clash of Minnesota's two supreme defenders; the return of a CCHA coaching giant; and the collision of two No. 1 squads, a series that should settle all debates as to who is the premier team in college hockey.
No. 1 Minnesota State Vs. No. 1 St. Cloud State
It is college hockey's October answer to Ali-Frazier I, a clash between two number ones: Minnesota State, who sits atop the USCHO poll, versus St. Cloud State, who rides the top spot in the USA Hockey/USA Today rankings. Adding to the intrigue of this matchup is the fact that the last time they played was in the Frozen four semifinals, a scintillating game that featured two lead-changes in the dramatic final stanza. If this weekend's series in Mankato even approaches the level of excellence we saw last April in Pittsburgh, FloHockey fans will be in for a rare regular season treat.
Storylines emerging from the MNSU camp are:
Senior goalie Dryden McKay's relentless march on the NCAA's all-time shutout record of 26, held by former Michigan State star Ryan Miller. McKay notched his 25th whitewashing against defending national champ UMass last Saturday.
Junior Nathan Smith's version of the Broadway hit A Star Is Born.
The sustained excellence of German-born senior Julian Napravnik, last year's player-of-the year in the old WCHA.
A battle of two undefeated clubs, both with legitimate claims of being No. 1. Echoes of Ali-Frazier from the archives.
The Return Of Rico
He describes his return to coaching in the CCHA as if it were "some kind of dream." Rico Blasi, a coaching giant from the old CCHA, returns to the league he once dominated with the Miami Redhawks. His coaching resume is simply prodigious: 10 trips to the NCAA's; consecutive Frozen Fours; four-time CCHA coach of the year. Even his one trip to the national championship was unforgettable—a two-goal lead with barely a minute to play before falling to Boston University in 2009, somehow maintaining his composure and providing a safe landing spot for his bewildered players.
After a two-year absence from the bench, Blasi returns with the fledgling St. Thomas Tommies. The team is two games into their Div-I maiden voyage. Blasi's stated goal is to build the hockey culture at St. Thomas, but coaches are born to compete. His Tommies shaved off 10 goals from Game 1 to Game 2 versus powerhouse St. Cloud last weekend.
Northern Michigan coach Grant Potulny has no intention of falling victim to Blasi's first scalp as a Tommy. The Wildcats finally have both the scoring depth and the solid goaltending Potulny has been yearning for since his arrival at Northern four plus years ago. Fans of on-ice creativity will likely be dazzled by veterans Andre Ghantous, AJ Vanderbeck and Joe Nardi.
The Berry Event Center should be loud and inhospitable for Blasi and his Tommies this weekend, just the way he likes it.
Duluth Versus Bemidji: A Look In The Mirror
Tom Serratore (Bemidji) and Scott Sandelin (Duluth) are part of the fabric of Minnesota hockey, and they owe their coaching success to their respective blue-collar labor forces. Although Sandelin has ridden his gritty defense-first style to three national championships, everyone in the State of Hockey also respects Serratore, and offensive finesse players hate wading through the layers of defense Bemidji teams are known for.
Last year's NCAA tournament was a fitting showcase for both squads. In the Northeast regional Serratore devised a winning game plan to stifle Big 10 champion Wisconsin, while out west Duluth used five overtimes to snuff out the championship hopes of North Dakota.
Both sets of defenders resemble anacondas, squeezing the air out of opposing offenses, and eventually scoring on counter-rushes against exhausted defenders. For fans of defensive hockey, honest man-to-man, in-your-sweater defense, then tune in to Duluth vs. Bemidji this weekend for a two-game grind. But don't forget to print out your rosters beforehand, because these two clubs will be hard to tell apart.