Men's CCHA Hockey
CCHA RinkRap: Ferris State "Off The Schneid"; MNSU's Rollerblader
CCHA RinkRap: Ferris State "Off The Schneid"; MNSU's Rollerblader
Ferris State is "Off the Schneid" after 20 long months and a rollerblader from Florida helped the Mavericks slay a dragon in UMass.
Oct 5, 2021
by Tim Rappleye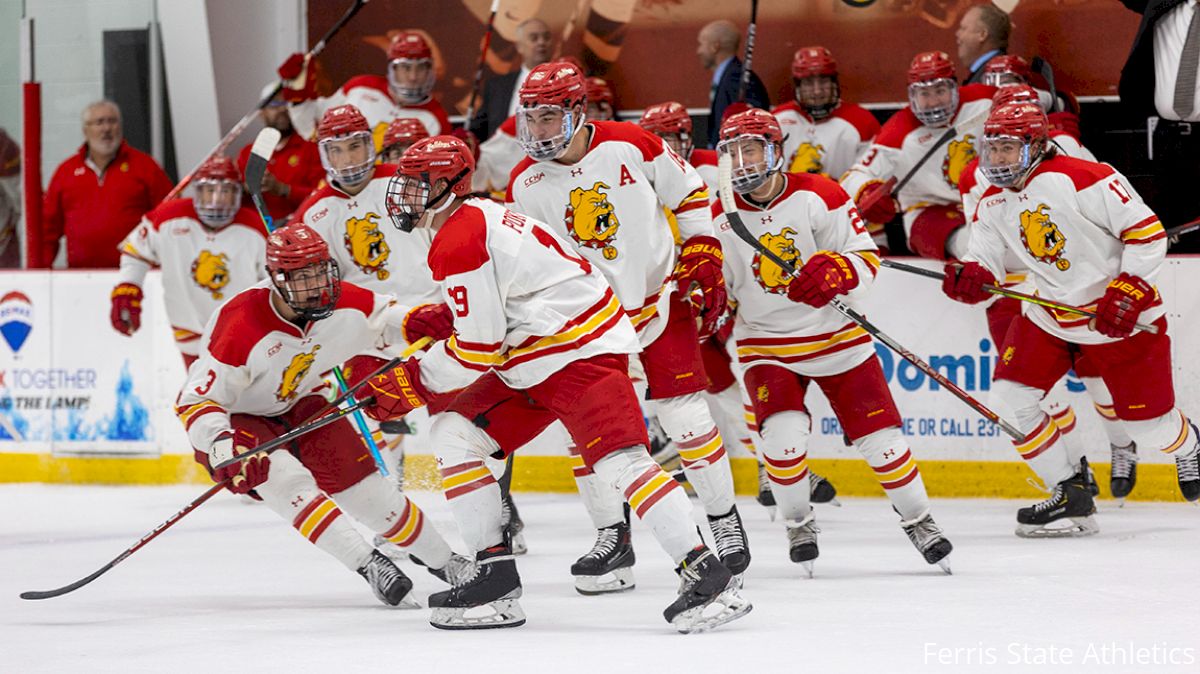 This week on CCHA RinkRap: Ferris State's wise elder is "Off the Schneid" after 20 long months; a rollerblader from Florida helped the Mavericks slay a dragon in Massachusetts; and CCHA clubs bask in the return of the Pairwise.
Daniels And Ferris "Get off the Schneid"
"Getting off the Schneid." It's one of USA's more amusing sports expressions, immortalized by Chris Berman on ESPN. We inherited it last century from German Americans living in NYC, who brought it over from old Europe. "Schneid" is the German word for tailor, and it became a parlor term for a card game in which you tried to avoid points. "Getting off the Schneid" meant finally ending a pointless streak, which was what Ferris State did Sunday evening, winning their first Div-I game since January 25, 2020 by beating Miami (OH) in overtime. Relieved coach Bob Daniels was asked if he was familiar with the term "Off the Schneid" in the post game press conference.
"Yeah, yeah," said Daniels with a smile, glad to have ended his streak of 33 straight Division I games without a victory. This for a man who is fourth in all-time wins of any active D I coach. Daniels, however, insisted that he did not feel the "weight of the world" on his shoulders these past 20 months.
"Never, not last year, not whatsoever," said Daniels. "I would have, if it had a bad smell to it. I know it sounds bizarre, but it [last season] had a good feel to it; never a day where there was lack of effort." Daniels, in his 30th year at the helm of Ferris, might not have felt any pressure from the infamous streak, but his Bulldogs responded to Stepan Pokorny's OT thriller Sunday like it was a World Series walkoff homer.
.@FerrisHockey Stepan Pokorny's Shorthanded OT winner Sunday vs Miami gives Ferris their first Div I victory in 20 months #OffTheSchneid pic.twitter.com/0nCbuwfzUu

— Tim Rappleye (@teeraps) October 4, 2021
"Poky 'Bright-Lights' got the winner," said the amused coach. And although Pokorny's celly looked like a perfect 10, the sophomore insisted it was improvised. "I was trying to do something completely different," said Pokorny in his press conference debut, the Bulldogs first victorious home presser since December 2019.
Daniels is convinced 2020-21 was an aberration. "We were a beer league team last year," said Daniels, referring to his club's lack of gym time due to COVID protocols. "We weren't strong, we weren't fast, and we knew it. We did fat-testing on the team when the year was over; it was astronomical compared to most years."
This season is different, and Daniels isn't alone in that opinion. "This [version] is like the Ferris teams of old," said Miami assistant Barry Schutte, who spent a decade coaching BGSU's special teams against Daniels' Bulldogs. Three of those Ferris teams went deep into the NCAA tournament in the 2010's.
"We had a little better mental fortitude," said Daniels of his squad's resolve Sunday night, twice coming back from one-goal deficits to secure the victory and finally get off the schneid. The 62-year-old Daniels embraces the challenge of turning this club around.
"I like our chances of being good by the end of the year."
A Florida Roller-Blader Restores The Roar
College hockey fans have witnessed the dominance of Minnesota programs since the beginning of this century. Two clubs, the Gophers and Duluth, have both repeated as national champs in that time. Minnesota-born players far outnumbered any other state in last year's NCAA tournament, and three members of the Frozen Four were schools from the State of Hockey.
Yet the University of Massachusetts knocked off both Duluth and St. Cloud en route to the 2021 national title, leading to its sold out banner-raising party Saturday in Amherst. The Minutemen probably should have re-considered the guest list. Mike Hastings' Mavericks spoiled the party, taking care of some unfinished business by sweeping the top-ranked Minutemen, throwing cold water onto the UMass coronation.
"I hate the fact that everyone calls it an upset because of the opinion of 30 random people that ranked UMass higher than Minnesota State," said Adam Wodon of College Hockey News. "Why was that so surprising? They [MSU] were a Frozen Four team with a lot of players back."
One player in particular, Nathan Smith, scored a pair of goals in a breathtaking comeback by Minnesota State in Saturday's finale, as the Mavericks shocked the Amherst faithful with six consecutive tallies in the 6-3 smackdown.
"I think the turning point in the game was Nathan Smith's [first] goal," said Hastings to the Mankato Free Press in the post-game. "He put an imprint on tonight's game… a special player."
Smith is approaching the zenith of the sport: a member of the 2021 Frozen Four All-Tournament Team; the CCHA coaches pre-season Player-of-the-Year; the guy who restored the swagger to Minnesota's college hockey nation this past weekend. But unlike so many Minnesota college studs, he's neither from the Iron Range nor the suburbs abutting Lake Minnetonka. He's from the Tampa-St. Pete region in steamy Florida. There aren't ten thousand frozen lakes in which to polish his craft like there are in Minnesota. The west coast of Florida is a sea of asphalt, miles of it surrounding all those marinas and highways. And that's exactly where Smith grew to love hockey, albeit a slightly different version.
Smith grew up on eight wheels, playing roller hockey both formally and informally, seeding all that creativity and scoring touch that torched UMass this past weekend and St. Cloud in the national semifinals.
"His hockey IQ is through the roof," said fellow Maverick Lucas Sowder in an interview with The Rink Live. "He sees so many things on the ice that other people don't." Sowder knows first-hand about how Smith honed his hockey vision: the two pals spent their first five years of organized hockey—on wheels—in Tampa's youth roller leagues.
So it wasn't a former Mr. Hockey from Hermantown who restored the natural order of Minnesota-first in the NCAA this past weekend, it was the pride of Tampa's in-line snipers who slayed the UMass dragon in its own lair. Minnesota State junior Nathan Smith is undoubtedly a skater on a roll.
Return Of The Pairwise
Due to the lack of non-conference play in college hockey last season, the NCAA tournament committee was forced to return to the proverbial smoke-filled room to determine who would qualify for the national tournament.
"Last year was a perfect one-year demonstration of why it's more bad than good to have that kind of stuff," said CHN's Wodon, "the unhealthy debates, the unseemly politicking."
This season marks the return of a tool with no human bias to determine who participates in the national tournament: the pairwise ranking system. And the key to gaming that system is to win your non-conference games, especially against teams from power conferences like the NCHC and Hockey East. Although one weekend will not make or break any program, the CCHA shined on Saturday and Sunday's non-conference scoreboard. In addition to the aforementioned success of Ferris and Minnesota State, a critical result crossed the wires around bedtime Saturday night: Lake Superior State stunned Omaha in overtime, taking out a top-four team from the vaunted NCHC.
Wodon, an authority on the Pairwise, is never one to get carried away by early results. But he gave grudging respect to the CCHA for it's body of work this past weekend. "Beating NCHC schools can't hurt; any win helps. And Lake Superior on the road is even better."
The fact that the Ferris and Lake State wins were in overtime diminishes their impact somewhat. Wodon pointed out that OT victories, although considered official wins on one's record, are only counted as 55% of a victory in the Pairwise computer.
There was nothing to mitigate the impact of Minnesota State's road sweep against an elite Hockey East school—it pinned the Pairwise meter, especially if UMass notches some quality wins this season, which it most assuredly will.
For CCHA fans who don't care about computer science until midway through March, they can immediately see the impact of the Mavericks power sweep in the latest major polls: No. 1 in USCHO; No. 2 in USA Hockey/USA Today.
For coach Hastings, Sunday was a night to savor, but then it's on to Mankato to face St. Cloud. "It was a good weekend, a good start. But that's just what it is, it's just a start."