2021 Northeastern vs Holy Cross - Men's
Holy Cross Hosts 2021 Ice Breaker Tournament
Holy Cross Hosts 2021 Ice Breaker Tournament
On October 8th and 9th, Atlantic Hockey's Holy Cross will host Boston College, Quinnipiac, and Northeastern for the 25th 'annual' Ice Breaker Tournament.
Oct 4, 2021
by Jacob Messing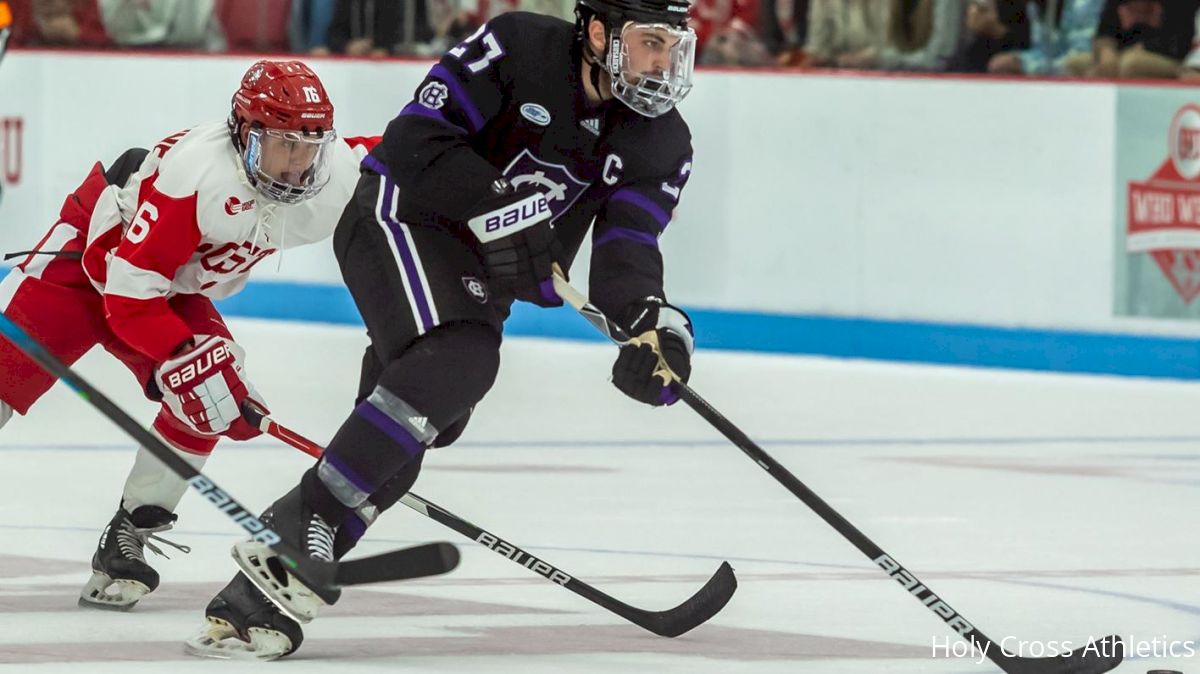 The 2021-22 NCAA hockey season is here and the Ice Breaker Tournament is returning after the 2020-21 hiatus.
Over the weekend of October 8-9, Atlantic Hockey's Holy Cross will host no. 7-ranked Boston College, no. 9-ranked Quinnipiac, and Northeastern for the 25th 'annual' Ice Breaker.
Holy Cross last played in an Ice Breaker in 2010, despite two losses, the Crusaders finished in third place among Wisconsin, Notre Dame, and tournament champion Boston University.
"I'd like to thank College Hockey Inc., and the Hockey Commissioners Association for the opportunity to bring this great event to Worcester," Holy Cross Director of Athletics Marcus Blossom announced back in February. "We look forward to hosting three of the nation's top teams at the Hart Center and to providing a unique game day experience to jumpstart the 2021-22 hockey season."
The tournament returns to Massachusetts for the first time since 2008, when Boston University hosted and claimed the title.
Join us as we welcome @BCHockey, @GoNUmhockey and @QU_MIH to the DCU Center on October 8-9 for the Ice Breaker Tournament!

Reserve your seats today at https://t.co/ncC2HiepbQ#GoCrossGo pic.twitter.com/wCOVOy6DR8

— Holy Cross Athletics (@GoHolyCross) September 27, 2021
The Crusaders are coming off a difficult 4-12 season that handed them an inconsistent schedule due to COVID protocols and saw them lose seven total games against Army West Point, AIC, and Quinnipiac, the latter two earning bids to the National Tournament.
Enter new head coach Bill Riga, who takes over after 13 years as an associate coach with Quinnipiac. Riga's long tenure with the Bobcats included reaching the championship game in both 2013 and 2016. The Crusaders will play Northeastern on Friday, Oct. 8 and Boston College on Saturday, Oct. 9.
Catch each of the Crusaders' two scheduled games against Northeastern and Boston College live, right here on FloHockey over the weekend.
Quinnipiac will be tasked with offsetting the loss of goaltender Keith Petruzzelli (1.89 GAA, .926 SV%) after he backstopped the team to a 17-8-4 record last season. Additionally, forward Odeen Tufto is gone. Tufto's 47 points (8 G, 39 A) placed him second to only Hobey Baker winner Cole Caufield in NCAA scoring last season.
Quinnipiac is playing in its first Ice Breaker and represents the ECAC's first trip since Union played in 2017. The Bobcats will face Boston College on Friday, Oct. 8 and Northeastern on Saturday, Oct. 9.
Meanwhile, the eyes of Massachusetts will be on Boston College, which is coming off a 17-6-1 season that ended with a 4-1 loss to St. Cloud State in the national tournament's regional semifinals. The Eagles will play Quinnipiac on Friday, Oct.8 and Holy Cross on Saturday, Oct. 9.
Boston College will be playing in their sixth Ice Breaker Tournament and have claimed the title three times (1998, 2003, and 2011). The Eagles will be without several key players form 2020-21, including forwards Alex Newhook and Matthew Boldy, and Hobey Baker finalist, goaltender Spencer Knight (16-4-1, 2.18 GAA, .932 SV%).
As the fourth team, Northeastern is coming off a 9-9-3 season, a far cry from their 18-13-3 season of 2019-20. With the bulk of the roster, and key pieces, returning in 2021-22, the Huskies could use the Ice Breaker as a statement on their revenge tour.
With a potent, deep offense, the question for the Huskies will be in their own zone—the team will go as far as its defensive systems take them. The Huskies will play Holy Cross and Quinnipiac on Friday, Oct. 8 and Saturday, Oct. 9.
The NCAA has also announced that over the weekend of October 15, no. 6-ranked Minnesota Duluth will host no. 3-ranked Michigan, no. 5-ranked Minnesota State, and no. 12-ranked Providence for a second Ice Breaker in 2021 as a means to offset last season's cancellation.
---
Have a question or a comment for Jacob Messing? You can find him on Twitter @Jacob_Messing.