ECHL
After Four Seasons Abroad, Shane Harper Joins Adirondack Thunder
After Four Seasons Abroad, Shane Harper Joins Adirondack Thunder
Harper, who had a stint with the Florida Panthers, will be heading back stateside after spending the last few seasons in Sweden and the KHL.
Sep 30, 2021
by Mike Ashmore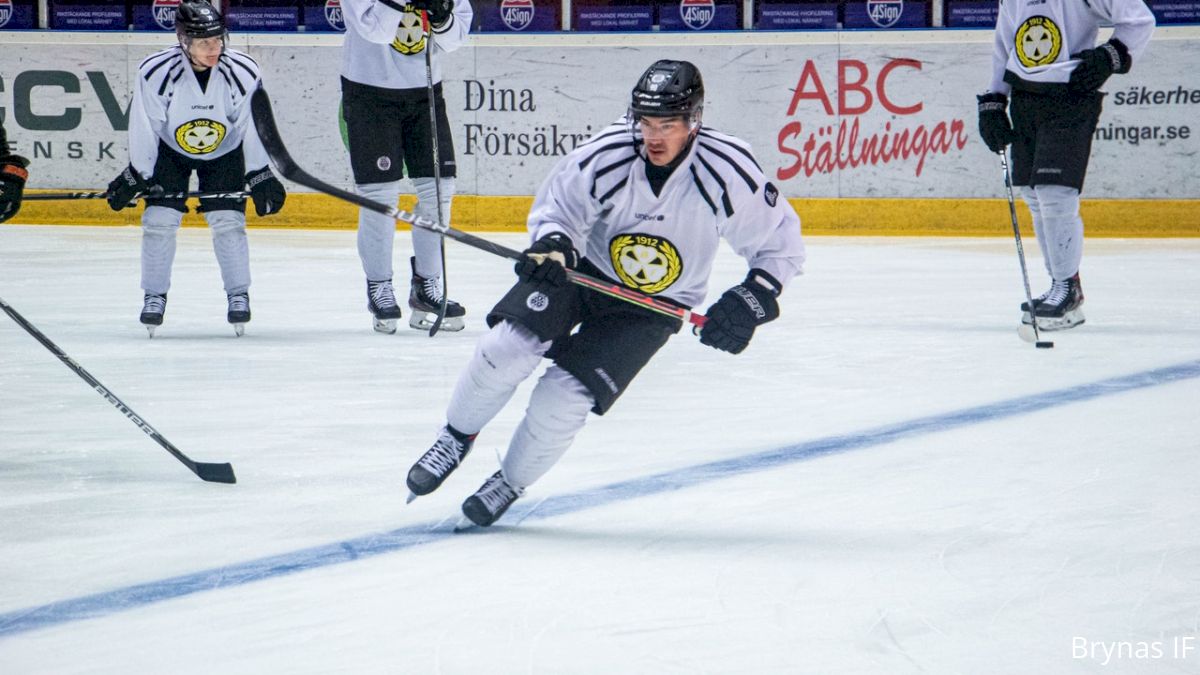 For a player who's reached the heights that Shane Harper has, you might imagine it would be a tough sell for an ECHL team to bring him in.
Think again.
In fact, not only was it an easy decision for the Adirondack Thunder to realistically pursue the former Florida Panthers forward, it was just as easy for the 32-year-old to, on paper at least, to make his return to the area for the first time since the 2012-13 season when he played for the now-defunct AHL team Adirondack Phantoms.
Harper met his wife, Megan, when playing for the Phantoms, and the couple have called the Adirondack area home awhile now. After spending the last four seasons in Europe—one in the KHL and the last three in Sweden—the California native was anxious to play closer to home and spend more time with their one-and-a-half-year-old daughter.
The Thunder became the perfect fit.
"I think it was just that time where I knew I didn't want to be traveling over there anymore, and it would just be easier on the family," Harper recently told FloHockey via cell phone.
"I did love it over there, I really did, but I think it came to that time where, I'm getting a little bit older, but I still feel like I can play really well, so I didn't want to quit, but it was just time to make it easier on everyone and come closer to home. Having a team literally in our backyard, it was an easy decision for me to play in front of family and friends and how much fun that's going to be. I'm probably as excited as I've ever been going into a year."
It'll be fun for Thunder fans as well, who are getting a skilled veteran who can still contribute at a high level, not far removed from a 14-game stint in the National Hockey League during the 2016-17 season, as well as 368 games worth of experience in the AHL.
But it's the ECHL where Harper really cut his teeth early in his career, showing that he was the kind of premium scorer who deserved an opportunity at the game's highest two levels; he potted 22 goals and 23 assists in just 48 games with the Greenville Road Warriors during his first full professional season in 2010-11, and also posted an incredible 27 points in 15 games with the now-defunct Trenton Titans two seasons later.
"I think just in terms of, it was the AHL still, it's harder to pick your team and where you're going to go, so I think I had a little bit more control over getting to talk to (head coach) Alex (Loh) and saying that this was what I wanted to do and that I wanted to come play for you guys," Harper said.
"It made the transition (to coming back to the ECHL) easier. The fact that I've already played in the league, I'm confident that I'll have a good year. I've heard multiple times that since I've been there that it's gotten more skilled and faster, and I can imagine. Most leagues have. I'm definitely not taking it lightly. I have had a lot of success, but I still don't think people give the ECHL enough credit, mostly because they just don't know. If you see the games, then you know. If you haven't, then you're unfamiliar and you don't know. And that's OK. I respect the ECHL, and I reached the NHL afterwards. Nobody can scoff at it. I'm definitely excited to come back."
Excited as Harper is to come back and think ahead to what might be with the Thunder, it's difficult to not reflect on the opportunity he got with the Panthers a few years removed after his second stint in the ECHL with Trenton.
Harper graduated after that 2012-13 campaign into a consistent scorer at the AHL level, notably putting up a career-high 32 goals for the Chicago Wolves just two seasons later. After six years in the minors, he finally got his chance to show what he could do at the highest level.
"There were always doubts whether I would get that chance," he said. "I definitely never gave up, that's something that I always pride myself on. I always can see a glimmer of hope in every situation, because you never really know how close you are. Even when I had my big year in Chicago, I wasn't even expecting to get called up—first of all, I wasn't on an NHL [team] on that deal at that point—I was more worried about how we were playing as a team, I wasn't concerned about what was going to happen… I had offers to go to Russia after that year, but I didn't even really consider them to be honest… I thought, why would I? The whole goal is to try to play in the NHL."
Harper achieved that goal in 2016, making Florida out of training camp and sticking with the big club for 14 games, scoring two goals while adding one assist.
"It was crazy," he said. "I can still remember Tom Rowe coming down to me in the stick room when I was working on my stick, and he just shook my hand and said, 'Congratulations.' I was with him the year before in Portland, so I really respect him a lot. He didn't really say that I was on the team, but he said you should call your parents and have them fly out here. So, it was pretty surreal, knowing that I was going to make the Opening Night roster, and it was cool getting to do it out of camp. It wasn't like I got called up, I was there all the way through camp and solidified myself there for those first few months. It was great having my family and friends at that first game, and a few games after."
While it was an invaluable experience for Harper himself, it will pay big dividends for his new teammates on the Thunder, as he can provide them a first-hand perspective on what it takes to get to the top of the mountain as he takes on more of a leadership role later in his career.
"I think I'm always pretty loose in the locker room, I like to have fun, which I think will be good as an older guy and be more welcoming for the younger guys," Harper said. "I'll definitely want to be a leader, and help lead the young guys by example if necessary. I'm excited about that. In terms of veterans, we have to have some of the most games played in terms of experience with me, (Rob) Bordson, (Peter) MacArthur, Colin Long, Alex Carrier…I think collectively, that veteran presence is going to be huge for the young guys. Every one of those guys I named are super good people and good character guys, and that's why I'm so excited. I know how much fun we're going to have off the ice, and I know that's going to carry over on the ice."