Men's CCHA Hockey
CCHA Media Day: Lake Superior Eyes Mason Cup, MTU Returns Goalie Duo
CCHA Media Day: Lake Superior Eyes Mason Cup, MTU Returns Goalie Duo
Season previews for Michigan Tech, Bowling Green, Northern Michigan and Lake Superior State.
Sep 24, 2021
by Tim Rappleye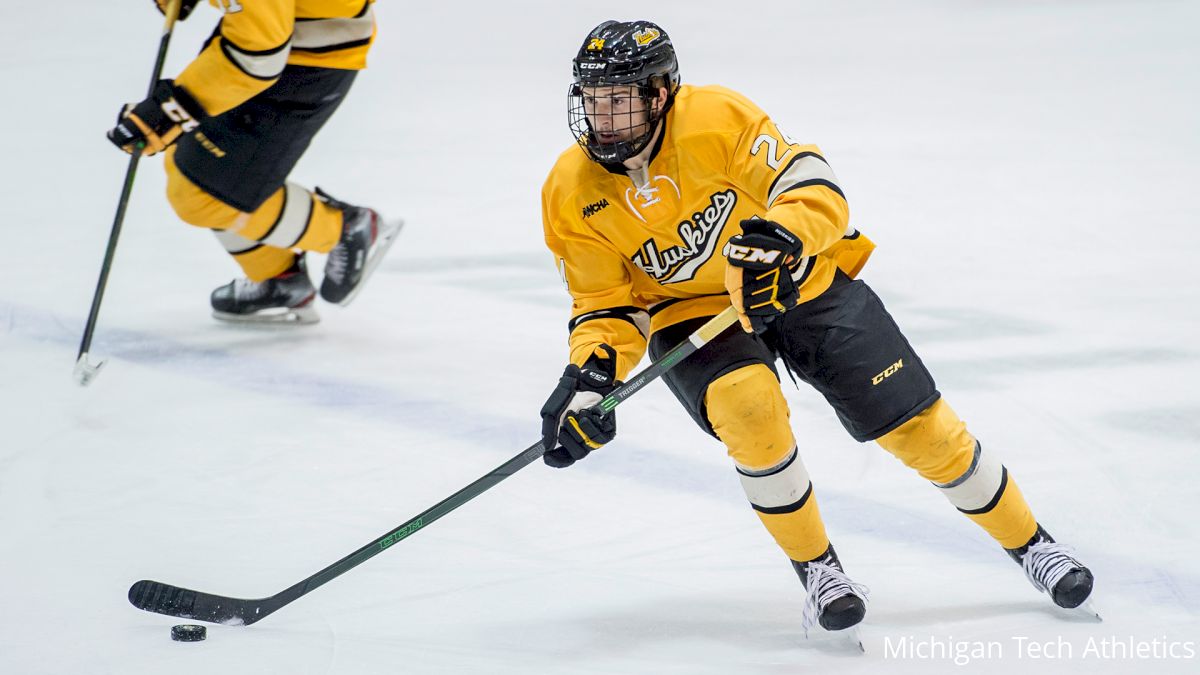 The new CCHA just staged its inaugural media day, a platform for coaches to tell the hockey world what to expect from their respective squads. Part One of the media day recap includes Michigan Tech, Bowling Green, Northern Michigan and Lake Superior State.
Michigan Tech
Intrepid hockey reporter Jess Myers recently returned from Las Vegas and posted the odds of every D-I school to win the NCAA title. Only Michigan Tech was absent from the Caesars Palace list that included all the remaining CCHA schools, from Minnesota State at 14-1 to Ferris at 500-1. CCHA coaches, however, were not so blind, predicting home ice in the postseason—3rd place—for the veteran Huskies.
Coach Joe Shawhan's squad needed only a precious few more goals to reach the sport's upper echelons last year. He appears to have solved his club's biggest need, center icemen, through nimble maneuverings within the ubiquitous NCAA transfer portal.
"The addition of Tyrone Bronte (UAH), an All-Rookie player last year, and Matt Quercia (BU) has given us a dynamic I really like, size and strength up front. Now we have plenty. We wanted to improve our overall speed, and I think we've done that."
Shawhan's icy chess board now has all the pieces he could hope for, allowing him to move his smartest player—junior Parker Saretsky—back to center from wing, turning a deficit at center ice into a formidable asset. The Huskies did not have a shortage of scoring chances last year—they had a flood of them—but not enough ended up on the blades of his favorite "trigger men," seniors Brian Halonen and Alec Broetzman.
Backlining all that veteran depth is arguably the CCHA's top goaltending tandem in Blake Pietila and Mark Sinclair.
The Joe Shawhan-era in Houghton has been marked by its current senior class, a core group deep in both numbers and talent. Sometime in February the sports book at Caesars will wonder how in the world they left the Huskies off the list of college hockey contenders.
Bowling Green
Another Vegas anomaly was how Caesars Palace placed Bowling Green with the second-best odds in the conference to win the national title (35-1), three places higher than their ranking in the CCHA coaches poll. The lords of the betting lines were not swayed by the Falcons loss of four different career hundred-point scorers, unlike the CCHA coaches who predicted a 5th place finish for the Falcons.
Perhaps Vegas applied the old sports axiom "addition by subtraction" when elevating BGSU onto the pre-season podium. Despite all its elite firepower last season, Bowling Green flamed out in the playoffs, failing to win a postseason series for the first time since 2010. The Falcons departing collection of All-Stars had a tendency to come up short at home in big spots the last three seasons.
The returnee that sartorially-resplendent Eigner (Hart Trophy for his dazzling orange sport jacket) chose to mention was senior Sam Craggs, a guy known for guts, not glitter. He plays like his truculent brother Lukas, who led BGSU to their last NCAA appearance in 2019. Eigner's wish is that this latest edition of Falcon icers, "write their own story," a story that he hopes will have a happier ending than this past year.
Northern Michigan
The school that ended Bowling Green's season was Grant Potulny's Northern Michigan Wildcats, who despite having a losing record in the regular season, upset favored BGSU and national semifinalist Minnesota State en route to the conference championship game.
Potulny credits goaltender Rico DiMatteo with "changing the trajectory" of his club. That's a lot of weight to throw onto the shoulders of a 161-pound freshman. DiMatteo is a classic example of a goalie who outperformed his statistics. Despite a pedestrian .909 save percentage last season, DiMatteo made huge stops at the right time in four road wins over Bowling Green, also outdueling All-American Dryden McKay in the conference semis. How the willowy kicker fares in his first full NCAA season will determine if the CCHA coaches were correct in voting the Wildcats into the top four finishers in 2021-22.
In the media day presser, Potulny gave a nod to his reigning league scoring champion Andre Ghantous. Omitting the Los Angeles native from the preseason All-CCHA team was a major oversight, one that should prove laughable when examining the league scoring leaders come Thanksgiving.
Lake Superior State
League playoff champs Lake Superior State placed sixth in the CCHA coaches poll; 50-1 to win the NCAA's by Vegas. As reported frequently in this space, the WCHA tourney champs were ravaged by eligible players exiting Sault Ste. Marie via the transfer portal this off-season. Yet coach Damon Whitten forged ahead in the media day presser with optimism, stating his desire to return to the NCAA's, citing the Lakers' exemplary win total over the past three seasons, and proclaiming his desire to capture the Ron Mason Cup as CCHA tourney champs.
"I'm really excited about the Mason Cup," said Whitten. "I played for coach Mason, he founded this program at Lake Superior State. Not only does he mean a lot to LSSU, but the impact he had on me and coach [Mike] York who also played under him. That Mason Cup is something we'd love to win in honor of coach."
To secure another banner in the crowded Taffy Abel rafters, Whitten's Lakers will need two successful rolls of the hockey dice: a host of goals "by committee," and for one of his two backup goalies to step up.
The sports cliche, "defense wins championships," endures because of its veracity. The good news for hockey fans in the American Soo is that the Lakers have an abundance of quality defenders.