ECHL
Florida Everblades Bring Back Alex Aleardi
Florida Everblades Bring Back Alex Aleardi
The veteran forward Aleardi spent the last six seasons in several different leagues, including the Swedish Hockey League.
Sep 23, 2021
by Mike Ashmore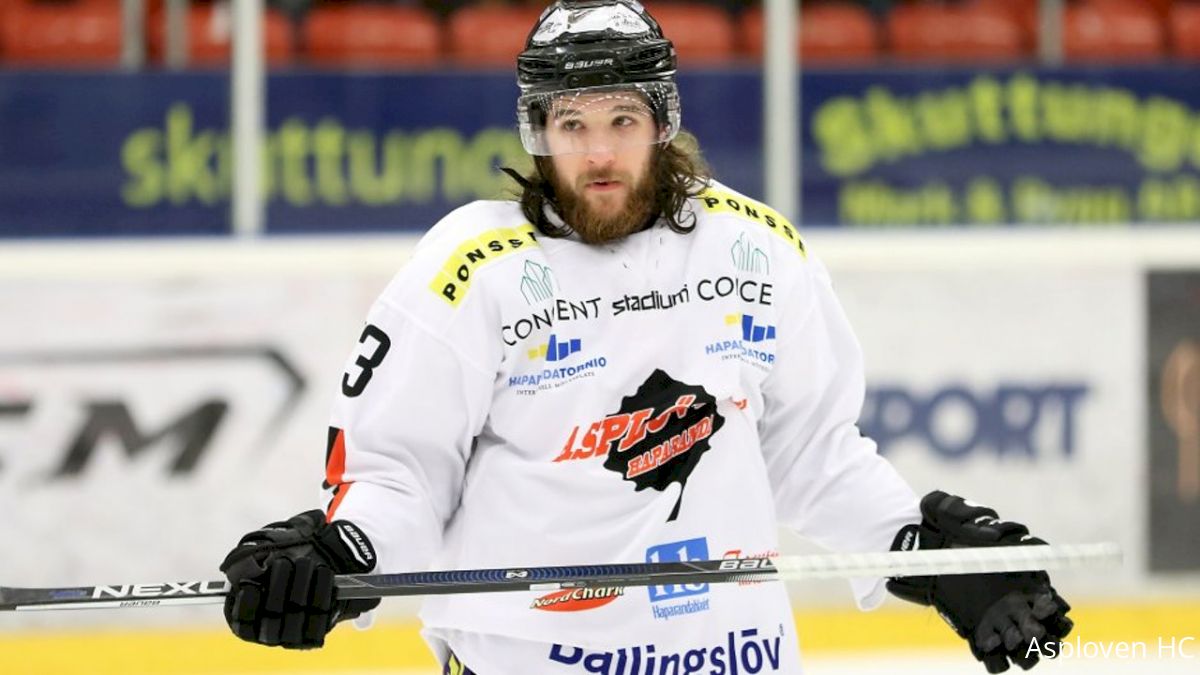 Welcome back, Alex Aleardi.
It's been a while.
For the first time since the 2014-15 season, the skilled winger is back in Estero, having signed an ECHL deal to return to the Florida Everblades for the upcoming year. He'd played his previous six seasons in Europe, playing for a multitude of different teams in Austria, Sweden and most recently, France.
"My wife and I really enjoyed it, that's why we ended up staying as long as we did. But, there's a lot of ups and downs in hockey, it doesn't matter what league or where you're at," Aleardi recently told FloHockey via cell phone.
"I got to experience multiple different leagues, languages and countries. So, I got the full experience, I'd say. It's not like going over there for a year or two, I really got to see different styles and learn the hockey in different leagues. I got to play in the Champions League, so I really got to see all the different styles of hockey out there."
For the first time since splitting that 2014-15 campaign between Florida and the AHL's Charlotte Checkers, Aleardi will be back on North American ice and he's looking forward to a locker room where English is the first language as well as having his family be able to come out and see him play some games.
But there will also be some adjustments he'll have to make in getting re-acclimated to a smaller sheet of ice for the first time in a while.
"There's less time and space, that's the easiest way to describe it," he said. "Playing on Olympic ice and going to North American ice, that's a change in itself. You get different power play reads over there than you do here, and the five-on-five game, you can create more one-on-ones, which is what I'm very good at and have always been good at, so that kind of benefits me playing on bigger ice. There's a little more skating. But, everyone's such good skaters over there that it doesn't feel like it some games, I guess."
Aleardi performed well during his six seasons in Europe, particularly over his last three seasons in France, where he potted 35 goals in just 44 games for Rouen in 2018-19, and followed that up with a career-best 63-point campaign a year later. There's little doubt he'll be able to be just as big of a contributor in his return to the Everblades; he tallied 19 points in 16 regular season games with Florida in 2014-15, and added six more points in eight Kelly Cup Playoff contests.
"Florida was a great spot for my wife and I, and we really enjoyed it when we were down there for the short period of time we were there," he said. "I'm very confident in my ability on the ice, and I know I'll fit in wherever I go, but Florida always seemed like the spot. Craig Brush was always texting me mid-Christmas almost every other year, if not every year, and made me feel like I was the missing piece of the puzzle for them to get that Kelly Cup."
There has, seemingly, been that missing piece as of late for the Everblades when it comes time to securing the league's biggest prize. Favored to win it for much of last year's regular season, they instead were handed a first-round exit at the hands of eventual Conference Champion, the South Carolina Stingrays.
With that coming on the heels of 2018's loss in Game 7 of the Kelly Cup Finals to Colorado, a Conference Final loss to eventual champion Newfoundland and then a golden opportunity in 2020 being wiped due to the COVID shutdown, the Everblades are hoping that this will finally be their year.
To that end, Aleardi, who expressed excitement about being able to join the returning core group of veterans, is hopeful he just might be that missing piece. But he also knows it's far more complicated than that.
"That would be amazing, if you could just put it down to one missing piece, but there's always multiple new players coming in," he said. "It's a very tough championship to win, because there's a lot of hit and miss with guys going up and guys coming down. Things have to really fall into place to win a Kelly Cup, at least when I was playing there. Winning any championship anywhere is very tough, but if I get the pleasure to win one in my lifetime, I'd be very happy. That's obviously the goal going into this season. I don't have individual goals, it's win the Kelly Cup or bust for me."