Atlantic Hockey
Freshman Class An X-Factor For Niagara Hockey
Freshman Class An X-Factor For Niagara Hockey
The Purple Eagles will look to rebound from a disappointing 2020-21 season, with new additions in tow.
Sep 16, 2021
by Jacob Messing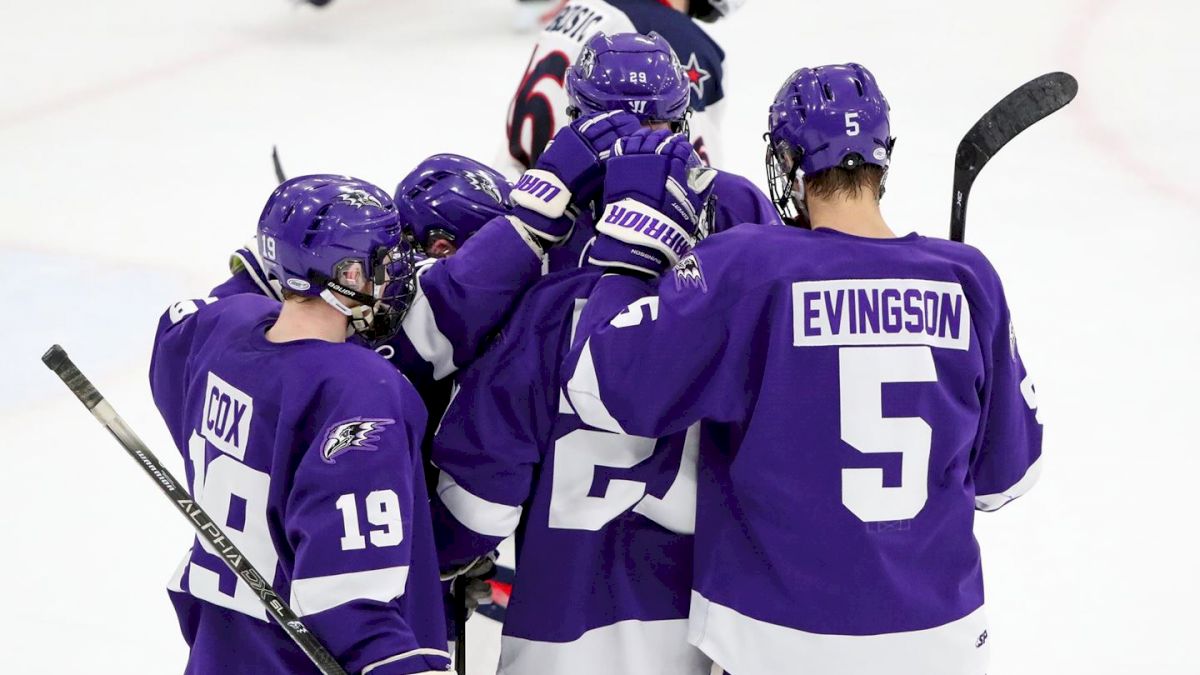 For nearly a decade, two things have been certain in northwest New York; waterfalls and middling hockey.
Nope…not the Buffalo Sabres.
Rather, the Niagara Purple Eagles of the NCAA have not finished a season above the .500 mark since 2012-13 when they earned an at-large bid to the National Tournament.
Ahead of the 2017-18 season, the arrival of coach Jason Lammers brought an encouraging change that lifted the Eagles to their best season in three years and their first double-digit win total in that span.
Over the next two years—as Lammers' recruits began to fill in—there was measurable growth. In 2018-19 the team had an even higher winning percentage. In 2019-20, a rough start turned into a consistent winter semester with eight wins over the final 12 games.
The pod-based 2020-21 season would offer no favors in momentum. With a six-week game hiatus brought on by COVID protocols and a competitive pod, Niagara finished with a 7-12-3 record last year.
Now, with a new season, regularly formatted schedule, and impressive freshman class, Niagara's revenge tour will be available to stream live all season long, right here on FloHockey.
With 13 listed seniors on the roster, due in part to NCAA eligibility changes due to COVID, the Purple Eagles will mix a plethora of experience and farewell seasons with the incoming class to re-establish their program's growth and trajectory.
The Freshmen Factor
With additions Jason Ahearn and Jake Sibell, the Eagles welcome two standout players from the 2020-21 NAHL season. Ahearn's 62 points in 52 games came from 31 goals and 31 assists. Ahearn is a complete offensive player that can leave goalies guessing with an unexpected pass or sudden shot in the back of the net.
The Rookie of the Year also led the NAHL in powerplay goals last season, where he should help rejuvenate the Eagles' 34th-ranked powerplay from last season.
Time to welcome the 2020-21 @NAHLHockey Rookie of the Year to @NiagaraUniv, Jay Ahearn!

Ahearn had3⃣1⃣goals and assists last season with the @JohnstownHawks.#Uncommon pic.twitter.com/1uZgrDN5l4

— Niagara University Men's Hockey (@NiagaraMHKY) July 21, 2021
He will be a key addition to the forward ranks with last year's three leading scorers in Walker Sommer (redshirted), Ludwig Stenlund (return to Sweden), and Jack Billings (ECHL) all departing.
Meanwhile, Sibell will adjust to NCAA hockey after being crowned the NAHL's Most Valuable Player and Goaltender of the Year in 2020-21. Sibell finished with a 43-2 record backed by a league-leading .952 SV%, 1.19 GAA and 11 shutouts.
He'll push both junior Chad Veltri and senior Michael Corson for playing time this season, where all positions will be earned, not given, after last season's backstep.
But Ahearn and Sibell will be joined by a few more new faces. The lone rookie defenseman on the roster, Noah Carlin fine tuned his two-way defensive style in the NAHL and spent last season learning the USHL in preparation for college hockey.
With six senior defenseman and four non-seniors, Carlin will be in competition for regular playing time and should he win that competition, it might bode well for Niagara.
Up front, Shane Ott and Lars Rodne also join the Eagles after modest NAHL careers that leave room for growth. Out of the lesser-known AJHL, Zane Kindrachuk has recorded 30 goals and 65 points over his last 60 games and is prepped for the challenge of a higher level.
The Returnees
It's often expected and anticipated that players' senior seasons are their best. The mix of experience, body maturation, and the proverbial 'leaving it all on the table' play a role in this belief.
With 13 listed seniors—12 excluding redshirted Sommer—the Eagles have the makings to leave last season as a blip and move forward to show their real selves with a consistent schedule and wider range of opponents.
Heavier support and revitalized approaches will be required at every position, but perhaps none more than the depleted offense. Only Ryan Cox returns as a player with more than four goals scored last season.
Defensively, the entirety of the Eagles will need to blend to create a grittier team that wins battles, establishes chemistry, and removes last season's complacency in waiting for the puck.
Have a question or a comment for Jacob Messing? You can find him on Twitter @Jacob_Messing.