Atlantic Hockey
Atlantic Hockey: Preseason 2021-22 Rookie Of The Year Contenders
Atlantic Hockey: Preseason 2021-22 Rookie Of The Year Contenders
The 2021-22 Atlantic Hockey season is less than a month away from puck drop and a handful of first-year recruits are ready to help elevate their programs.
Sep 13, 2021
by Jacob Messing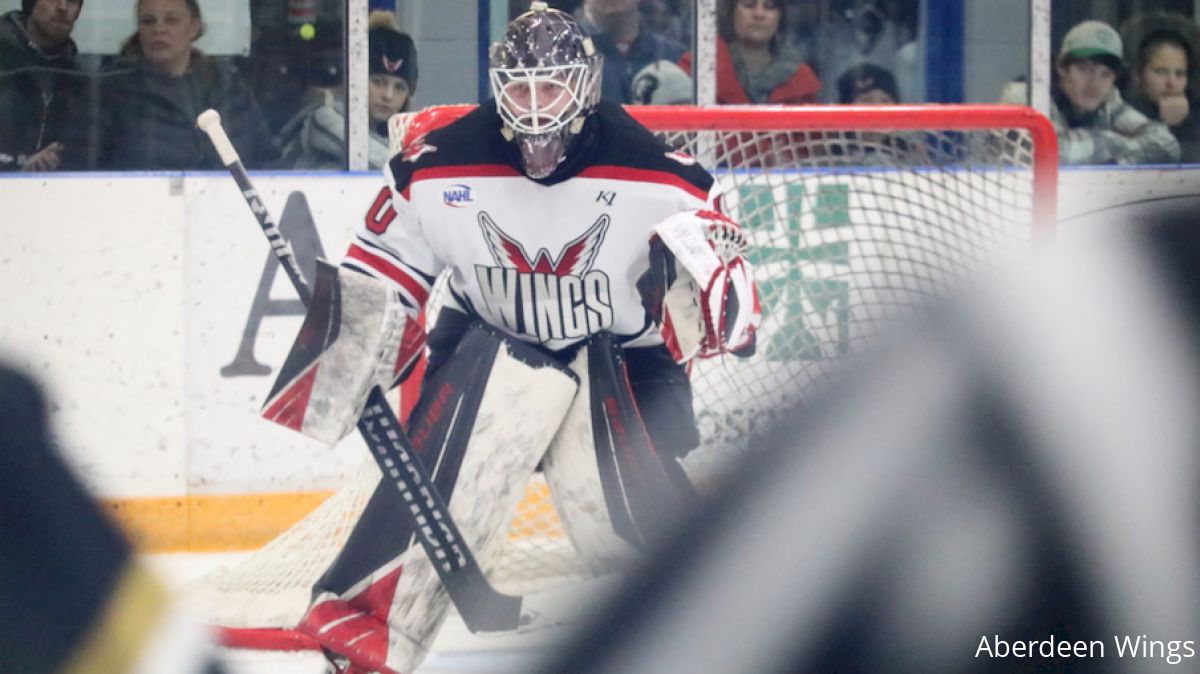 The 2021-22 Atlantic Hockey season is less than a month away from puck drop and a handful of first-year recruits are ready to earn spots and help elevate their programs.
Last month, FloHockey highlighted breakout candidates from across the AHA, who could combine with upcoming rookies to bring new expectations to their teams.
All freshmen highlighted below will be available to livestream with their respective programs all season long, right here on FloHockey.
Air Force Adds Offense
After a 3-10-1 season, the Falcons could use help at every position. With an encouraging incoming freshman class, Clay Cosentino takes the top spot among rookies to watch this season out of the academy.
Cosentino finished fourth in NAHL scoring last season with 60 points in 56 games and a league-leading 48 assists. Cosentino took a significant step forward with the Aberdeen Wings after a touch-and-go rookie season in 2019-20, captaining them both in offense and leadership last year.
Two spots down in NAHL scoring was Andrew DeCarlo, a fellow commit, who is also capable of giving the Falcons a much-needed offensive boost.
American International Goes International
AIC, Atlantic Hockey's three-peat champion, is bringing in a handful of European players this season as they mix in more skill and experience. Offensive defenseman Alexander Tertyshny could be a highlight for AIC.
Tertyshny, 21, has the capability of replacing Brennan Kapcheck on the Yellow Jackets' blue line. He's fresh off a breakout NAHL season of six goals and 31 points in 57 games.
Rounding out the back end is the @NAHLHockey East Defenseman of the Year from 2020-21!

Alex Tertyshny notched 31 points in 57 games for the @negenerals defense!#AICommitted pic.twitter.com/OjdXSOATvg

— AIC Hockey (@AIC_Hockey) August 19, 2021
He finished seventh in NAHL defensive scoring in 2020-21 and tenth in penalty minutes among defensemen. While he's snarly, Tertyshny leans on his grittiness more than necessary at times, and it can be problematic for his defensive awareness.
AIC's winning culture and dedication to 200-foot play could be the perfect development staff to round out his game.
Army West Point Saturates The Roster
Narrowing down Army West Point's strong freshman class was troublesome. A slew of eager rookies mixed with last season's 15-6-1 and minimal roster turnover will have the Knights pushing to dethrone AIC in Atlantic Hockey.
The only questionable position heading into the season is in the crease. Trevin Kozlowski was stellar in 2020-21 with a 1.91 GAA, .922 SV%, and 14-4-1 record.
Replacing him will be Justin Evenson and freshman Evan Szary. Evenson heads into his junior season with modest stats, but Szary enters with confidence after being named the NCDC Goaltender of the Year in 2020-21.
Szary posted a 21-13-1 record backed by a 2.71 GAA, .929 SV%, and two shutouts. The pair will both look to earn the bulk of playing time, but could form a tandem that conserves energy and sees the Knights put together another big year.
Bentley Brings In A Playmaker
Nicholas Niemo had a big season with the Lone Star Brahmas of the NAHL in 2020-21, scoring 53 points (17 G, 36 A) in 52 games. The forward finished second in team scoring.
Niemo has shown offensive talent at every level on the back of his vision and playmaking ability. His 36 assists last season helped him to 10th in NAHL league scoring as a 19-year-old rookie.
The forward joins a Bentley program that finished 33rd in goals-per-game last season with a 2.62 average. The Falcons still have questions to answer on the roster before they take a step forward.
Canisius Adds Craft
The Golden Griffins dealt with constant postponements last season, ultimately stringing together an 11-6 season that ended with a loss to AIC in the AHA final. Finishing one win shy of an automatic bid to the National Tournament could fuel their 2021-22 season.
For a by-committee system, every loss can feel big, but coach Trevor Large will have the tools to fill in gaps, and restore last year's play. Keegan Langefels is notable among the additions.
Langefels showed promising development from his first to second season in the NAHL. In his second year, Langefels was able to tap into more offense and finished fourth in goals among defensemen. Additionally, he showed more poise and confidence in his defensive responsibilities and rounded out his two-way game.
Holy Cross Has Help On The Horizon
Another NAHL scorer, John Gelatt finished eighth in league scoring as a 19-year-old rookie. Gelatt posted 24 goals and 54 points in 51 games and also held the league's seventh-best plus/minus (plus-36).
Gelatt joins a 4-12 team at Holy Cross that needs help on offense. The Crusaders have lost three of their top six scorers from 2020-21 and while it's not much in total offense, Gelatt will be given the opportunity to step in and immediately contribute.
His mix of goal-scoring and passing will both be needed to help bolster the offense and lift the play of his linemates.
Mercyhurst Hoards Offense
In the limited 2020-21 AJHL season, TJ Hughes led all players with 31 points (15 G, 16 A) in 20 games.
Hughes eclipsed his goal total and came just five points shy of his point total from his rookie campaign in 2019-20, albeit in 38 fewer games. He's set to join a rising offense at Mercyhurst, with sophomores Carson Briere, Dante Sheriff, and Austin Heidemann, as well as junior Jonathan Bendorf.
The combinations of these forwards could see Mercyhurst's offense among the top in Atlantic Hockey. Coach Rick Gotkin's favorable run-and-gun system could only add to their potential.
Niagara Dips Into the NAHL
In 2020-21, NAHL goaltending was dominated by one name, Jake Sibell. Sibell went 43-2 for the Aberdeen Wings with a .952 SV%, 1.19 GAA, and 11 shutouts, leading the league in every category.
Sibell was named Goaltender of the Year and Most Valuable Player. Now, he'll have the chance to carry the Niagara Purple Eagles to the next level.
Here it is — the complete list of accolades for the Central Division Awards announced today!

Organization of the Year ✅
Most Valuable Player: Jake Sibell ✅
Forward of the Year: Payton Matsui ✅
Goaltender of the Year: Jake Sibell ✅#WingsWay #Part2Coming pic.twitter.com/SlcjAZ92Ou

— Aberdeen Wings (@AberdeenWings) June 8, 2021
But fellow incoming freshman Jason Ahearn is another piece that could make a big impact for the program this season. Ahearn finished second in NAHL scoring with 62 points (31 G, 31 A) in 52 games.
The rookie led all players in goals and tied for the lead in powerplay goals, where Niagara finished 34th in the NCAA last season, converting on 17.6 percent of powerplay opportunities.
RIT Reinforces The Crease
The Tigers were held back last year by subpar goaltending, but with the addition of Tommy Scarfone out of the BCHL, there will be stiffer competition among their netminders in 2021-22.
Scarfone went 7-1-1 in the BCHL's condensed 2020-21 season. He finished among the best goalies with a .930 SV% and 1.85 GAA. Scarfone will push returning senior Ian Andriano and junior Kolby Matthews for playing time.
Andriano went 3-3 with a .909 SV% and 2.92 GAA last season, while Matthews posted a 1-1 record backed by a .910 SV% and 3.01 GAA. Refurbishing the goaltending will help the defense in breakouts and should translate to more offense.
Sacred Heart Seeks More
After its wildly successful 2019-20 season, Sacred Heart has been hard-pressed to recreate the magic after roster turnover. The 2021-22 season could be different as forward Braeden Tuck receives some offensive support.
Out of the NCDC, Daniel Ebrahim finished third in league scoring with 29 goals and 58 points in 44 games. Ebrahim led the league in goals and is another player with an opportunity for heavy playing time out of the gate. He could be a massive part of the Pioneers' offensive ceiling.
Don't miss a second of Atlantic Hockey action; catch it live all-season long, right here on FloHockey.
Have a question or a comment for Jacob Messing? You can find him on Twitter @Jacob_Messing.