Men's CCHA Hockey
Every CCHA Team's Preseason Rookie of the Year Candidate For 2021-22
Every CCHA Team's Preseason Rookie of the Year Candidate For 2021-22
FloHockey is taking a look at every CCHA program's freshmen bringing a way-too-early case for Rookie of the Year.
Aug 27, 2021
by Jacob Messing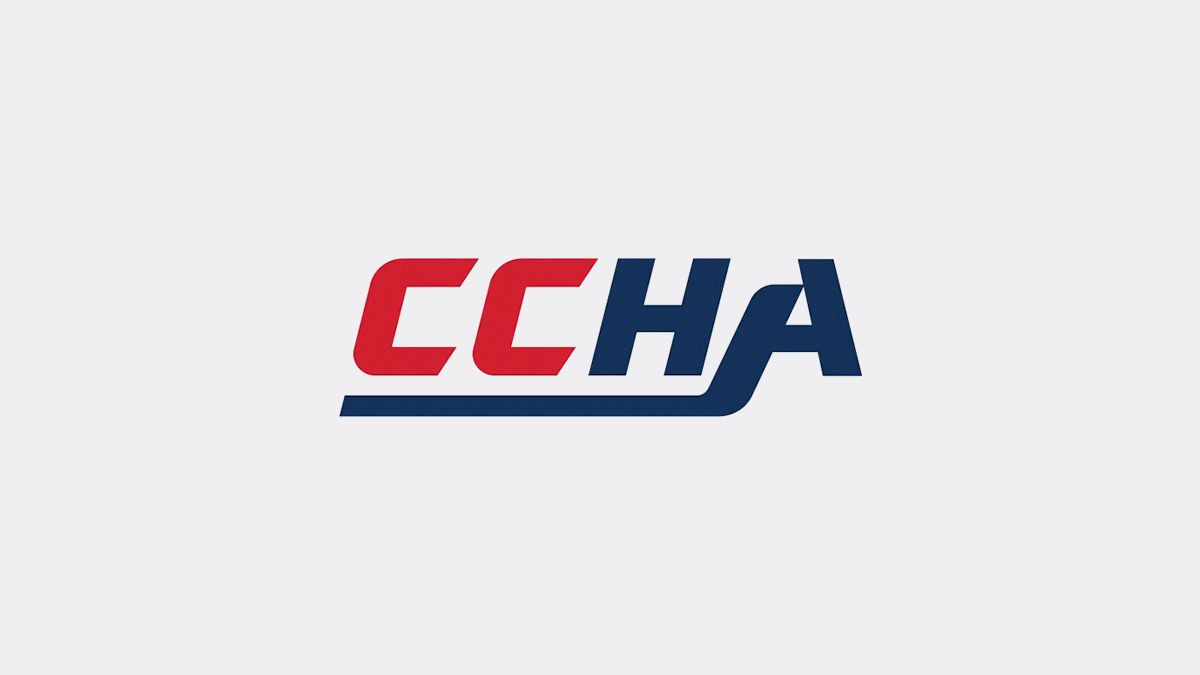 The 2021-22 CCHA season is just over a month away and as programs start up and prepare for the upcoming schedule, players will begin making their case for ice time and top-line roles.
FloHockey recently visited CCHA Players to Watch for the impending season, anticipating larger roles, breakouts or bounce backs. Now, FloHockey is taking a look at every CCHA program's freshmen bringing a way-too-early case for Rookie of the Year.
Don't miss any of the following rookies this season. Every CCHA game is available to stream live right here on FloHockey all season long.
Bemidji State
The Beavers have an influx of freshmen this season, spanning from North America to Eastern Europe including rookies from Sweden, Poland and Finland.
Out of Finland comes forward Jere Väisänen, the Beavers premature frontrunner as a Rookie of the Year candidate. After two impressive scoring seasons in Norway, Väisänen made the jump to North America, playing the 2020-21 season with the NAHL's Amarillo Bulls.
Väisänen finished 21st in scoring in the NAHL with 44 points (17 G, 27 A) in 56 games as a rookie. Väisänen adapted quickly to the smaller North American ice surface led the Bulls in scoring without losing integrity in his solid two-way play.
Bowling Green
Significant roster turnover will make for an interesting season for the Falcons, but they have a plethora of potential in their incoming class. The most intriguing is the dynamic offensive potential on the horizon in Brayden Krieger.
Krieger finished tied for sixth in AJHL scoring last season with 23 points (6 G, 17 A) in 20 games. A year prior, during a full season, Krieger finished fourth in league scoring with 94 points (35 G, 59 A) in 58 games.
His former coach with the AJHL Brooks Bandits heralded his offense, IQ, penalty killing and dedication. In summary, Krieger can do it all and the speed of his transition to the NCAA is the only thing in question at the moment.
Ferris State
In 2018-19 the Bulldogs brought in freshman defenseman Cooper Zech, who would go on to lead the team in scoring prior to being named the WCHA Rookie of the Year and signing with the Boston Bruins. In 2019-20, another freshman defenseman in Jake Willets would go on to lead the team in scoring.
Now in 2021-22, Nicola DeVita enters as yet another freshman defenseman for the 1-21-1 Bulldogs of last season. DeVita led the entire NAHL with a plus-49 defensive rating and finished second among all defensemen in scoring with 39 points (8 G, 31 A) in 54 games.
A consistent two-way defenseman, DeVita's second season in the NAHL showed vast improvement on both ends of the ice and he will be a vital part to the backend of the Bulldogs.
Lake Superior State
Son of former NHL goaltender Dwayne Roloson, Brett Roloson enters his freshman season with the Lakers after solid development in the BCHL and NAHL. Roloson's been a depth player in each of those leagues and is looking to build and establish himself at LSSU.
He joins an already dangerous Lakers program that has open middle six spots available to earn and can use them to land favorable opposition and ease into the NCAA without overbearing responsibility as Roloson adapts to his third league in as many seasons.
Michigan Tech
Finishing just ahead of DeVita, Grant Docter led all defensemen in both goals (18) and overall points (40) in the NAHL last season. Docter's offense is impressive and will go a long way on the 37th-ranked offensive from last season with a 2.60 goal per-game average.
2020-21 #NAHL Defenseman of the Year: Grant Docter @grantdocr @mnwilderness https://t.co/6S9EH2mSh1 pic.twitter.com/IytKT3av48

— NAHL (@NAHLHockey) June 9, 2021
Coach Joe Shawhan demands defensive responsibility and it's that side of hockey that has carried the Huskies in recent seasons and earned them the seventh-best goals-against per-game average last year.
Docter's dedication to the defensive side of the game leaves room for improvement and he'll need to adapt to Shawhan's systems to ensure defensive isn't surrendered in the pursuit of offense. Should Docter find that balance in his freshman year his name will carry weight as a potential Rookie of the Year.
Minnesota State
Heading into the NCAA after a strong BCHL career of 104 points (43 G, 61 A) in 130 games, Luc Wilson will bring a lot of offense to the powerhouse of the CCHA. Wilson finished tied for fourth in league scoring last season with 29 points (14 G, 15 A) in just 20 games. His 14 goals tied for third.
Wilson joins a stacked team that has won four consecutive MacNaughton Cups as the conference champ, but there is room for the forward to steal a spot with some senior turnover.
But a handful of other forwards will be battling with Wilson to secure regular lineup spots and coach Mike Hastings will give no favors as the Mavericks have an expectation to win every game.
Northern Michigan
The lone goaltender on this list, Kaeden Lane, will have a chance to earn the No. 1 role in Marquette for a team riddled with roster change and in need of a stabilized crease.
A former teammate of Wilson's form the BCHL, Lane went 15-1 with the Penticton Bees. Lane led the BCHL with a 1.13 GAA, .951 SV% and five shutouts with the third-most minutes played.
The Alberta Ford Dealers AJHL Defensive Player of the Week

Week 2

#31

Kaeden Lane

Grande Prairie Storm pic.twitter.com/pZpSBGuVE7

— TheAJHL (@TheAJHL) September 24, 2019
The Wildcats have fallen into a pattern of Lane has the capability to lift the Wildcats out of pattern of streaky hockey and offer consistent play in net.
St. Thomas
Brand new to Division I hockey, the Tommies will be dropped right in the action this season. With a number of NCAA rookies, Trevor LeDonne will bring a solid two-way game to the blue line and push for immediate ice time.
LeDonne led his team in scoring last year and finished fifth in BCHL defensive scoring with 17 points (6 G, 11 A) in 20 games. It was an encouraging step forward from a 20-points season in his 51-game rookie season a year prior.
LeDonne's offensive instincts will help the Tommies bring the offensive against established NCAA programs and make a name for themselves in the CCHA.
Don't miss a second of the rookie action, catch all eight freshmen live right here on FloHockey all season long.
Have a question or a comment for Jacob Messing? You can find him on Twitter @Jacob_Messing.