Men's WCHA Hockey
FloHockey Sits Down With WCHA Commissioner Bill Robertson
FloHockey Sits Down With WCHA Commissioner Bill Robertson
On June 30, 2021, WCHA, the granddaddy of Men's college hockey circuits will cease to exist after 70 years of play.
Jun 23, 2021
by Tim Rappleye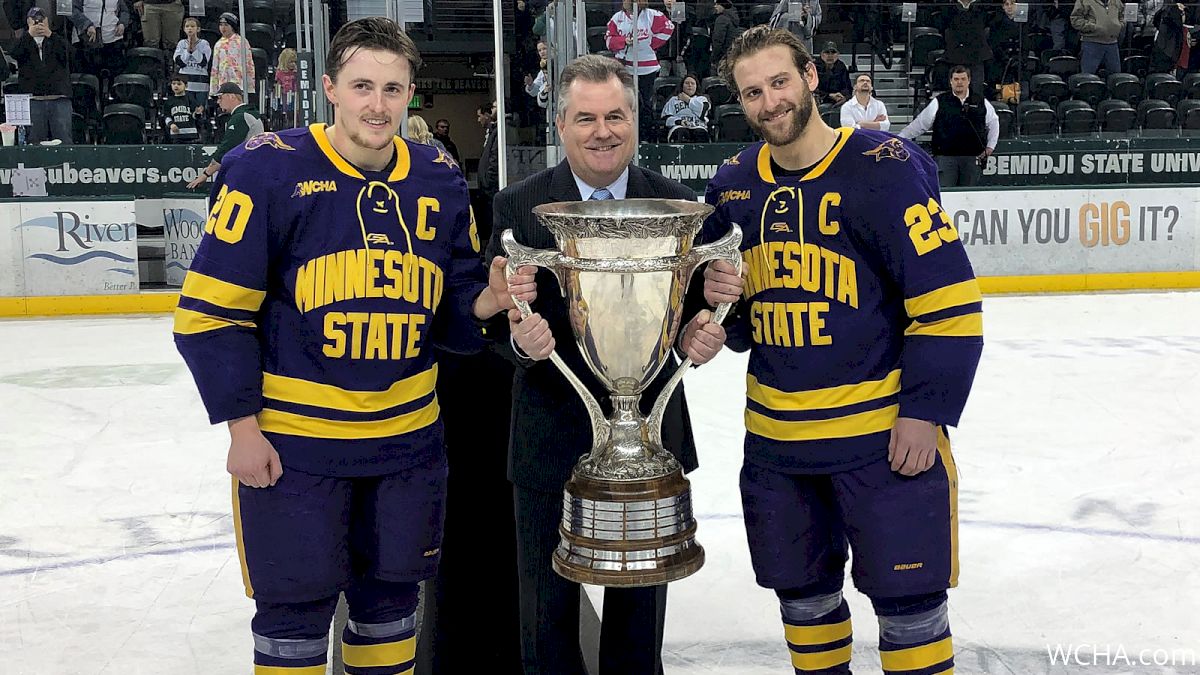 On June 30, WCHA president and men's Commissioner Bill Robertson will complete his final contract. From that point on the Men's WCHA, the granddaddy of college hockey circuits will cease to exist after 70 years of play. Robertson, on the other hand, has emerged from a nearly untenable two-year stint as a lame-duck commissioner to take over as president and commissioner of the USHL, America's premier junior league. FloHockey's Tim Rappleye caught up with the immensely popular commissioner to hear his tale of surviving and thriving.
---
FloHockey: Billy Rob, much of the hockey world was relieved to hear that you landed on your feet with the USHL. How did it go down?
Robertson: That happened when I was on vacation in South Carolina. Something always happens to me when I go on vacation. Tom Garrett [previous USHL commissioner] and I worked together at the Minnesota Wild. When he told me he was leaving, I started talking to the USHL. When I did my research, what kept coming back to me was how many players moved on to play Division I college hockey from that league, and it was astounding.
Two years ago, the WCHA experienced significant heartache when seven schools declared they would be leaving the conference. You found yourself on an island. How did you deal with all that stress, adversity, and dark days?
There are a few things. Number one is my faith; then family and the great staff of the WCHA. We're very cohesive in this process. To be able to talk to people that I respect and trust was helpful. Certainly, there were better days than others and lots of challenges. I wouldn't recommend that recipe long term, for anybody.
A lot of people thought the league would not exist when the seven schools left. And we were able to make it go for two more years. At the end of the day, the WCHA was able to get three teams into the [2021] NCAA tournament—almost a fourth—and we had a team get to the Frozen Four.
I'm happy about that; I'm sad about the WCHA. Seventy years on the men's side, under the current model, changing, because it is, truly, a remarkable league with a remarkable history, and they can't take that away. That piece will never change.
Did you fear your career was facing its mortality? Did you think you were going to end up on a golf course?
I was looking at several opportunities over the past year. When Covid came, it stopped, and then it started picking up again after the new year. I knew I had to do something. If I wasn't able to secure the right opportunity, I would have to reinvent myself, and I was OK with that. But I had faith in myself, and knew that with my background and experience, I would land something. I am grateful for this opportunity, and I'm hopeful this will carry me to the end of my sports career.
What advice would you offer to a new-time commissioner?
You need to be a really good listener. Talk to the people that have been around it, so you understand what the history is, and what makes the league tick. Whether it is amateur collegiate hockey, or Tier I junior hockey, or the NHL. You need to rely on that piece before you start coming in and making lots of changes.
I don't think the average person understands how many details, and how many decisions are made by the commissioner's office; it's staggering. Some days, that can get overwhelming. Certainly a lot different than when I was in Major League Baseball and NHL, different types of decisions. Designs of the puck for the playoffs, the look of the website, what features are we going to add; you name it, it came across my desk. I was what you call a jack of all trades, a master of none.
You've got a ton of experience in public relations with numerous professional franchises. This should be an ideal fit.
When I was interviewing for this position, one of the things that were appealing for the league was that I had built-in relationships with USA Hockey and the NHL, and those are their two biggest partners. I'm coming in to observe, listen and learn, and help make decisions that better the league. I'm excited; I want to help this league grow and give it the recognition it truly deserves.
I wouldn't have had this opportunity unless I had the seven-plus years at the WCHA as president and men's commissioner. This job here has prepared me well for the next chapter. We went out in style, and that was a big deal for me.