ECHL
Koletrane Wilson Is Making The Most Of His Stint With The KC Mavericks
Koletrane Wilson Is Making The Most Of His Stint With The KC Mavericks
Koletrane Wilson, a 6-foot-3 defenseman, jumped down to the US for a run with the Kansas City Mavericks.
Jun 7, 2021
by Mike Ashmore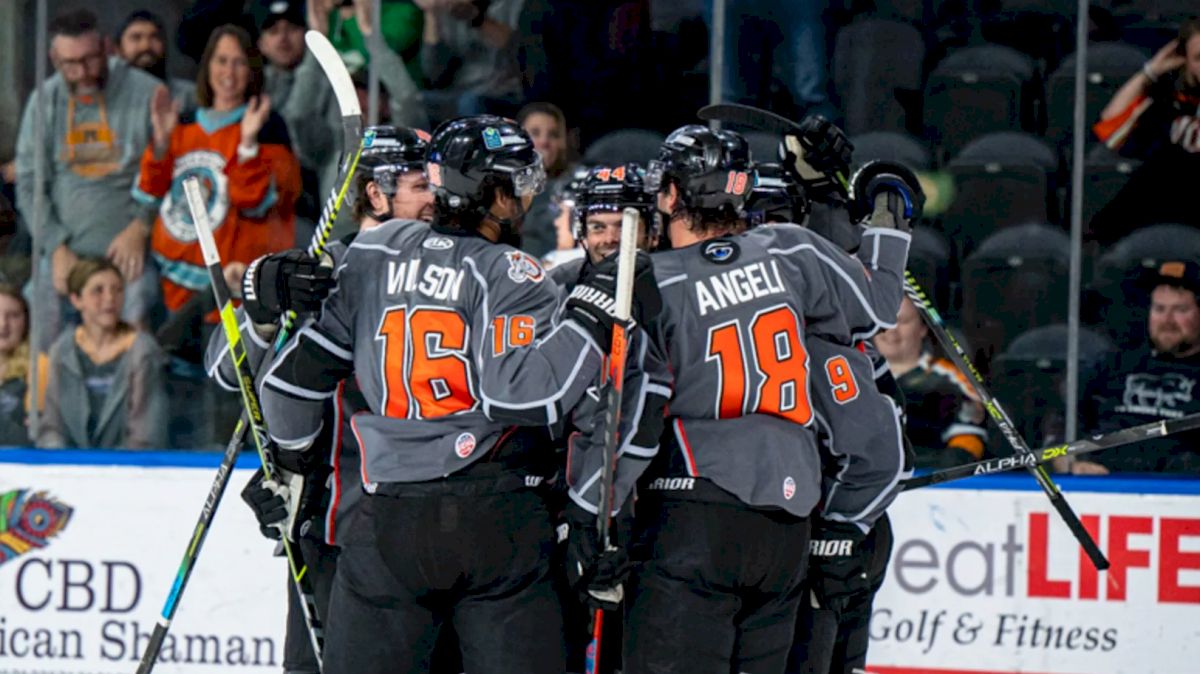 Koletrane Wilson already has one of the best names in hockey.
This season, he's been slowly but surely working on making sure his game gets to that level as well.
The 21-year-old defenseman signed his first professional contract this offseason with the American Hockey League's Stockton Heat after a stellar junior career with the Lethbridge Hurricanes, the culmination of four years of hard work.
"It was a surreal experience," said Wilson, currently with the Kansas City Mavericks.
"Going to my 20-year-old year in Lethbridge, it was kind of interesting, I didn't really know what to expect. I just kind of went in planning on having fun and enjoying my last year. We had a good group of guys there. I'm sure if you talk to a lot of 20-year-olds in the WHL or the CHL for that matter, the schooling is kind of in the back of your head and you have to start making that decision on what school you're going to go to, where you're going use your schooling. When I was mulling that over, I started having some meetings with NHL teams, and your agent starts talking to you a little bit more. The experience was kind of cool to go through. It was awesome."
A big, physical blueliner at 6-foot-3 and 220 pounds — he says he tries to model his game after long-time NHL'er Dustin Byfuglien — Wilson was worked into the Heat's lineup slowly, appearing in just five games in which he recorded a plus-one rating and 15 penalty minutes.
"It was awesome to be up there this season," Wilson said. "I only got in a handful of games, but overall the experience was worth the world to see how players prepare up there. Stockton was in Calgary this year, so we were in the same rink as the Flames, and we were even under NHL protocols. We were treated like the NHL team was treated. So, to get that and be in that situation was kind of surreal. To have that in my first year of pro, learn the ropes and see what it's all like, it was definitely worth it for sure."
But, as a player still very much so developing, it was a difficult balance for the Edmonton native to be at a higher level while not getting to play much in comparison to the situation he ultimately ended up with in Kansas City, where he ended up playing every night.
"The conversation I had with Stockton to end the year was awesome," Wilson said. "I'm still relatively young when it comes to pro hockey, so games, especially in a year like this one, are as valuable as it gets. I was up there and practicing with the team and practicing with guys that were getting called up to the NHL and playing in the NHL, and being around NHL-caliber coaches. That value is second to none. But, taking what I learned up there and taking that feedback I got into playing games down here and playing every night and playing a decent amount, it's been a perfect scenario."
Wilson has played well; he's recorded his first three professional points in his first 16 games with the Mavericks, all on assists, and has seen significant improvements in his overall game as ice time has increased.
"We went — probably most hockey players did — a full calendar year of just playing in pick-up games every couple weeks that weren't meaning much," he said. "Especially where I'm from in Edmonton, things got shut down and re-opened 45 times in the last year, so it always teased you a little bit. So, to get that sense of a season again, and coming down here in trying to make that playoff push and have some meaningful games and play some meaningful minutes and be a part of something like that, it's something I missed."
Wilson is enjoying his first-ever extended stint in the United States — especially with lockdowns continuing in his native Canada — and is hopeful he can parlay his successful first professional season into a lengthy, successful career. As he continues to develop at the pro level, numbers like what he posted in juniors — he enjoyed a 33-point campaign with the Hurricanes in 2019-20 — should come with it.
"I think it will just come with confidence," he said. "It's that step above, like even when I went into the WHL, that first year I got decent points. But into my 20-year-old year, I just kind of had that mentality where I was going to have fun with it. I started getting some power play time that year, so that obviously helped a little bit too, but I was playing that 200-foot game. It's getting that confidence, more reps, more years in pro. I'll get that trust in myself and my instincts and not be so conservative…I can take those risks. I'm still young and have that as my upper hand right now. I want to finish this season strong here in Kansas City, go home and have my best summer and come back next year and do something along those lines."
---
Mike Ashmore has 17 years of experience covering professional and college sports. You can follow him on all social media channels at @mashmore98.