Men's CCHA Hockey
Minnesota State, St. Thomas To Battle At Blakeslee Stadium In CCHA Clash
Minnesota State, St. Thomas To Battle At Blakeslee Stadium In CCHA Clash
Minnesota State and St. Thomas will face off at the historic Blakeslee Stadium in a monumental outdoor Minnesota matchup this year in the CCHA.
May 25, 2021
by Tim Rappleye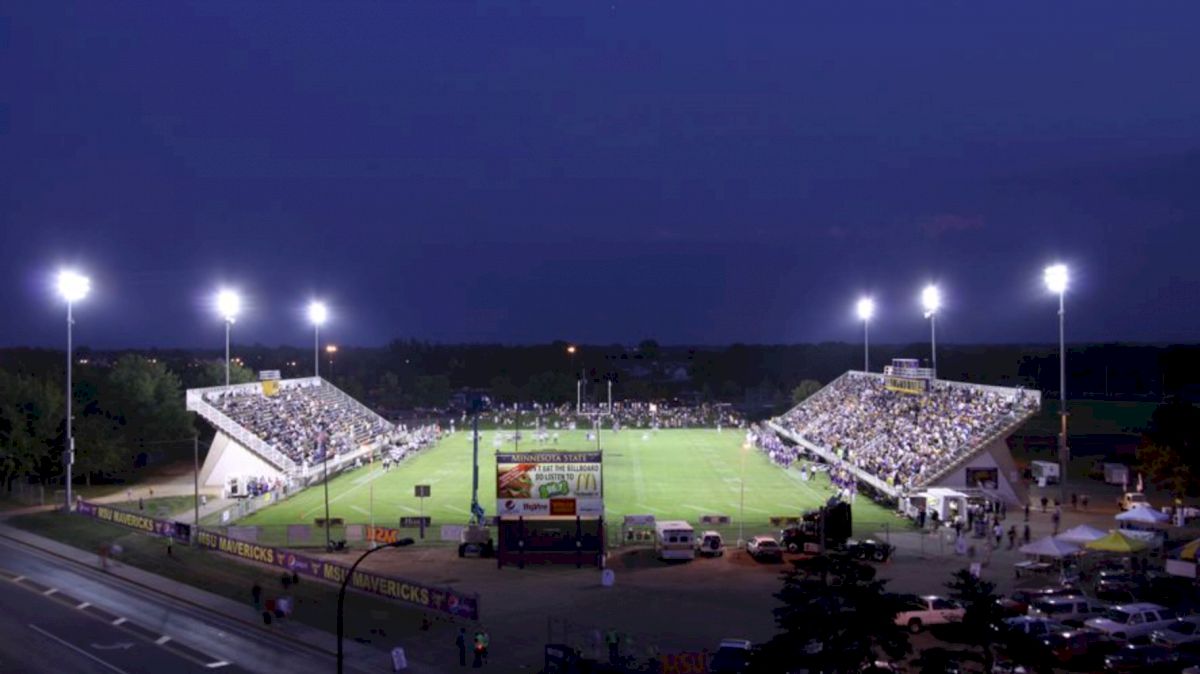 A deeper dive into the CCHA composite schedule reveals a pair of games that elevate the sport of hockey far beyond mere regular-season matchups.
The 16th annual Hockey Day in Minnesota will be hosted by the Mankato Organizing Committee and the MSU Mavericks the weekend of January 21-23. The Mavericks will play St. Thomas on Saturday, outdoors in venerable Blakeslee Stadium. Blakeslee is the football venue best known for hosting the Minnesota Vikings preseason for half a century starting in 1966. The spectator stands at Blakeslee about the playing field, which allows for supreme optics.
"Sightlines as good as anywhere that's been played," said local committee co-chair Dave Wittenberg, who is justifiably elated at the thought of Mankato being in the center of Minnesota's hockey universe.
"When you're in southern Minnesota, you try desperately to share reasons people want to work and play in a community as great as Mankato," said Wittenberg, whose committee helped land presenting sponsor Orthopedic and Fracture Clinic. Mankato's long-time institution is paying the lion's share of the event's enormous bill.
There will be more than just a men's game at Blakeslee; there will be elite boys and girls high school games Friday and Saturday, and likely a women's Mavericks game on Sunday. The demand for a women's game is spiked by fans eager to Mavs women's coach John Harrington's unforgettable outdoor garb, the kit that helped him withstand sub-zero temps during Hockey Day 2019 in Bemidji.
A few of our teammates braved the cold & took in @HockeyDayMN in #Bemidji, MN yesterday- #28 John Harrington was behind the bench for @MSUWomensHockey team & #27 Phil Verchota & #6 Bill Baker were there to cheer him on to victory! 😈🏒👊🏻 #MiracleOnIce #80MiracleTeam #bestdressed? pic.twitter.com/D2YUbR159K

— 1980 Miracle Hockey Team (@1980MiracleTeam) January 20, 2019
The other high-profile game is buried in Northern Michigan's non-conference home schedule, arguably the toughest in the country: Notre Dame, Boston University and Minnesota Duluth, all teams who qualified for the 2021 NCAA tournament. Upon further review, one discovers that the BU-Northern game is a rematch of the 1991 NCAA championship game, and will serve as the 30th anniversary of the title game that is arguably college hockey's greatest.
Northern head coach Grant Potulny is pals with counterpart Abbie McConnell at BU, and they both wanted to commemorate the historic event on the same calendar year as the 30th anniversary, having lost the opportunity to play on the 30th season last year due to COVID-19.
For those too young to recall, the 1991 title tilt was the gripping triple-overtime thriller won by Northern Michigan. The OT sessions were filled with pucks ringing loudly off goal posts and trickling through unguarded creases. Darryl Plandowski's goal in the 82nd minute gave Northern its only national championship, as they defeated star-studded BU 7-6.
Although there have been several scintillating NCAA championships that required overtime, Boston hockey historian — and BU play-by-play man — Bernie Corbett has gone on record stating that this game was college hockey's greatest, despite his beloved Terriers being on the losing end.
"It's the only championship game in which both teams had three-goal leads," said Corbett, trumping all other contenders with this salient fact.
Two opponents from that game — the Wildcats Dallas Drake and the Terriers Keith Tkachuk — went on to become great friends after sharing NHL addresses for 14 seasons with Winnipeg, Phoenix and St. Louis. Does Drake ever needle his pal for them being on opposite sides of college hockey's Greatest Game?
"Of course!" said Drake with a smile. "He's got all the Olympics and All-Star games, it's the one thing I have over him."
That, and of course, Drake's 2008 Stanley Cup hoist for the Red Wings, the last act of his 15-year NHL career. Unless he is coaching youth hockey in Traverse City, Michigan, Drake should be in Marquette for the ceremonial puck drop on Friday, November 5 at the Berry Events Center.
---
Tim Rappleye is the author of two books: Jack Parker's Wiseguys and Hobey Baker, Upon Further Review. You can find him on Twitter.