Men's CCHA Hockey
Rico Blasi Brings Vital Experience To St. Thomas As Tommies Enter DI Fray
Rico Blasi Brings Vital Experience To St. Thomas As Tommies Enter DI Fray
New to Division I hockey and the CCHA, St. Thomas made a splash by hiring Rico Blasi to man the helm of the Tommies program.
May 24, 2021
by Tim Rappleye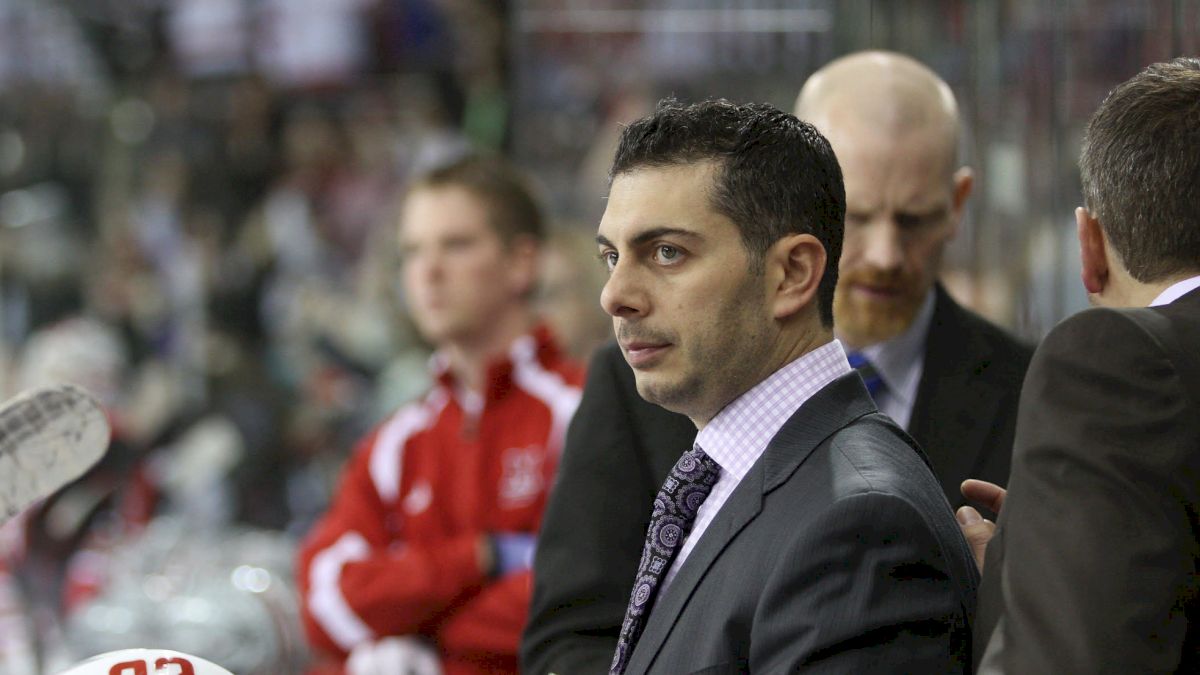 For the six weeks since being introduced to the Minnesota hockey press throng, new St. Thomas coach Rico Blasi has had his phone to his ear. He is not coaching — he is recruiting in the unprecedented moment of NCAA athletics that will be remembered as the "Great Wide Open." He is cobbling together a Division I virgin program, competing against five schools within The State of Hockey that all went to the NCAA tournament last spring, and he is doing it by himself. Welcome back to college hockey, Rico.
Although still nine months shy of his 50th birthday, Blasi has already experienced the ultimate highs and lows of college hockey coaching: 10 trips to the NCAAs, consecutive Frozen Fours, and a precipitous fall that led to his being fired from his alma mater. The five-time CCHA coach of the year, two years removed from the Miami bench, remains focused only on the precious present. He must mold a Division I program from scratch.
Piecing Together the Puzzle
"There are so many balls in the air," said Blasi, who is still vetting potential assistant coaches in addition to his expansive player search. "We want to make sure we're finding the right guys [assistants] long term. I expect to make an announcement in the next couple of weeks."
In the meantime, Blasi is navigating a multi-tiered landscape of available hockey talent to help the Tommies jump from Division III to Division I, a landscape that includes the radical transfer portal that is currently 300 players deep. Blasi has already acquired five veterans via transfer, but is conscious of building the Tommies for the long haul.
"You still want to recruit some first-year players, an important piece to growing the program long-term."
Blasi values the talent already on campus, a core of DIII standouts that have never suffered a losing season.
"We were able to keep a good portion of that team. They're going to help us build the foundation and the culture, and transition us to DI."
Being in the heart of America's richest vein of hockey talent sets him up for useful walk-ons to bolster the program. Blasi may have discovered a recruiting edge against a state full of NCAA contenders.
"St. Thomas is known for [its] academic excellence," said Blasi. "We're going to attract some really good academic student-athletes; I foresee them getting academic aid."
These "gappers" will stretch the scholarship money and expand the Tommie's talent pool. The veteran coach does not mind spending all his waking hours wearing a GM's hat.
"It's not work for me, it's a passion; I love it."
Ousted at Miami
After four consecutive losing seasons in new superconference NCHC, Blasi found himself on the street in 2019. His supreme body of work at Miami had made him one of the highest-paid coaches in the country, depleting his job security. In March of 2018, Blasi postponed his stay of execution by firing two assistants, but the team could not be resuscitated — the RedHawks proceeded to hit rock bottom with a 23-loss campaign. The stylish bench boss who was making nearly half a million dollars a year had become expendable. The 20-year Blasi era at Miami — one that made the RedHawks a staple on national TV, saw the erection of a sparkling hockey palace on campus, and had become a fixture in the NCAA tournament — ended in ignominy: locked in the cellar of the NCHC.
"Everybody wants to focus on the last few years, and that's fine," said Blasi. "Any program in the country goes through rebuilding phases, and that's what we were in. What we did at Miami, in my eyes, was something we're still really proud of."
Rumors that the game had passed him by, that Blasi's best years were behind him, were immediately dismissed by college hockey's most knowledgeable commentator.
"I think he's a hell of a coach, a hell of a hockey guy," said broadcaster Dave Starman. "He built a hell of a program, and he did it the right way. I just think they [Miami] ran into some recruiting issues. Once the leagues split, they weren't able to win some of the battles they had before."
The numbers support Starman's premise: Blasi's Redhawks had a .618 winning percentage in the old CCHA; after the league dissolved in 2013 Miami dropped to a .365 clip against the powerhouse clubs of the NCHC.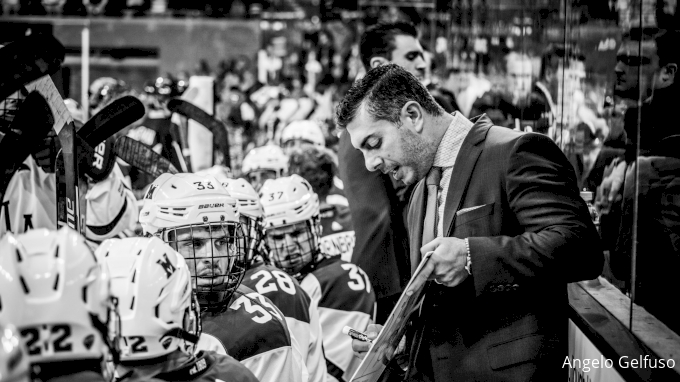 The Hiatus
A self-described life-long learner, Blasi went back to school during his two-year sabbatical.
"I got a chance to watch a lot of hockey. I spent time with NHL teams, spent time with four different NCAA teams, just learning and listening, and watching. That was a really important piece for my growth."
It also allowed Blasi to reconnect with his family, his two daughters in particular, able to attend a high school graduation and other milestone events.
"When you're coaching the first 20 years of their lives, you don't have much time," said Blasi.
But in the words of NFL immortal Bill Parcels, "Coaches coach," and Blasi found himself drawn back to the bench last season when Providence College offered him an administrative post in their hockey office. Friars coach Nate Leaman needed backup during his six-week World Junior hiatus, and Blasi was the ideal fit. So he left his brood in Ohio, traveled to the East Coast, and continued his coaching post-doc.
"My office was right there with Nate [Leaman] and women's coach Matt Kelly, being a support in terms of administrative stuff and anything to do with hockey, using me as a sounding board. I was intimately involved with both teams."
Like all committed coaches, Blasi was a sponge, picking up whatever he could from championship peer Leaman.
"I learned little things here and there," said Blasi. "Concepts, terminology, and things they would do on a day-to-day basis. I got a chance to see how players reacted to certain situations, looking at it from a different lens."
And then in December, Leaman jetted off to Edmonton for the World Juniors, leaving a six-week gap on the Friars bench, one which Blasi embraced. For the first time in 22 years, Rico was an assistant coach.
"It was a great experience to be an assistant again, and teach, and not have to make the final decision all the time," said Blasi.
"It doesn't surprise me that he would jump behind the bench at P.C.," said Starman. "It's good for a head coach every once in a while to go back and be an assistant. You're able to micro and not macro. The micro component of scouting, evaluating and teaching is the best part of coaching. I think it's going to make him better in his new role."
The St. Paul Mission
April 2 began Blasi's latest chapter, having relocated to America's hockey heartland. He is grayer, wiser and according to Starman, more serene than the firebrand who built a CCHA dynasty over a decade ago. He no longer has Miami's recruiting dream team of assistants Jeff Blashill and Chris Bergeron, one that rounded up premier student-athletes from every nook and cranny in North America. But thanks to the transfer portal and his unique situation in The State of Hockey, Blasi is building the Tommies on his own terms, in a new league that is eerily familiar.
"It kind of felt weird in the press conference, having the [CCHA] logo behind me," said Blasi of his first presser as coach of the Tommies. "I had to look at it to make sure I wasn't dreaming."
"He's in a great place," said Starman. "With his opportunity to build a program, with a new identity, he can re-stamp everything. He doesn't have the stigma of living up to what he had done in the past at a particular institution. He's got a clean slate there, with a new group of impressionable players. He's a guy that demands expectations be very high."
If the Tommies are to compete for CCHA honors any time soon, Blasi will have to win recruiting battles against two other league squads from Minnesota for in-state prospects, ones not destined for the prestigious Golden Gophers. That means finding a way to defeat Minnesota State and Bemidji both on and off the ice. No easy feat: those two schools combined for three NCAA tournament victories between them this past spring.
"Our focus at St. Thomas is to try and get a competitive team together," said Blasi. "In the world of hockey, once you drop the puck, all of a sudden it becomes a little bit of hatred for whoever you're playing. Eventually these rivalries will become real. I'm going to venture a guess that it won't take that long."
---
Tim Rappleye is the author of two books: Jack Parker's Wiseguys and Hobey Baker, Upon Further Review. You can find him on Twitter.