ECHL
Florida Everblades Star Defenseman Masella Nears Return After Ankle Surgery
Florida Everblades Star Defenseman Masella Nears Return After Ankle Surgery
After a broken ankle, a quick return, and a surgery with two screws, Ben Masella is ready to get back on the ice for the Florida Everblades.
May 17, 2021
by Mike Ashmore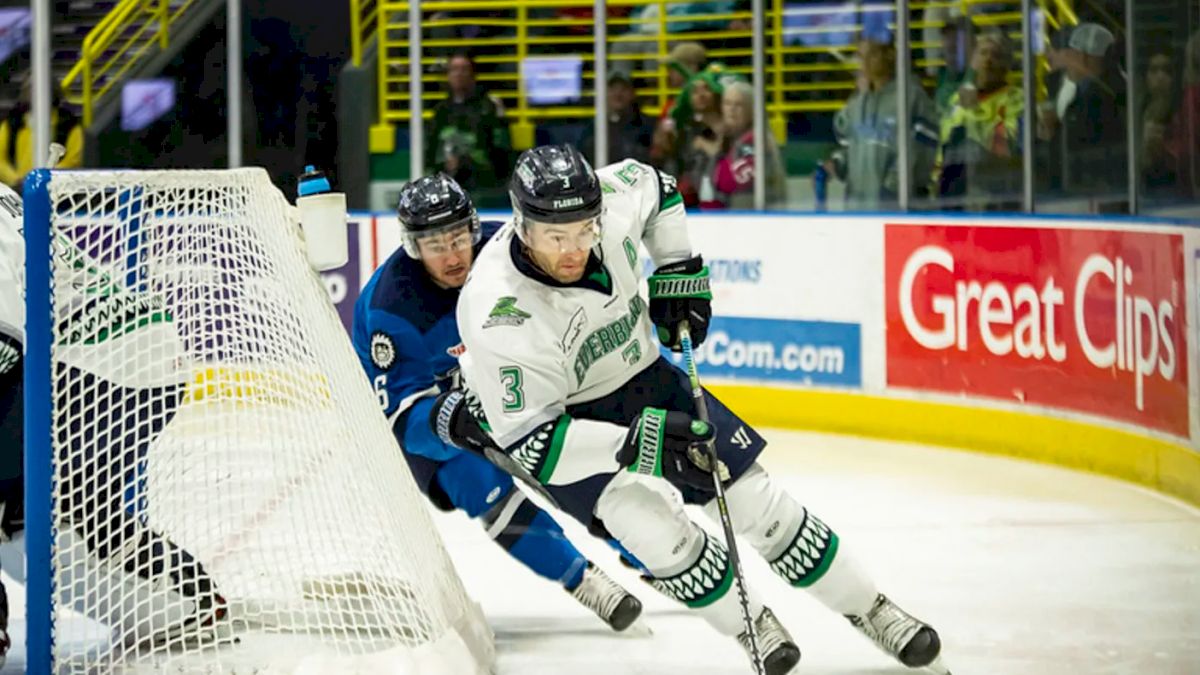 Ben Masella knew he wasn't going to like what he saw when he took his skate off.
The star defenseman for the Florida Everblades had blocked a shot in the team's home opener against the Jacksonville Icemen on December 11, with the puck striking him directly in his ankle on a 5-on-3 penalty kill.
He finished the game, not thinking much of it at the time.
"It happened in the third period, luckily for me, and you finish the game on adrenaline and the (skate) boot kind of keeps it compact," Masella told FloHockey.
"As soon as you take it off, it swells up on you right away. Unfortunately, it wasn't a good sign as soon as I took it off, I kind of had a bad feeling about it."
It turns out, he should have.
An X-ray taken three days later showed the 28-year-old's ankle was broken, which was set to sideline him for a minimum of six weeks. But, during additional imaging after that time period, it was determined that the ankle wasn't healing quite as he'd hoped.
However, the Montreal native was committed to coming back, so he remarkably came back for the team's February 12 game in South Carolina, in which he incredibly recorded an assist and a plus-two rating in a 5-2 win. But while he was able to make it through the game, he quickly realized there was no way he'd be able to make it through the rest of the season.
So, six days later, he opted for surgery, one which required the insertion of two screws into his ankle. After an arduous rehab process, he's nearly ready to return.
"I did two weeks where I was couch-ridden, four weeks of non-weight bearing and then I did four more weeks of walking in a boot," he recalls. "Ten weeks after the day of the surgery, I was able to walk without a boot on, and I've been able to do some physical therapy. I just started skating again very lightly — like 20 minutes a day — and I think we're getting pretty close to coming back."
Masella has been a stalwart on the Everblades back end since joining the club for the 2018-19 season after stays in Adirondack — a brief one after a very successful collegiate career at St. Lawrence — and Worcester. In 107 career regular-season games with Florida, he's got an astounding plus-81 rating, and was also a key contributor in their deep playoff run in his first year with the team, contributing four goals and six assists in 15 postseason contests.
With Florida having been up and down a bit in the standings after a very hot start to their season, Masella has been anxious to get back, and believes he can play a big part in taking them deep in the playoffs one more time.
However, he's also been doing what he can in a unique off-ice role while he waits for final clearance to resume playing.
"It was extremely tough to get hurt after that first game, especially after that long layoff from COVID," he said. "That puts me at like two games in over a year and a half span, which was pretty devastating. Being hurt, and the boys starting the season like that and not being able to be around them for essentially the whole year, it's been tough mentally.
"This is my third year on the team, and I wanted to stay as influential as possible and contribute as much to the success of the team as possible from the sidelines. So, I was able to get back there in the locker room with the coaches and with the guys. For a few games, I was up in the press box scouting for the coaches, seeing if I could notice anything. But then we had a game where our head coach had been suspended, and our goalie/video coach, his wife had just given birth. So, I stepped in and ran the defense for a game as a coach behind the bench, which was a pretty cool experience."
But now, his focus has shifted completely to an on-ice return, one that he says might be just days away from happening.
"The important thing for me from a personal standpoint was going to be to find my game as close as possible in the regular season leading up to the playoffs," Masella said. "In the short term, I think that's my goal. But, just being around the guys and being in the locker room — being someone who's been there for a couple years now and having gone done that road and knowing what to expect going into it — I think I can help lead some of the younger guys and some of the guys who haven't been around that much and hopefully be a positive influence on and off the ice. Especially after that long layoff from hockey, it changes your perspective a little bit, and you come back with a greater sense of appreciation for it. I'm looking forward to bringing that to the team."
---
Mike Ashmore has 17 years of experience covering professional and college sports. You can follow him on all social media channels at @mashmore98.