NCAA
Lake Superior State Head Coach Damon Whitten Addresses New Transfer Reality
Lake Superior State Head Coach Damon Whitten Addresses New Transfer Reality
Damon Whitten, head coach of the Lake Superior State Lakers, talks at length about the new world of college hockey after changes to transfer rules.
May 14, 2021
by Tim Rappleye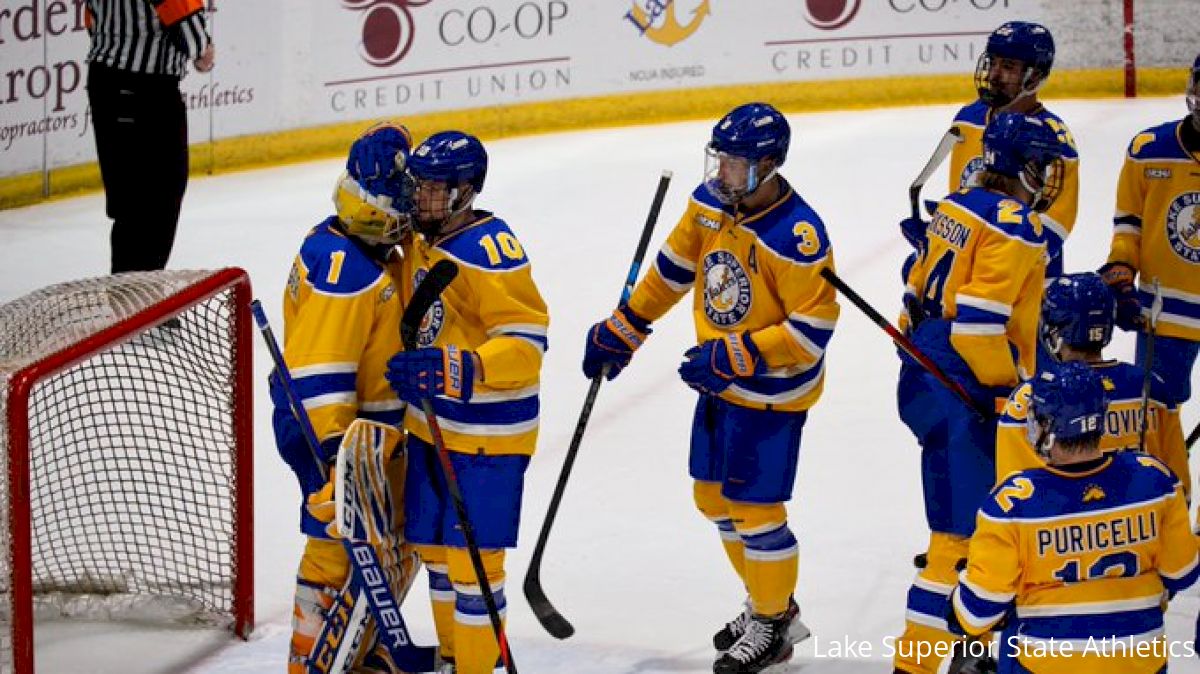 Damon Whitten's first coach's show radio broadcast should have been a time for a victory lap, an opportunity to acknowledge the remarkable accomplishments of his 2021 WCHA tournament champs. And while there were a few platitudes handed out by radiomen Bill Crawford and Matt Pocket, Whitten spent most of Tuesday's hour-long show explaining the new world order of the transfer portal, and what it will mean to the Lake Superior State Lakers and other small schools going forward. The days of respecting the sanctity of fellow coaches' players are over.
"It's a major change from the college hockey has operated for many years," said Whitten. "We've had this gentleman's agreement where if somebody verbals [verbally commits to a school] you can't speak to him . . . and that's all gone now. It will become even more cutthroat and more challenging."
A half dozen impact players from Whitten's championship roster will be wearing different Division I colors next year. Four are seniors looking to chase graduate degrees they could not acquire in the Soo, but juniors Ashton Calder and Pete Veillette — two-thirds of the Lakers most dynamic line — have sailed off. Whitten took time to clarify the case of the studious Veillette, who was able to earn a degree in just three years at Lake State.
"A brilliant kid, 4.0 in psychology," said Whitten, who was not surprised that Veillette entered the portal. The case of Ashton Calder is much harder to rationalize, the local product and leading scorer who delivered a pair of hat tricks in the Lakers championship run. Whitten is at least grateful that he learned of the news in person from all his deportees.
"For the most part, they've handled this well," said Whitten. "They've all come to us [the coaching staff] before they entered the portal."
There is not a trace of bitterness from Whitten, who realizes that the athletes have now been given the freedom that coaches have enjoyed for all time.
"There are some great reasons student-athletes have pushed for it. A coach can take a job and leave, and student-athletes [couldn't]."
The players' new freedom, deserving or not, exaggerates the gap between the Division I hockey haves and have nots.
"This is going to be the way of the world," said Whitten. "That's going to be a real challenge for those [smaller] schools playing up, the bigger schools with more resources mining it."
Like commissioner Don Lucia, Whitten is wary of tampering by those bigger schools via third parties, as is the NCAA, who reportedly addressed the issue in a virtual conference this week. Whitten realizes that complaining about the sport's new paradigm won't help his program.
"This is the world we're operating in, so you better be ready to work with it, utilize it, and educate your own players about it. Nobody has a crystal ball to see how this all works out, but you want to be on top of it, use it to help your program when you can."
Which is exactly what Whitten did, snatching Ferris State sophomore defenseman Jake Willets out of the portal. Willets will help the depleted Laker blue line, but they will sorely miss Lukas Kaelble and Will Reidell. Stronger programs cannibalizing the weak is the new status quo.
The mass exodus of CCHA school players flooding out through the portal does not bode well for their representation in the national tournament; the 2021 result: three teams selected to the NCAA tournament, three collective wins, and a Frozen Four entry, will be hard to match going forward. Yet Whitten soldiers on with brave optimism.
"We have questions, but our expectation is to win another championship."
---
Tim Rappleye is the author of two books: Jack Parker's Wiseguys and Hobey Baker, Upon Further Review. You can find him on Twitter.