ECHL
Allen Americans' Lancaster, Register Lead Defensive Blue Line
Allen Americans' Lancaster, Register Lead Defensive Blue Line
Head coach Steve Martinson has built another dynamic Allen Americans team from the blue line.
Apr 29, 2021
by Jacob Messing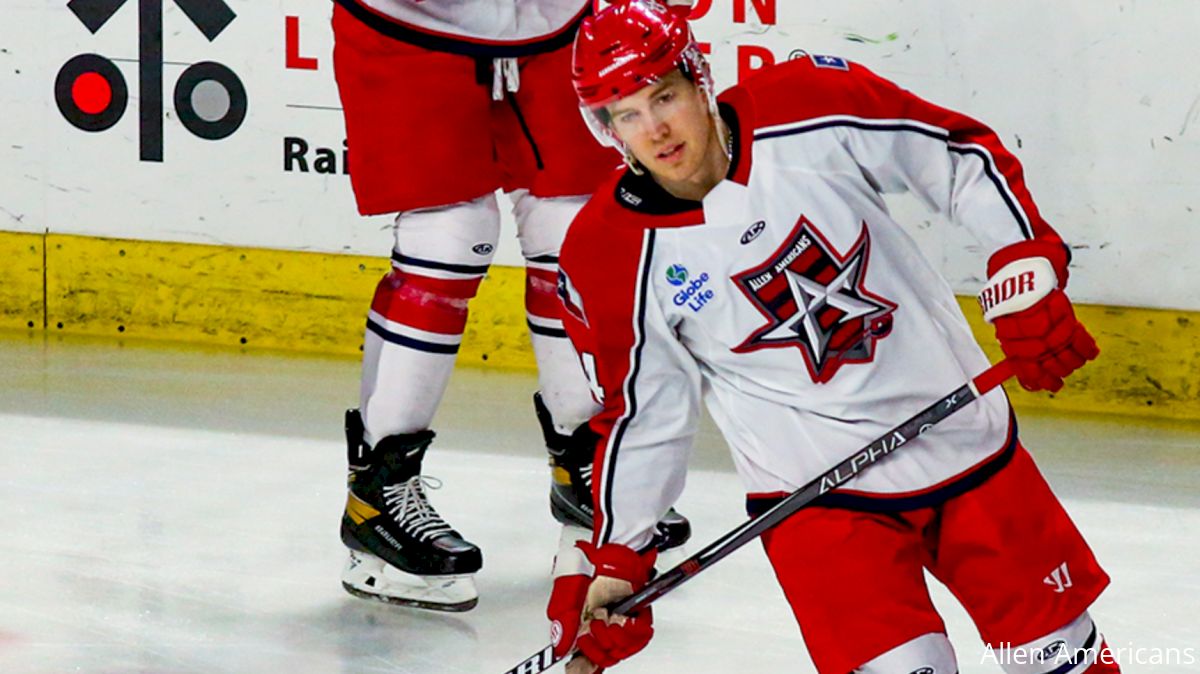 The Allen Americans have retooled since sitting in first place in the Metropolitan Division at the time of the 2019-20 season cancellation due to the coronavirus pandemic.
Making changes can look odd for a team with a 40-14-6-2 record last season, but eligibility requirements in the ECHL can be finicky and rosters revolve regularly.
Slightly more than a year later, the Americans hold a 31-18-2-1 record that places them third in the league via points percentage.
Last season, the Americans ran a system that encouraged its defense to join the rush and push the offense. On the backend they had puck-movers including Tyler Sheehy, Olivier Archambault, and Alex Guptill. The trio finished third, 19th, and 24th in league defensive scoring, respectively, each at or above the 0.88 points per game mark.
Sheehy's 70 points (26 G, 44 A) came in just 47 games and while Guptill scored at a slower pace between the three defenders, he led all Americans defensemen in shots on goal.
None of the three players returned to the Americans for the 2020-21 season.
But the system has not changed and coach Steve Martinson has found a different trio of defenseman to push the Americans' offense game.
Les Lancaster, who was overshadowed by Sheehy, Archambault, and Guptill and limited to just 34 games last season with the Americans, has taken his new role with ease and leads all ECHL defensemen with 15 goals and 41 points through 52 games.
The 26-year-old has been an offense defenseman through every stop in his career, which included a four-year stint in the NCAA with 81 points (20 goals, 61 assists) in 111 games with Mercyhurst before adding 11 points (5 G, 6 A) in 37 games with Denver his senior season.
But a nine-game stint in the AHL shared between Iowa, San Antonio, and Stockton, which he concluded with one assist and a minus-10 rating, kept him with the Americans this season, where he's continued to mature his defensive game.
Directly behind Lancaster in the defensive scoring race is teammate Matt Register, a 31-year-old ECHL veteran who has spent time with five different franchises after sharing a similar struggle at the AHL level as Lancaster. But Register is a three-time Kelly Cup winner and the type of veteran contenders bring in to add experience for their shot at a title.
After a 30-game AHL stint with the Iowa Wild last season, which limited him to just three ECHL games, the parent organization has restocked the AHL team and sent Register back down to continue his storied ECHL career.
Register has not missed a beat with 38 points (2 G, 36 A) in 49 games as the ECHL's No. 2 defensive scorer. His current 0.77 points per game pace is in line with his 455-game ECHL career, in which he holds a 0.80 point per game pace.
But Register has always brought more to his team than offense, as a three-time ECHL Defenseman of the Year recipient stabilized by his two-way dedication on the blue line.
Not far behind Lancaster and Register is another Americans teammate in Philip Beaulieu, who has five goals and 23 points in 41 games, placing him at 14th in defensive scoring in his rookie season.
Beaulieu's offense is only getting started. The 25-year-old 2019 WCHA Defensive Player of the Year recorded 26 goals and 121 points in 158 games during a four-year career with the NCAA's Northern Michigan Wildcats where he showed a mature defensive game that earned him his ECHL chance.
The trio sits first, second, and eighth overall in team scoring, showing the Americans' system of puck-moving defensemen goes a long way in the ECHL as the team's defense takes chances and the offense adapts to defensive awareness and coverage.
---
Have a question or a comment for Jacob Messing? You can find him on Twitter @Jacob_Messing.