ECHL
Aaron Luchuk Is A Leader On & Off The Ice For The Orlando Solar Bears
Aaron Luchuk Is A Leader On & Off The Ice For The Orlando Solar Bears
The second-leading scorer in the ECHL, Aaron Luchuk of the Orlando Solar Bears is making an impact on the ice and in the locker room.
Apr 23, 2021
by Mike Ashmore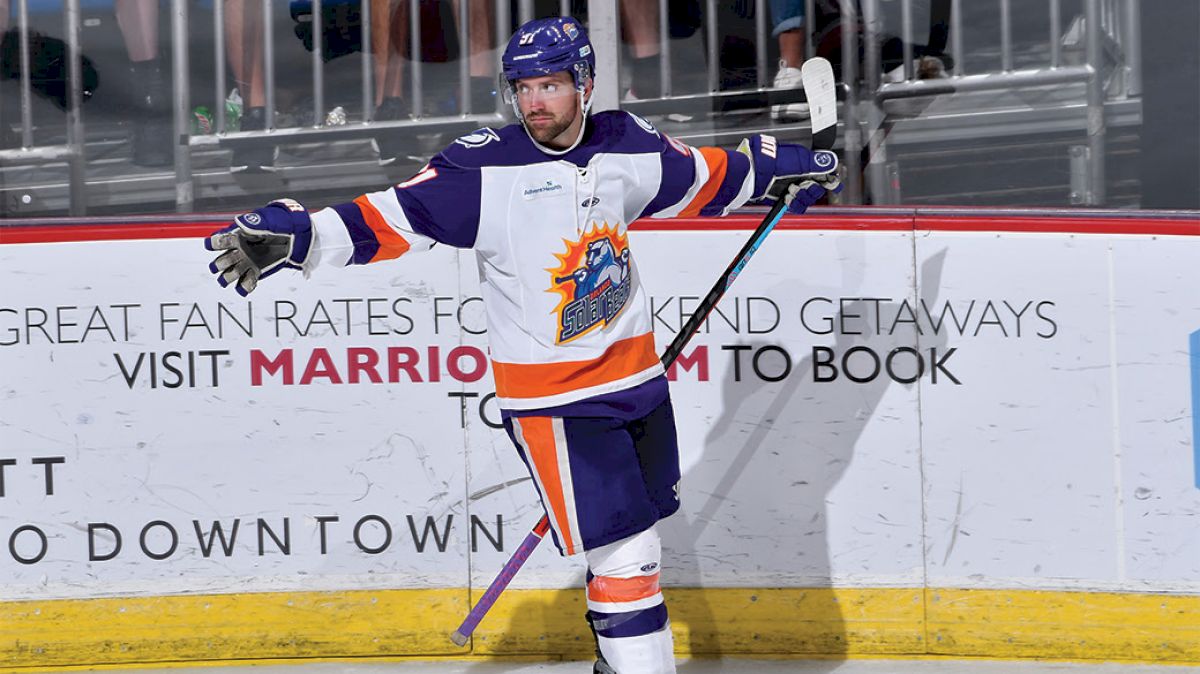 Drake Berehowsky had a pretty good idea of what he was getting when he signed Aaron Luchuk.
The Orlando Solar Bears head coach and general manager inked the 24-year-old to a deal this past November, and knew he was adding a premium scorer – Luchuk was coming off a 50-point season in just 45 games with the Newfoundland Growlers – who would easily fit into his top six forwards every night.
Having just been named the Inglasco ECHL Player of the Week after a showing in which he scored a whopping eight points (four goals and four assists) in just three games for the Solar Bears, it's safe to say that Berehowsky's assessment was spot on.
What nobody knew, however, was how Luchuk would fit in off the ice.
"When we signed him, we knew what he would bring point-wise, but I think our biggest surprise has been his leadership in the room," Berehowsky said in a Zoom meeting with local and national media on Tuesday afternoon.
"Aaron, he's taken on a leadership (role) in that room, and he leads by example on the ice. When we need to adjust things, he's always one of the first guys that'll come in and talk to me about situational stuff, so that's been a pleasant surprise for me."
A third-year pro with 160 games worth of experience split between the AHL and ECHL levels, Luchuk says it's been a little bit of a conscious effort this season to step into more of a bigger role in the locker room through his play on the ice.
"I like to think that's kind of the way I like to play hockey, I like to lead by how I play," he said.
"Being in my third year pro, I'm a little more comfortable in my own skin, and I kind of feel like I can maybe help younger guys who maybe haven't experienced things in this league or don't have a lot of experience in pro hockey, and I enjoy that. I enjoy interacting with my teammates, and enjoy (being) with those guys and helping bring those guys along. There's a big group of guys that are also leaders in this room, so it makes it easy on me. It's a good group."
Statistically, it's a group that's been led by Luchuk as well. He's the league's second-leading scorer behind only Wichita's Anthony Beauregard, and has tied a career-high with 19 goals and established a new one with 34 assists in the process.
Since February 13, however, nobody in the league has scored more points than Luchuk, a one-time Ottawa Senators signee who found himself in a handful of National Hockey League deals that sent him to Toronto, back to Ottawa, and then to Montreal in a seven-month span between July 2019 and February 2020.
Signed to an ECHL deal this year, Luchuk has firmly established himself as someone to watch for both NHL organizations and European clubs as someone who can slot in right away and help them. For now, however, the focus remains in Orlando, where the Solar Bears have established themselves as a threat to go deep in this year's postseason thanks in large part to Luchuk's contributions.
"It's always nice to be able to contribute on the scoresheet," he said. "But, we're on a pretty good stretch as a team, and it's nice to be able to help both offensively and defensively. It's something I hope to continue, and hopefully we can keep piling points here as we get to this last stretch of the season."
---
Mike Ashmore has 17 years of experience covering professional and college sports. You can follow him on all social media channels at @mashmore98.