ECHL
1-On-1 With New Wheeling Nailers Head Coach Derek Army
1-On-1 With New Wheeling Nailers Head Coach Derek Army
The Wheeling Nailers have a new head coach in Derek Army after former boss Mark French resigned to be with his family in Canada.
Apr 21, 2021
by Mike Ashmore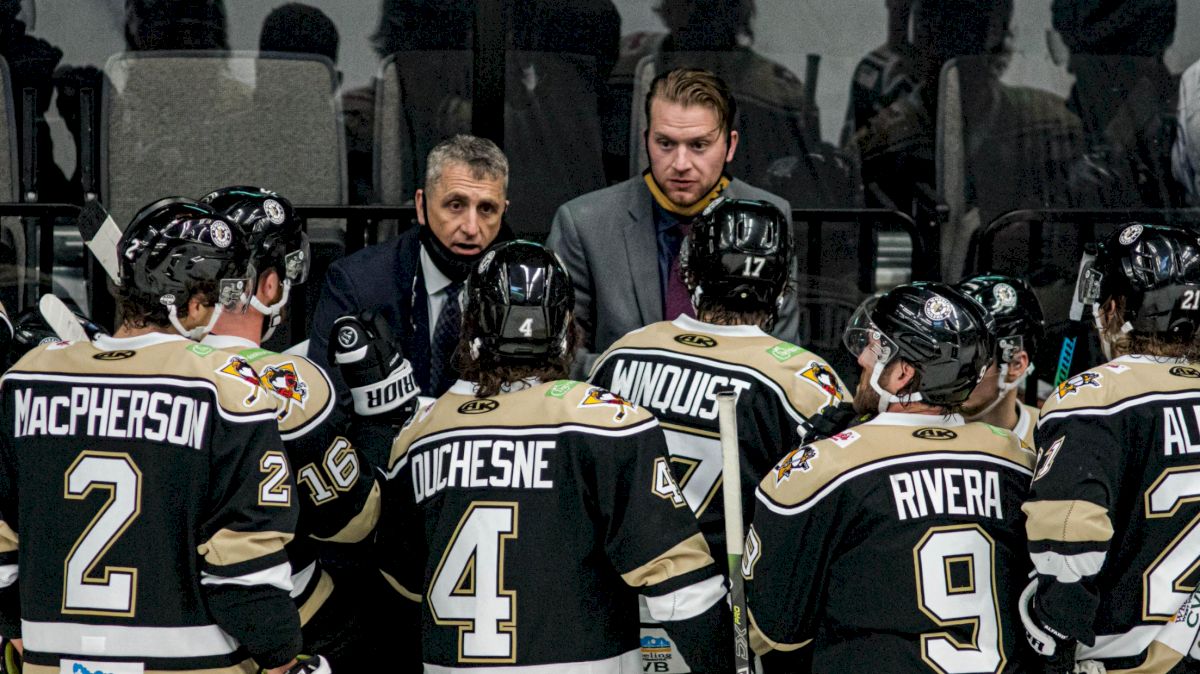 Perhaps earlier in the season, news of a coaching change for the Wheeling Nailers wouldn't have been particularly shocking.
While Mark French, who took over prior to the start of the 2020-21 season, was doing a fine job, the results weren't reflecting it; the injury-riddled team getting wins in just two of their first 11 games put them in a hole they still find themselves digging out of.
Ultimately, French helped get things turned back around and helped lead the club to wins in six of their last eight games, but he resigned on Wednesday morning, citing a desire to return home to his family in Prince Edward Island, Canada.
"I appreciated my time in Wheeling and the relationships I was able to develop in a short amount of time, but right now, I felt like I needed to put my family first," French said in a statement. "Getting to know Derek as a person and as a coach, I am confident that he will do a great job for the organization."
At just 30 years old, Derek Army is now set to take over as the interim head coach, becoming the 20th man in franchise history to take over as bench boss. He's set to make his debut on Friday with a game on the road against the Fort Wayne Komets.
"I'm very excited," he told FloHockey.
"I'm excited for the opportunity, and I'm excited for the opportunity to represent Wheeling and this organization and my family. It's a very cool thing to have happen, and something I'm cherishing and very excited for. It's one of those things you won't forget, and you want to take a deep breath and take in every moment. Even today, in the first few meetings and practices, it's just taking it all in because you're never going to have it back. And there was relaying that to the guys. Just like them, I'm going to be nervous, and it's going to be new to me. I think making sure that they see that you're human and things happen is important. But I'm very, very excited for that moment, and I look forward to it on Friday and I look forward to being back at home on Sunday and having my son and my wife at the game. That'll all be very cool."
Cool, if not at least a little bit unexpected as well.
Army had been in his first season as an assistant coach with the Nailers after spending the prior two in the same role with the Worcester Railers.
"It definitely caught me off-guard a little bit, but Mark and I really had a great relationship, and we talked a lot this year, and it had been hard on him not having his family here with him this season," Army said. "He really enjoyed his time at the rink, but going home and missing his family was tough. His family left in October, so it's been that long, they haven't been able to see him and haven't been able to cross (borders) with COVID. He wasn't able to have Christmas dinner with his family, he had it on FaceTime. There were some luxuries that he wasn't able to have. That was hard on him, and he just wanted to be home with his family. I'd known it had been tough, but as the decision came about, it did still surprise me a little bit."
Army enjoyed a solid run as a player prior to getting into coaching; he was a standout for four years at Providence College before making his professional debut with the Nailers late in the 2013-14 season. He played four more seasons after that, splitting time with Wheeling in the ECHL and six different American Hockey League teams before joining the coaching ranks for the start of the 2018-19 season with Worcester.
While the affable Rhode Island native enjoyed his time on the ice, coaching has always been his true calling.
"For me, honestly, I like to look at things a little bit differently because I grew up with a dad who was a coach," said Derek of his father, Tim, the current head coach of the AHL's Iowa Wild, who has enjoyed a lengthy coaching career that's included time in the National Hockey League with the then-Anaheim Mighty Ducks, Washington Capitals and most recently, the Colorado Avalanche.
"I was fortunate enough to grow up around the game, and when I was five years old, I was helping Dad scout, say, the Florida Panthers. I was writing down numbers of the players who were on the ice and trying to do line combinations. I've kind of always been around it, so I think a lot of the experience and a lot of what I've learned through him, it's all something I'm so thankful for and how I was able to be brought up. My brother and I, that was our goal, to become coaches. So, I've really tried to work at the craft. As a player, I played for a lot of coaches and tried to take in as much as I could. I want to continue learning, and I tried this year to continue learning from Mark, and in years past, I was able to learn a lot from Jamie Russell, who'd been in a lot of spots and was a great mentor to me as well. But I've kind of been able to mold my own philosophies and things to try to get to this point."
Army takes over a team that's been on the upswing of late, and one that he says struggled early on in large part thanks to injuries as much as it was anything else. It's also a group that, given the time of the move, will be difficult for him to put his own stamp on from a head coaching standpoint, as mass changes of things like structure and team systems are virtually impossible at this stage of the year.
"It's hard to make changes in the middle of the season, you're trying to train a player's brain to do completely different things, so it's tough in that standpoint," he said. "But for me, we work hand-in-hand with (the team's AHL affiliate) Wilkes-Barre Scranton and Pittsburgh, so we really work through a lot of their systems. But, at the same time, Mark and I put our spin on it, and I think that's why I'm fortunate to have worked with Mark, because he was open to things and we really worked at it and discussed it together, so we came to systems that we both thought would make us successful…I expect the same thing that Mark expected, for guys to play hard. But it's up to me now to continue to push them and continue to try to help steer this team, continue to win, and really just stay hungry to win."
---
Mike Ashmore has 17 years of experience covering professional and college sports. You can follow him on all social media channels at @mashmore98.