2021 NHL Trade Deadline: Defensemen & Depth Dealings
2021 NHL Trade Deadline: Defensemen & Depth Dealings
The 2021 NHL Trade Deadline has officially passed and trades have finished trickling in.
Apr 13, 2021
by Jacob Messing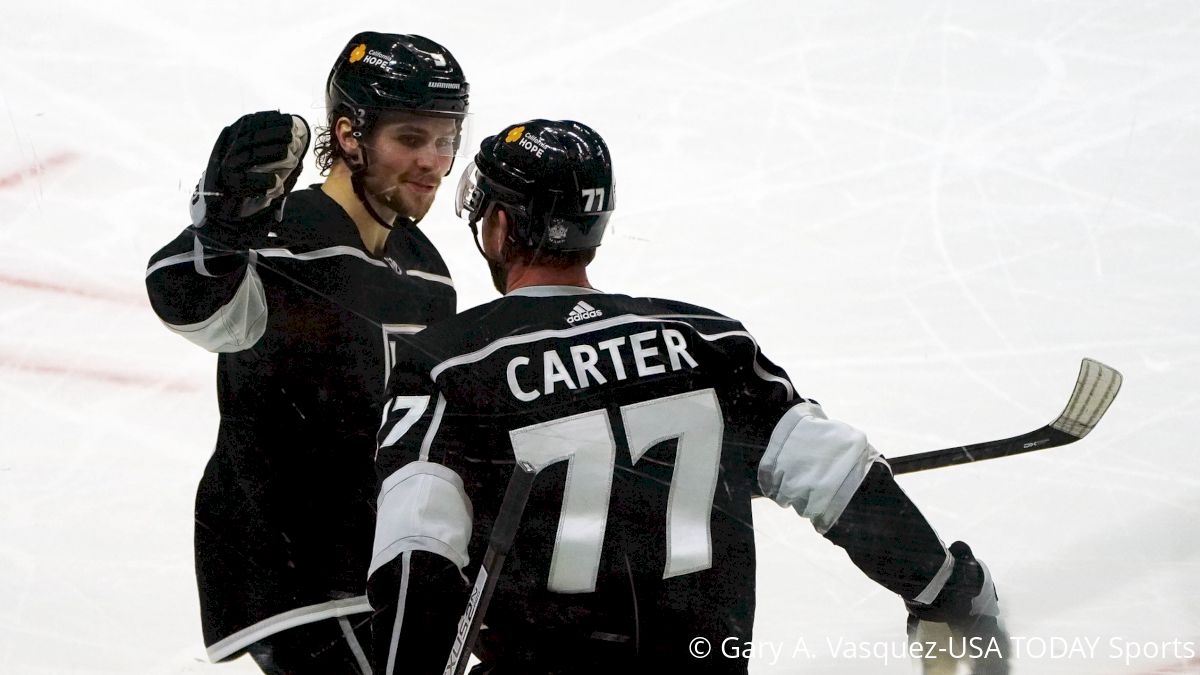 The 2021 NHL Trade Deadline has officially passed and trades have finished trickling in.
The pandemic has altered a lot of engrained mentalities when it comes to a typical trade deadline. The flat salary cap, quarantines, and taxi squads — oh, and expansion draft requirements — are a few key considerations that shaped this year's deadline.
The deadline saw its share of action after rumors of a quiet trade market for the reasons outlined above. Now comes the push for the postseason and heightened expectations for buyers. But the sellers are just as fun to discuss as they map out their futures.
Defense dominated the deadline, as teams stacked up their taxi squads and blue line depth for their playoff runs. NHL veteran defensemen including Jon Merrill, Patrik Nemeth, Erik Gustafsson, David Savard, Jordie Benn, Erik Gudbranson, Dmitry Kulikov, and Braydon Coburn are among those traded to hopeful contenders.
Detroit: Winged Wheels & Deals
Once the model of the NHL, the Detroit Red Wings continue to struggle through their regular seasons and the future remains the focus in Hockeytown. With some notable prospects coming through the system already, Steve Yzerman kept his eyes on the horizon.
In four separate deadline deals, Yzerman nabbed Washington's 2021 first-round draft pick, Tampa Bay's 2021 fourth-round draft pick, and Ottawa's 2021 fifth-round draft pick. Add in Washington's 2022 second-round pick and Colorado's 2022 fourth-round pick and the Red Wings are stacked for the next two entry drafts with 12 picks in 2021 and 10 picks in 2022.
Beyond picks, the Red Wings brought in Jakub Vrana, Richard Panik, and prospect Hayden Verbeek.
It cost Yzerman Anthony Mantha, Merrill, Nemeth, Brian Lashoff, and some retained salary through the end of 2021. It's an absolute win for Detroit.
Toronto Maple Lightning
It is hard not to look at Toronto's acquisitions from free agency and the trade deadline and not feel like they are taking a page out of Tampa Bay's book. The reigning Stanley Cup champions spent years looking like it was their year until they finally broke through last fall.
All it took was some grit and "playoff-type" guys including Zach Bogosian, Blake Coleman, and Barclay Goodrow — three gritty, in-your-face players that play the right way.
Fast-forward to the Maple Leafs, who added Bogosian in the offseason along with another gritty veteran in Wayne Simmonds. The deadline? The addition of Nick Foligno means more of that play-the-right-way style is embedded into the roster and a lot more leadership (not to mention Joe Thornton).
There's no one correct way to win the Stanley Cup, but Leafs general manager Kyle Dubas certainly seems to have taken notes off the Lightning's 2020 Stanley Cup recipe.
The addition of David Rittich from Calgary offers the Leafs goaltending depth pending injuries in their postseason run.
Pittsburgh Contending or Pretending?
There seems to always be talk of "if you have Sidney Crosby, you have a shot." Evgeni Malkin, Kris Letang and recent deadline acquisition and two-time Stanley Cup champion Jeff Carter go a long way, too.
The Penguins have found themselves on a nice run in recent weeks, climbing to third in the contested East Division. But the sole addition of a 36-year-old declining winger is a strange bet on the surface.
Carter hasn't carried the same offense since a leg injury in the early goings of the 2017-18 season but has had an agreeable bounce-back pace in 2020-21.
Perhaps the Penguins see his Cup-run game returning, but it's a gamble that will be interesting to see play out.
New York Islanders Mean Business
After winning the Cup with the Capitals in 2018, coach Barry Trotz moved on to the New York Islanders, where they sit in a battle with his old team. The defensive prowess of the Islanders has put them in a fight for the Eastern Division, losing a tie by a mere two ROWs.
Trotz' roster was bolstered with Kyle Palmieri, Travis Zajac, and the aforementioned Coburn; a trio of defensively responsible veterans with the two former having large ties to GM Lou Lamoriello dating back to his New Jersey Devils days.
---
Have a question or a comment for Jacob Messing? You can find him on Twitter @Jacob_Messing.