Men's WCHA Hockey
Minnesota State Departs Frozen Four After Painful Loss To St. Cloud State
Minnesota State Departs Frozen Four After Painful Loss To St. Cloud State
After a historic run to the Frozen Four, the Minnesota State Mavericks saw their season end with a cruel 5-4 loss to St. Cloud State on a wild play.
Apr 9, 2021
by Tim Rappleye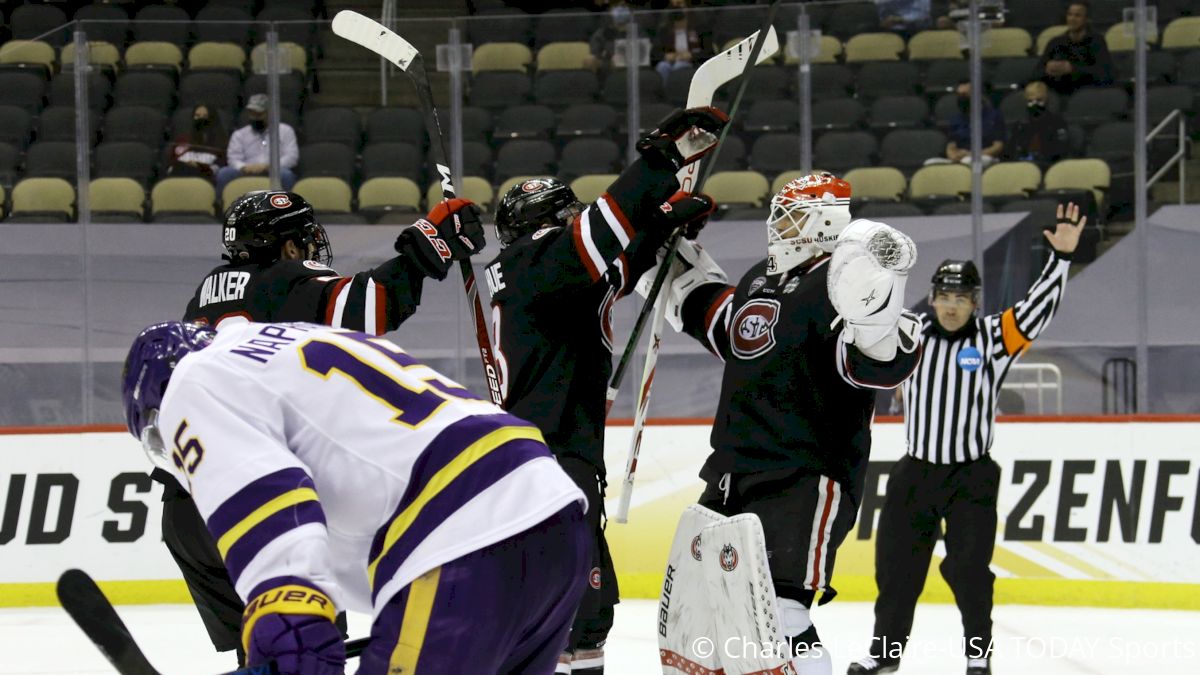 NCAA hockey media protocol is an emotional meat grinder. Three of the four teams in Pittsburgh will face, and ultimately surrender, to their season's mortality, a step or two from snatching that coveted brass ring.
Then, before showering and digesting the painful outcome, a coach and a captain must step in front of a horde of journalists and describe their loss. For seniors, it is often the most painful moment of their lives, peeling off their uniforms for the last time, saying goodbye to best friends and their former lives as student-athletes.
Minnesota State's Reise Zmolek looked like he had just escaped a shipwreck when he faced the media Thursday. A 24-year-old bear of a man — scruffy beard, drenched in sweat and tears — had to put his personal nightmare into words.
"Obviously it's tough what we went through," said Zmolek, who was temporarily paralyzed with emotion. He choked back a sob, apologized, and then soldiered on. "Proud of that group we have in there, a special group of guys . . . every single person in that locker room."
One final comment from sophomore Nathan Smith, and then the two Mavs wobbled back to their spacious locker room in Pittsburgh, their mission halted prematurely by the harsh reality of single elimination. The shot that ended their season came in the final minute of regulation, a magic bullet that was brilliantly redirected by St. Cloud's Nolan Walker. Gutty Maverick sophomore Ryan Sandelin needed a fraction of a second more to get into the shooting lane; a few atoms of the puck actually grazed him en route to Walker's waiting blade. Other sports may be games of inches, but this semifinal was determined by much smaller increments.
"They made a play," said the somber Mike Hastings, next up in the NCAA media firing line. "When you have two evenly matched teams, they found a way to do it and we didn't. As much as it hurts, we've got to own the outcome."
Hastings was then asked to describe the heartache of saying goodbye to his remarkable senior class.
"It's hard," he said. "That's a tough time to walk into a locker room like that and see guys hurting. There's a group of upperclassmen that have helped pave the way for our program, very prideful individuals that have done all the heavy lifting. To walk in and see them feeling the way they do . . . it's not a great feeling. Wounds heal, but they take time."
The national coach of the year realized that getting to the Frozen Four, despite its gut-wrenching outcome, will reap benefits for his program.
"It's an opportunity we earned, we've got to go back and learn from it, and start our building."
Hastings knows how much joy this team brought to Maverick Hockey Nation due to their breakthrough NCAA run. Again, he credited his players.
"They wrote history. Finding a way to fight through adversity and win our first NCAA game, and then win our first NCAA regional and get an opportunity to be on this stage."
The coach made a point of recognizing the superb class of 2020, dedicated Mavericks who because of the COVID-19 shutdown, never got the chance to avenge their crushing NCAA opening-round loss in 2019. Devoted players like Marc Michaelis, Parker Tuomie, and Charlie Gerard never got to participate in the program's redemption.
"Last March, a year ago, when that group was on their journey, they didn't get an opportunity to write [the history]. So this group picked those pieces up as soon as we were able to and we started this season."
Hastings has paid his dues, winning big at nearly every level: USHL, NCAA, and IIHF. The more you win — and no one has won more than him during his tenure in Mankato — the greater the pain of losing at each season-ending tournament. He calmly fulfilled his press obligations and returned to the room, watching a historic season now represented by bulging laundry bags, collections of used tape balls, and leaky ice bags. He had more business to attend to this weekend: his star goalie Dryden McKay was a finalist for two major awards, with receptions to follow.
He has much to look forward to next season, including the return of blossoming star Nathan Smith who repeatedly implied that he would return to Mankato next season. But it was too early to dwell on the future, Hastings would have to savor and digest the bittersweet from his current club's celebrated run to Pittsburgh.
---
Tim Rappleye is the author of two books: Jack Parker's Wiseguys and Hobey Baker, Upon Further Review. You can find him on Twitter.