ECHL
Matt Greenfield Treks From Florida To Canada To Kansas City For His Shot
Matt Greenfield Treks From Florida To Canada To Kansas City For His Shot
Kansas City goaltender Matt Greenfield has been all over the continent to get his shot, and he's making the most of it with the Mavericks.
Apr 9, 2021
by Mike Ashmore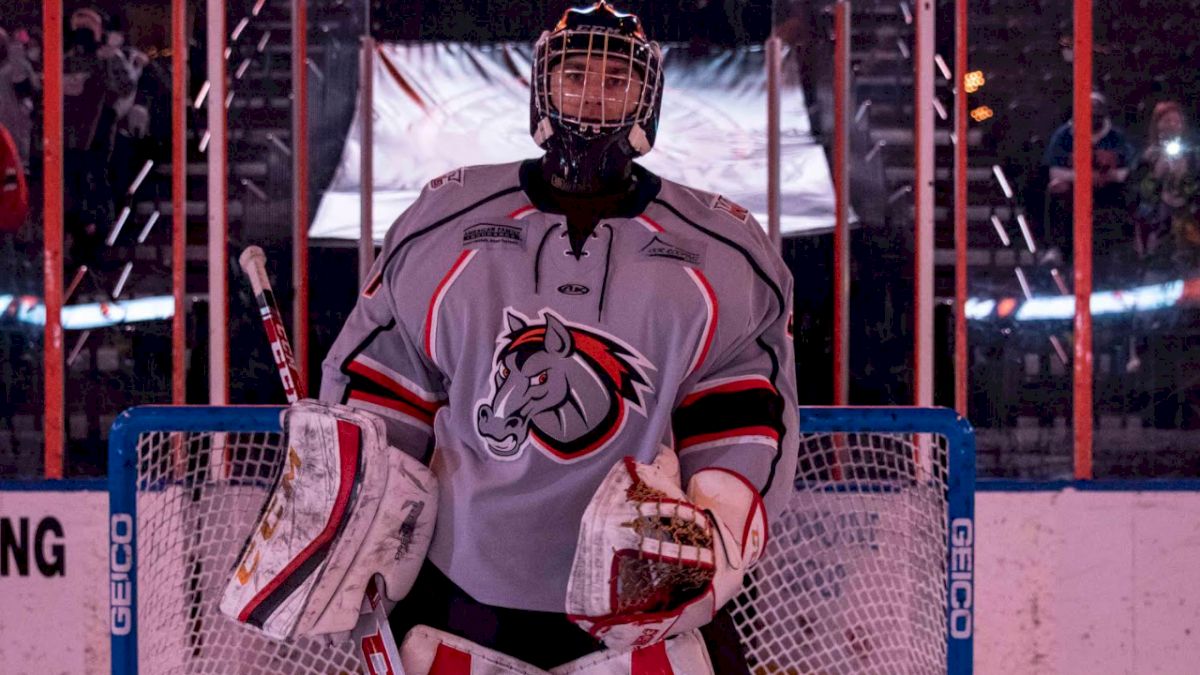 Typically, going from facing NHL players to the ECHL isn't cause for celebration.
Matt Greenfield, however, was thrilled.
Fresh out of a successful four-year run at the University of Calgary, the 26-year-old Kansas City Mavericks goaltender had been working out with some Calgary Flames players when he got the call that he'd been waiting for.
"I was skating with the Flames, and they'd needed somebody to be sort of a 'Shooter Tutor' for them at practice, and I was in town," he told FloHockey with a laugh.
"I ended up hopping on with them, and I was feeling pretty good about my game and was doing well. I was getting positive feedback there, my agent called and said that they were happy, and to be ready because something might materialize."
When the Mavericks had some injury issues early in the season with one of their goalies, it did.
Greenfield got the 10:30 PM phone call at his girlfriend's parents house in Red Deer, Alberta – about an hour and a half trip from where he lives and also where he had his passport and gear – and scrambled to make an 8 AM flight the next morning, went through his physical and COVID-19 testing upon joining the team that night on the road in Wichita and ended up dressing as the backup that night, January 10.
Things have worked out well for both sides ever since. In just three months, Greenfield has earned Warrior Hockey ECHL Goaltender of the Week honors twice, including this past week, one in which he posted an extraordinary 3-0-0 record with one shutout, a 0.40 goals-against average and a save percentage of .988 in three appearances against Tulsa.
"It was great to be able to string together some games like that," he said. "I was really happy with how I played. Obviously, any time you get three games and only give up one, that's just as much about my teammates as it is about me. They were doing an awesome job of taking away chances and clearing out rebounds, and most importantly, we were able to get six points out of it, which is awesome."
Greenfield stopped all 13 shots he faced in relief in a 4-3 win on Friday, turned aside all 41 shots in a 5-0 victory on Saturday and made 30 saves in a 7-1 win on Sunday.
Entering this Friday night's game in Allen, the Parkland, Florida, native has appeared in 13 games for the Mavericks this season with a record of 6-4-2-1 with two shutouts, a 2.45 goals-against average and a save percentage of .924.
It's been a remarkable run for a goaltender with no prior professional experience, especially one coming from university in Canada, where statistics can often be a bit murky given a sometimes-uneven level of play as a whole. But, to his credit, Greenfield never gave up hope that he'd one day be able to not only get an opportunity like this, but that he'd be able to make the most of it when he did.
"I mean, it's been pretty challenging for sure," he said. "I'd be lying if I said that there were never any doubts along the way. But, I think my belief was always stronger than my doubt. There were tough moments for sure – a couple injuries, I got cut a couple times – and I ended up flirting with pro hockey at the end of last season, but decided to return to school with having five years of eligibility in Canada. They ended up canceling our season, and it left me in a bit of a pickle. Fortunately, I was able to get this opportunity and I've been able to do well with it so far."
That would seem to be an understatement.
The ECHL has long been a breeding ground for goaltending prospects, and even at 26 years old and undrafted, it's hardly out of the realm of possibility for Greenfield to one day emerge as having a chance to reach his goal of one day playing in the National Hockey League.
After all, he's already got the confidence that comes from facing some of those players earlier this winter.
"I think that helped me immensely," Greenfield said. "From a confidence standpoint, it was really nice to know that it wasn't the type of thing where I had to worry about if I could handle this level, because deep down, I knew I could. When you're facing the best in the world, you develop the confidence that you can go and play with anyone."
---
Mike Ashmore has 17 years of experience covering professional and college sports. You can follow him on all social media channels at @mashmore98.