NCAA
Coast To Coast: NCAA Players Headed To The Next Level
Coast To Coast: NCAA Players Headed To The Next Level
With the NCAA down to the Frozen Four, many collegiate players are now free agents and NHL prospects able to sign entry-level contracts in the pros.
Apr 8, 2021
by Jacob Messing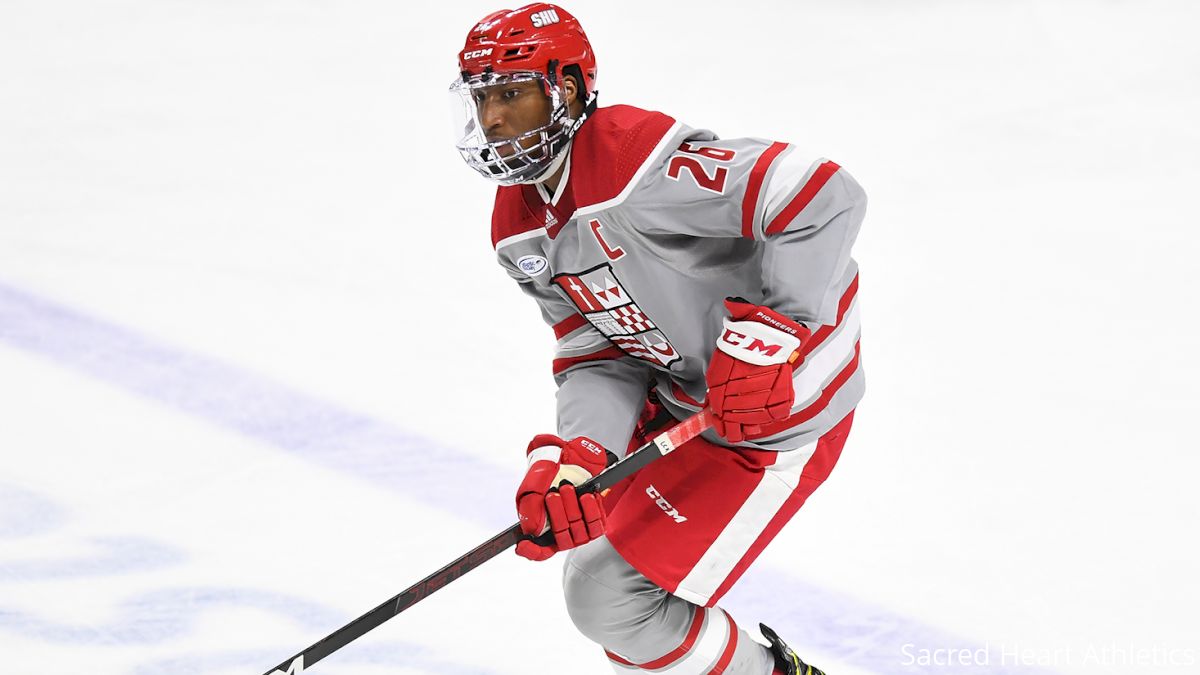 Coast To Coast is FloHockey's monthly dive into North American hockey and live-streaming partnerships.
With the NCAA down to its Frozen Four, all other programs have entered their offseason, freeing up free agents and NHL prospects to sign entry-level contracts in the pros.
A handful of notable NHL draftees were among those to have ended their collegiate careers, including the NCAA's top goal scorer and point leader in Cole Caufield.
ECHL Entrees rookie
While Caufield joins the Montreal Canadiens in their playoff push and adjusts to life in the NHL, other collegiate colleagues will begin their professional careers with tryouts in the ECHL for some more development time.
Among notable NCAA players heading to the ECHL for the remainder of the 2020-21 season are Marc Johnstone, Croix Evingson, and Garrett Metcalf.
Johnstone, 24, spent the last four seasons with Atlantic Hockey's Sacred Heart, totaling 33 goals and 95 points over 126 games. He signed with the ECHL's South Carolina Stingrays this spring, where he has recorded two assists through four games.
Evingson, 23, played last season with AHA's Niagara, chipping in 12 points in 21 games for a career year from the blue line after two seasons with UMass Lowell and a transfer year in 2019-20. He is now a member of the Jacksonville Icemen.
Metcalf, 25, played nine games during Long Island University's inaugural NCAA season. He recorded two of the program's three wins after transferring from Mercyhurst, where he spent the previous two years. In one game with the ECHL's Utah Grizzlies, he sports a 0.95 GAA and .960 SV%.
AHL Amateurs
Brennan Kapcheck, Alex Newhook, and Odeen Tufto highlight an array of college players entering the AHL this spring.
Kapcheck is another piece in a pattern forming between Toronto and Atlantic Hockey. The 23-year-old was AIC's premier defenseman during their three-peat as AHA regular-season champions. Now he's bringing his talent to an already-solid Marlies team.
🖊️ News: We've signed defenceman Brennan Kapcheck to a two-year AHL contract. #ForeverStartsHere

Details » https://t.co/NjJiDvgtkt pic.twitter.com/sit1qNeRU8

— Toronto Marlies (@TorontoMarlies) April 2, 2021
Newhook, the 16th overall pick from 2019, is another player entering an enviable situation. Following two impressive seasons at Boston University, he's turned pro to join a young, deep, Colorado Avalanche organization where he'll start with the AHL's Eagles.
Odeen Tufto, a free agent this spring, was one of the nation's top scorers. As captain, Tufto contributed 47 points on a strong Quinnipiac team in a dominant playmaking role. He signed with the NHL's reigning Stanley Cup champion Tampa Bay where he'll have to show his 5-foot-7, 174-pound frame can contribute in the AHL.
NHL Newbies
The aforementioned Caufield led the NCAA with 30 goals and 52 points in just 31 games for the Wisconsin Badgers. Caufield is a near-lock for the 2021 Hobey Baker Award as the NCAA's most outstanding player.
Other notable rookies making the NHL jump include a pair of Ottawa Senators prospects, another Nashville defenseman, and a trio of Caufield's former USNDP teammates.
In Ottawa it's all about the future, and Shane Pinto and Jacob Bernard-Docker are hoping to be a big part of it. Pinto, a 2019 second-round pick (32nd overall) chose to end his NCAA career as a sophomore after 31 goals and 60 points through 61 games with North Dakota.
Bernard-Docker, also out of North Dakota, had three strong seasons developing on the blue line and living up to his potential as the 26th overall pick in 2018. He has shown reliable two-way defense with 15 goals and 60 points in 95 games alongside being a go-to defenseman in all situations.
Did someone say Nashville defenseman? David Farrance did. Another impressive defenseman coming up the ranks is becoming an annual event for the Predators. Farrance recorded 88 points in 113 games across four years at Boston University, helping the team bounce back after a pair of subpar seasons.
Matt Boldy (12th overall in 2019; Minnesota Wild), Spencer Knight (13th overall in 2019; Florida Panthers), and Cam York (14th overall in 2019; Philadelphia Flyers) went back-to-back-to-back in the 2019 draft loaded with premier USNDP players followed by Caufield at 15th overall.
Boldy finished his career at Boston College with 20 goals and 57 points in 56 games. He's joining a surprise Wild team eager for more youthful talent and Boldy's creativity and passing will fit in nicely.
Knight, the goalie of the 2019 draft, went 39-12-3 for Boston College over the past two seasons with individual numbers that place him among the best in the NCAA. He's the future of a Florida Panthers team that has broken out in 2020-21.
York is another guy heading to the right place. Philadelphia is in need of defensive help and York is defensively mature with an ability to add offense. He showed significant all-around improvement in his second season with the Michigan Wolverines and finished his NCAA career with 36 points in 54 games.
---
Have a question or a comment for Jacob Messing? You can find him on Twitter @Jacob_Messing.