Atlantic Hockey 2020-21
Toronto Maple Leafs, Marlies Show Belief in Atlantic Hockey Conference
Toronto Maple Leafs, Marlies Show Belief in Atlantic Hockey Conference
The Toronto Marlies have dipped into the Atlantic Hockey cookie jar more than once for an impact defenseman.
Apr 6, 2021
by Jacob Messing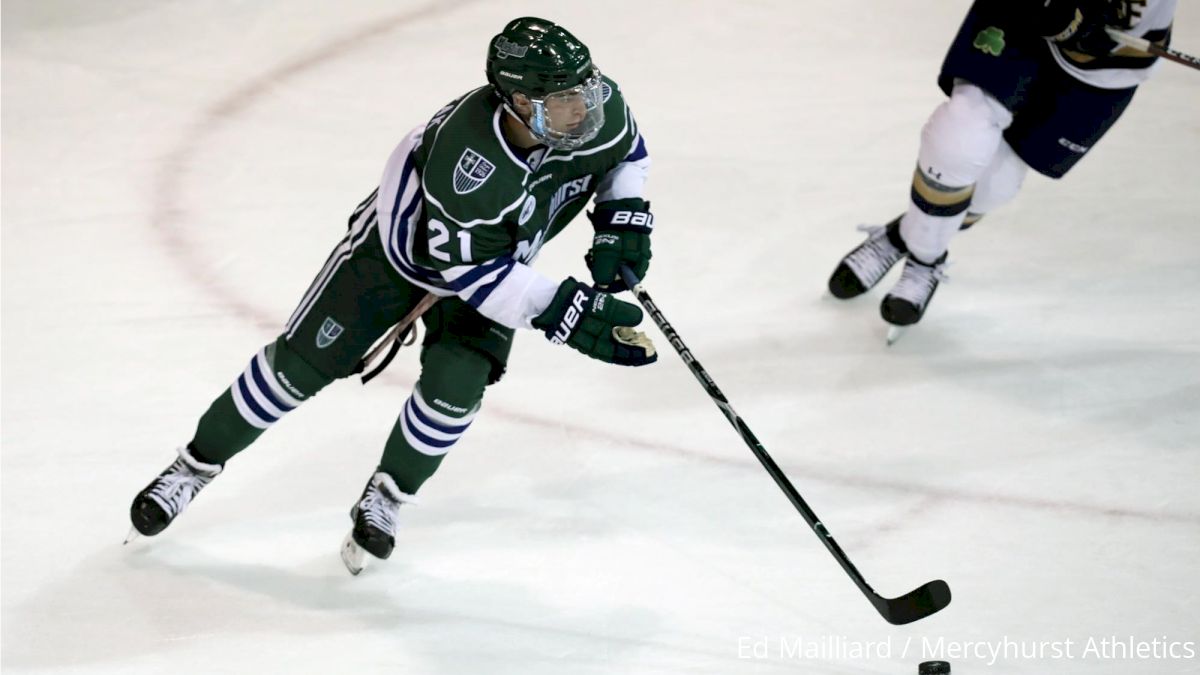 Defensemen are an asset an organization can never have too many of, so when free agent NCAA defensemen show maturation professional clubs come calling.
That was the case last week, when the Toronto Marlies added their second free agent Atlantic Hockey defenseman in the past three years, building both defensive depth and momentum of the NCAA's underdog conference.
Atlantic Hockey is often overshadowed by other larger conferences, but its 11 programs have a lot to offer, beginning with three-peat regular-season champion American International.
Toronto can appreciate the label of being an underdog. After years of basement-dwelling hockey for the Maple Leafs, the organization has rebuilt itself with elite talent and league-wide competitiveness.
At their lowest, the Leafs' greatest downfall was its blue line and every time an all-star defenseman was viewed as trade bait, there couldn't be rumors without the Leafs having their hat in the proverbial ring.
Now, the organization is adding to its defensive depth and showing it's not afraid to take a chance on late-bloomers.
In 2019, when Mercyhurst junior Joseph Duszak was in a career year as one of the top-scoring defensemen in the NCAA — in the same realm as Cale Makar and Adam Fox — the Leafs talked him into forgoing his senior season and signed him to an entry-level contract.
Following an NCAA career with 30 goals and 99 points in 101 games, Duszak has continued to develop at an encouraging pace.
The 23-year-old followed up his college career as a point-per-game player in the ECHL in 2019-20. With eight points in 19 games this season with the Marlies, Duszak is becoming more than numbers on paper. He's done a good job learning to balance his defensive accountability with fewer risks and more natural offensive opportunities.
If you're watching Marlies hockey for the first time this season, keep a close eye on Joseph Duszak.

By his own admission, playing the best hockey of his career and making great strides.

— Mark (@MarkUkLeaf) April 3, 2021
Two years later, the big club in Toronto took another flier on an Atlantic Hockey defenseman, signing American International's Brennan Kapcheck to an entry-level deal that will send him to the Marlies with expectations of growth similar to Duszak.
Listed at 5-foot-9, the defender skated with the Marlies developmental camp each of the past two years before inking his contract following his senior campaign.
Kapcheck, 24, finished his four-year collegiate career with 14 goals and 94 points in 128 games, scoring at least 25 points in each of his first three seasons and 18 points in 19 games in 2020-21.
His consistent offense and stalwart defense were a major part of the Yellow Jackets' third consecutive regular-season conference title in 2021. As team captain, Kapcheck was a leader both on and off the ice and now gets the chance to prove himself at the next level.
Kapcheck's contract is with the Marlies and is a professional tryout for the remainder of the 2020-21 season. Currently in a playoff spot, the aforementioned defensive depth will be important when the Leafs make decisions on their taxi squad and playoff roster come the NHL's postseason.
Toronto is hardly the first organization to pick up Atlantic Hockey development products, but their snagging of two AHA defensemen over the past three springs says a lot about the growth of the conference, despite a lack of NHL draftees like the Big Ten, Hockey East, or NCHC.
Trends start somewhere and it only takes one organization to do something different before the copycats take notice.
---
Have a question or a comment for Jacob Messing? You can find him on Twitter @Jacob_Messing.