ECHL
Rapid City Rush Take Teddy Bear Toss To A New Level With Charity Push
Rapid City Rush Take Teddy Bear Toss To A New Level With Charity Push
Even in a league with a long history of giving, what the Rapid City Rush are getting ready to do on Saturday night is seemingly unprecedented in the ECHL.
Apr 1, 2021
by Mike Ashmore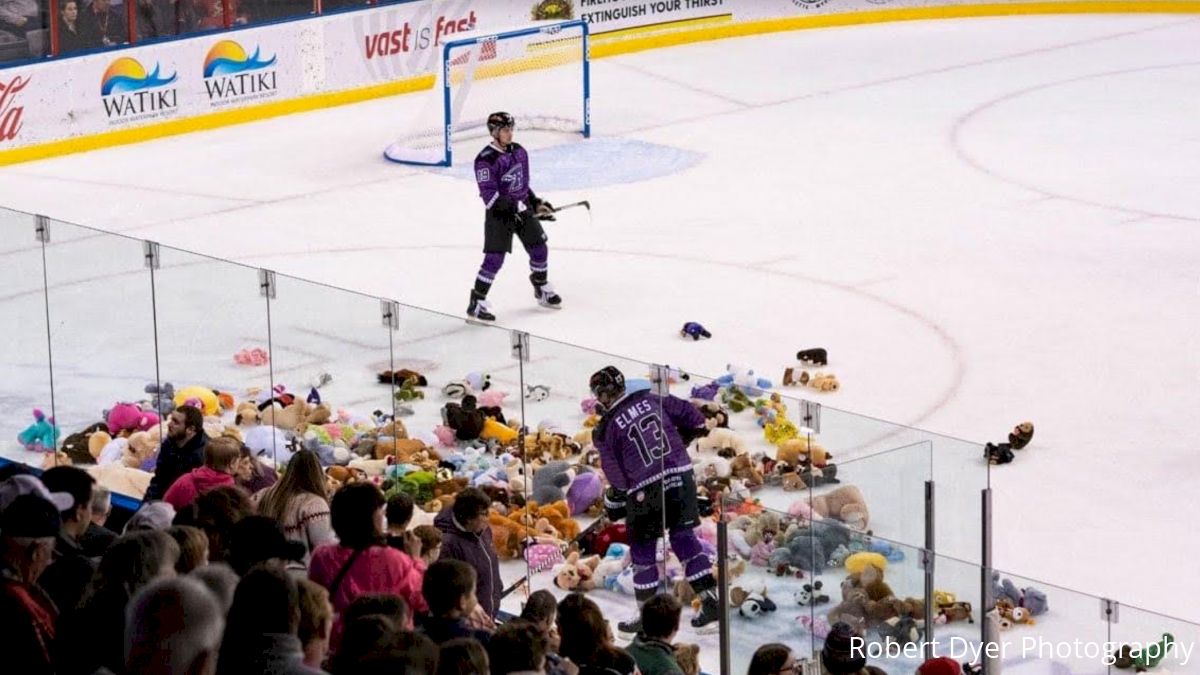 Even in a league with a long and proud history of giving, what the Rapid City Rush are getting ready to do on Saturday night is seemingly unprecedented in the ECHL.
Paired up with their annual "Teddy Bear Toss," the organization is putting on "Rush Gives Back Night" during their April 3 game against the Wichita Thunder. Each ticket, regardless of where the seat is, will be sold for $25. Then, $5 will go into a fund that will then be donated to four partners: Boys and Girls Clubs of the Black Hills, Court Appointed Special Advocates ("CASA"), Fork Real Café, and Special Olympics South Dakota.
Not only will the bears thrown onto the ice following the conclusion of the first period be donated to charity — the team says they'll be distributed to CASA, Rural America Initiatives, and Youth and Family Services — but up to $20,000 is expected to be given to their four aforementioned partners through that fund, an incredible amount at any level, no less in the ECHL.
"When we got into Rapid City a couple years ago, one of the things that I really wanted to do was be more of a community partner than a professional hockey team," Todd Mackin, president of Spire Hockey, told FloHockey earlier this week.
"The first year we were here, we were able to get out in the community and do things that were very impactful, not only in Rapid City, but certainly for our business as well. We had a 'Kid's Day' game last year, and about 75 percent of the kids here are in free or reduced lunch programs, so in a lot of cities where you'd be able to charge for tickets, we weren't able to, so we gave all the tickets to the kids for free. We had a great partner in Black Hills Energy that got behind that program and really made it feasible for us as a team.
"This year, as we were moving forward with the season, we realized that we weren't going to be able to do a 'Kid's Day' game and we weren't going to be able to be out in the community as much as we'd like to . . . we started to think of how we could get back in the community in ways that we wanted to. 'Rush Gives Back' is kind of our mantra on that, and Black Hills Energy wanted to get involved with that again."
With a willing partner, it was then up to the Rush to try to find organizations that they'd previously helped and wanted to work with again, with a focus on some that were perhaps struggling in one way or another given the financial stress that the COVID-19 pandemic has put on many charitable organizations.
South Dakota currently has no capacity restrictions for indoor venues like the Rushmore Plaza Civic Center, so the Rush could pack the building if they so choose, but Mackin says they've been implementing multiple sections that are socially distanced — and the team asks that those fans wear masks in those sections, of course — which makes it all the more important that Black Hills Energy stepped up to match up to $10,000 in ticket sales from this game.
While the restrictions in Rapid City are certainly significantly less than they are in other league markets, that doesn't necessarily mean that it hasn't been any less difficult to make an impact in the community.
"It's been really challenging, but I think also a good test for our organization on how we can think outside of the box and get some things done," Mackin said. "The return-to-play protocols that the ECHL put in place were very strict — and for good reason — and we probably wouldn't have gotten back on the ice the way we did and being the first professional hockey league in North America to have done so if we didn't have some of those guidelines, but it does put you in a position where, at our core, what our league and what our sport at this level is built on, is interacting with the fans and having that camaraderie in our city. So, it has been difficult, but we've done some really good things, we've just had to do them differently.
"We do an event where we read to kids through Zoom every single week, we do a question and answer opportunity and do some trivia with kids, we have our mascot be very engaged . . . but to be able to do something like this, so many of these partners could have just shut down their doors, but they're passionate about this and keep fighting to help the community. But this has been a passion project for our staff, we want to be a community partner. Our number one overall goal is to make this community a better place."
The Rush's charitable efforts have even had a positive impact on one of their own.
On March 20, Rapid City goaltender Gordy Defiel suffered a medical emergency on the bench during the team's 7-0 win over the Utah Grizzlies. While little has been offered in exactly what happened to Defiel that night — the team reported he was doing "much better" not long after the incident — the Rush will be holding an auction and raffle initiative in conjunction with the PHPA's Hardship Fund that will directly benefit Defiel's upcoming medical treatment.
Items include team-signed jerseys, sticks, game-worn items and more, with proceeds going directly to Defiel, who was subsequently released by the team so that he'd be more able to benefit from their assistance directly, which he couldn't do while under contract.
"With Gordy, it was a no-brainer for us," Mackin said. "All the things we're auctioning off and how we're raising funds, those are things that would typically go to a charitable organization of some kind or come back to the team. At our core, we want to be a piece of the community and we don't want to just take, take, take, we want to give. As a business model, that's a very important way to look at things. People are way more likely to support you whether you win or lose on the ice, and way more ingrained in your success as an organization if you're showing and asking what they need instead of telling them what you want. When our staff goes out and meets with people, the first thing I tell them is to ask how we can help them.
"With this, the Collective Bargaining Agreement is kind of tough in situations like this, so we wanted to make sure he was thinking about getting better and not about the bills that were coming . . . everybody that plays for our team is a part of our family, and we just want to make sure that it isn't just lip service and we'll come through on that."
---
Mike Ashmore has 17 years of experience covering professional and college sports. You can follow him on all social media channels at @mashmore98.