Men's WCHA Hockey
Ryan Sandelin Bags Minnesota State Winner With Mom's Heart In The Balance
Ryan Sandelin Bags Minnesota State Winner With Mom's Heart In The Balance
Wendy Sandelin couldn't take the pressure of watching her son Ryan battle through NCAA sudden death, so she grabbed a snow shovel.
Mar 29, 2021
by Tim Rappleye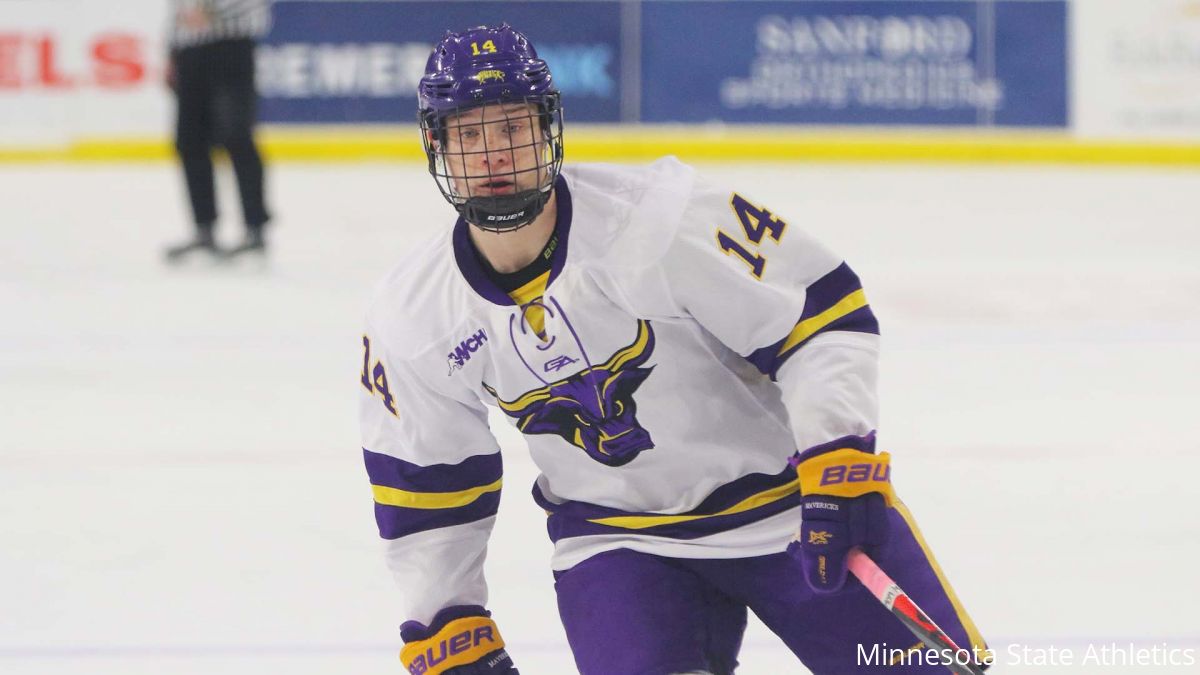 Wendy Sandelin couldn't take the pressure of watching her son Ryan battle through NCAA sudden death, so she grabbed a shovel and headed into the Duluth night.
"I went out to shovel some snow," said Mrs. Sandelin, who has learned not to ignore hockey superstitions. "A lot of big moments happen when I'm not actually watching."
This particular moment couldn't have been any bigger. Her son was thrust into a prominent role for the heretofore cursed Minnesota State Mavericks, the winningest NCAA team that had never won a tournament game.
"If we're going to do it, we're going to do it now," recalled Ms. Sandelin, as she began to clear her Duluth driveway of the heavy white sludge. "Sure enough, I came back in and my daughter Katie was screaming and super excited."
Wendy had to wait to see the replay of her firstborn's historic moment: he got off the mat, freed himself from a defender's grasp, and pounded in a loose puck to send the WCHA's Minnesota State to their version of Shangri La — the second round of the NCAA tourney.
Ryan Sandelin, the OT game Winner for @MavHockey!! Just incredible moment. A lot of proud Maverick alums out there tonight, I'll never forget it #HornsUp pic.twitter.com/Vhq7PytGgM

— Alex Micheletti (@AlexMicheletti) March 28, 2021
Wendy's night was just beginning, however, as ESPN pointed its cameras away from Ryan's West Regional in Colorado and focused on the Midwest Regional in North Dakota. This was where her husband Scott was busy coaching his Minnesota Duluth squad deep into the night. The Bulldogs' regional final with North Dakota didn't end until early Sunday, as UMD set an NCAA record by surviving five sudden death sessions before dispatching the Fighting Hawks.
With a husband already in the Frozen Four and a son on the cusp, Wendy took action. She caught 40 winks and then boarded the first flight to Denver. It had become commonplace for her to see husband Scott's Bulldogs advance to the Frozen Four, but the Mavs were another story entirely, having never before escaped the tournament's first round. She was not going to miss the chance to see college hockey's version of Halley's Comet, superstitions and beauty rest be damned.
By Sunday, the Sandelin clan was becoming ubiquitous: coach Scott was beamed into the ESPN studio and also plugged live into the Mavericks game broadcast by phone; highlights of Ryan's goal was looping throughout social media; and now mom was getting her own live appearance on national TV in Denver. Veteran analyst Fred Pletsch got right to the point with Wendy:
"Is it tougher being a hockey mom or a hockey spouse?"
"A hockey mom, for sure," said Wendy. "No question."
Her sleep-deprived hustle paid off, as Wendy witnessed Ryan score the second goal of Sunday's game to put top-seeded Minnesota on their heels. Ryan's new line — including the aptly named Brendan Furry and Sam Morton — carried the Mavericks for a second consecutive night. Minnesota State erased the vaunted Minnesota Golden Gophers 4-0, as Wendy Sandelin's heroic son was voted MVP of the NCAA West Regional.
Mike Hastings greeted the media as a new man: curses lifted, monkey thrown from his back, post-season reputation restored.
"If you're ever going to try to scale the top of the mountain, you've got to hit the base," said Hastings, who has banged off the base five times in NCAA tournament play prior to these two wins.
His Mavs appeared destined for another painful loss Saturday, twice trailing by two goals. Hastings scrambled after a moribund opening period, putting his lines "in a blender" and shortening his bench. The newly formed Sandelin-Morton-Furry combo received maximum minutes throughout the rest of the regional.
"I thought they earned that," said Hastings. "There was synergy from the time they got together Saturday night. They played with a lot of confidence, there was no indecision."
As for the blossoming Sandelin?
"I'm just so proud of the young man, he played his tail off."
Ryan's trio combined for three consecutive goals bridging the two games, turning agony into ecstasy in Mankato. Young Sandelin is now forging his own legacy, having escaped his dad's lengthy shadow in Duluth to play his college hockey for a family friend in Mankato. Hastings never doubted that Ryan's ancestry would become an asset.
"It doesn't surprise me because of the apple tree that one fell from," said Hastings about young Ryan. "Growing up around a locker room, he's been held accountable from his..." Hastings suddenly reversed course, choosing not to credit his pal Scott for raising such a clutch performer. "Nah, I think that's Wendy more than it is Scotty; that started at a really young age."
If the fates smile on the Sandelins for two more NCAA games, mom may be wedged between the proverbial rock and hard place: watching her son battle her husband's team for a title. She's done it before in lesser tournaments, and has always rooted for Ryan when he's on the ice. Broadcaster Pletsch suggested she look into wearing a double jersey in the Frozen Four, half of each sweater stitched into one.
"I don't know, I may have to look into that," said Wendy. "I'm excited if Ryan and the Mavericks have that moment, it would be awesome."
---
Tim Rappleye is the author of two books: Jack Parker's Wiseguys and Hobey Baker, Upon Further Review. You can find him on Twitter.