ECHL
Searing Form Of Alex Dubeau Could Lead South Carolina Stingrays To Playoffs
Searing Form Of Alex Dubeau Could Lead South Carolina Stingrays To Playoffs
South Carolina goaltender Alex Dubeau is on fire between the pipes, and the netminder is hoping the Stingrays make it into the postseason.
Mar 26, 2021
by Mike Ashmore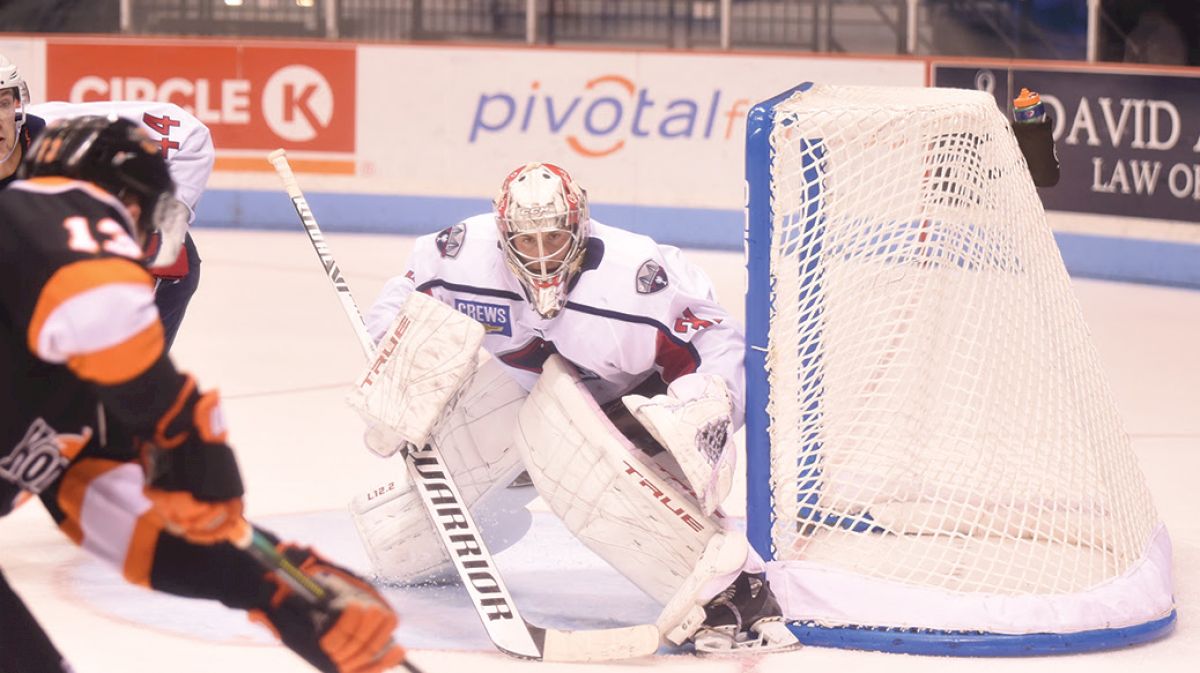 For the second time in his career, Alex Dubeau is the Warrior Hockey ECHL Goaltender of the Week.
"It's been a good last couple games for me actually, I'm feeling good," Dubeau told FloHockey.
No kidding.
The South Carolina Stingrays netminder went 2-0-0 with a 1.00 goals-against average and .974 save percentage this past weekend in two starts against the Fort Wayne Komets to take home the honors, and the humble Mascouche, Quebec, native was appreciative of being recognized for his efforts.
"Around the league, I think people can see I'm playing pretty good, and winning something like this is good exposure," he said. "Obviously, wins are more important than personal recognition, but it's always fun to be recognized, especially when there's so many good goalies around the league."
This is hardly Dubeau's biggest headline of the season, however. On March 3, FloHockey's footage went viral when the 26-year-old made an incredible, desperation save in a game against the Jacksonville Icemen, lunging backwards with his glove to keep a deflected puck from going in the net. The effort got him on SportsCenter's Top 10 Plays, echoing similar efforts made in the past by a fellow French-Canadian goalie.
"That was the first time I've made a save like that in my life," Dubeau said through a chuckle.
"It was just pure reflex, I just saw the puck was lobbed and going over me, and I had to dive. But I've seen saves like that done before by Marc-Andre Fleury, maybe I got that from him or something. It was pure luck, pure reflex, but it looked good for sure, especially since we got the win."
Dubeau said he's seen the video everywhere since, and that, coming from Canada where TSN is king, it was special to have his name mentioned on ESPN for the first time, especially for a play like that. Given the new TV deal ESPN signed with the NHL, and it would seem Dubeau found himself one step away from getting mentioned there far more regularly when he earned an AHL call-up to the Hershey Bears earlier this season.
Unfortunately, despite being up there for nearly five weeks, he served as the backup four times without getting into a game, but was able to maintain a positive attitude in his second trip up to the AHL after a three-game stint with the Belleville Senators last season.
"Getting the call, it happened when Hunter Shepard got hurt, and I knew that was why I was getting called up, but it was still a nice opportunity that they gave me," he said. "To me, I was going up there to improve my game and take advantage of working with the goalie coach, Alex Westlund, up there, since we don't have one in the (ECHL). It's always nice to work on some details in your game, look at some video. So, my intentions were to get better every day, I really didn't think about getting to play in a game. They've got some good goalies over there, so I kept an open mind and stayed ready. Actually, the last week that I was in Hershey, the head coach came up to me and said I'd have a start over the weekend, so I was getting ready for that, but unfortunately, they sent another guy down and I got bumped out. But, the time I spent over there, I got better and I was working hard every day. It was good for me, and good to establish contacts with their coaching staff."
Fortunately for Dubeau and the Stingrays, he hasn't missed a beat since returning to North Charleston. Heading into Friday night's showdown against the Orlando Solar Bears, Dubeau is 8-1-2-1 on the season with a 2.52 goals-against average that's good for seventh-best among qualifying ECHL goaltenders.
"I'm pretty happy with my game right now," he said. "I think I'm focusing more on quality over quantity this year. I'm sharing time with Shepard, and he's a really good goalie too. I think we're a pretty good tandem together, and I'm happy. I'm just trying to get consistency every game, and that's really my main goal, finding that consistency and quality in my work. If I play one or two games a week, that doesn't change anything, the plan stays the same."
After a standout collegiate run at Minnesota-Duluth, Shepard has worked through an injury-riddled first pro season, but played well when he's been out there in forming a tandem with Dubeau, who's enjoyed his time with his very stoic goaltending partner.
"We're completely different on and off the ice," Dubeau said with a laugh.
"Positionally, he doesn't really move as much as I do on the ice. Off the ice, he's a quiet guy. I'm not the loudest guy either, but I'm louder than him for sure. We're good buddies, and it's a good competition to have. And right now, we've got (Sean) Romeo here, so we've got three (goalies) right now, and we all get along. It's really nice to practice and have good competition, it keeps you on your toes."
The Stingrays have certainly kept their fanbase on their collective toes all season long with a roller coaster ride in the standings. Currently, the team is once again trending upwards, and Dubeau is hoping that it can stay that way through the duration of the regular season and a hopeful playoff push.
"We came up as a team, we spent a lot of time together as a team, and I think it's got to come from us," he said. "Coach (Ryan) Blair is doing a really good job, it's just we've really got to come together as a team, and I think we saw that against Fort Wayne, where we had three really good games at home. When we keep things simple, I think we're a really dangerous team. We've got a lot of power on offense, and with our D core, if we keep it simple, we're going to be good. We're headed in the right direction right now."
---
Mike Ashmore has 17 years of experience covering professional and college sports. You can follow him on all social media channels at @mashmore98.