WCHA
Minnesota State, Lake Superior & Bemidji Carry WCHA Banner To NCAA Tourney
Minnesota State, Lake Superior & Bemidji Carry WCHA Banner To NCAA Tourney
For the first time since 2013, the WCHA placed three teams in the NCAA Tournament. Now Minnesota State, Lake Superior and Bemidji must make it count.
Mar 24, 2021
by Tim Rappleye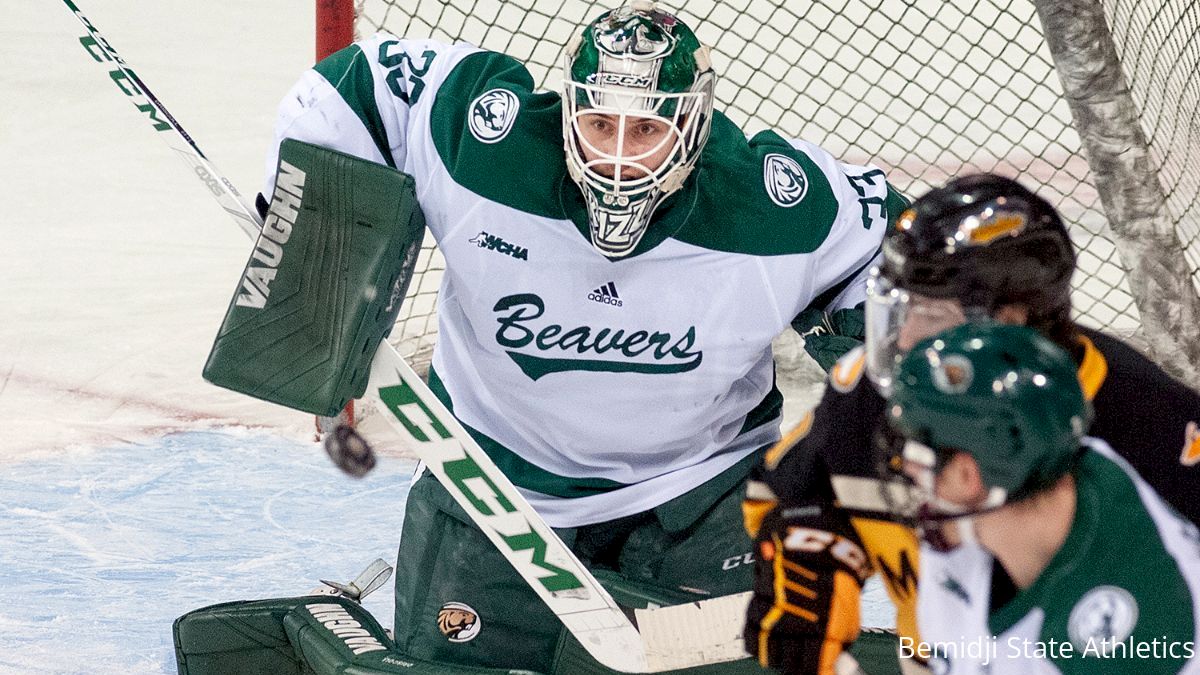 During last Sunday's NCAA hockey selection show, WCHA Commissioner Bill Robertson was tucking into a well-deserved feast at his favorite steakhouse. He was celebrating his 60th birthday, surrounded by friends and family. At 6 PM Minneapolis time he beamed ESPN onto his mobile device. Somewhere between his appetizer and his ribeye, he got the best birthday present imaginable: three WCHA teams selected into the national tournament, a first for the WCHA since the 2013 realignment.
"I'm ecstatic, a great present," said the man known as Billy Rob. "A great way to cap off a very unusual year in athletics overall."
The tireless efforts by Billy Rob and his WCHA staff had a direct impact on getting three teams — Minnesota State, Lake Superior State, and Bemidji State — into the NCAA Tournament. Through diligent testing and constant tinkering with league schedules, his eight WCHA teams averaged over 27 games played per team, seven more than Hockey East, who also had three teams selected.
New England hockey writer Jeff Cox was outraged that both the WCHA and Hockey East had three entries in the national tourney.
"It was absolutely unconscionable that the WCHA gets the same amount of teams in the NCAA [tournament] as Hockey East," Cox tweeted.
Robertson begs to differ.
"Anybody who has not seen Lake State, Bemidji or Minnesota State are foolish to think they don't belong in the tournament. They are legitimate."
Cox laments the fact that there was not enough interleague play to warrant the pairwise ranking system to select the teams. But the WCHA had a stellar out-of-conference record, including Bowling Green's road sweep of tourney-bound Quinnipiac in December.
Actions speak louder than words, and the WCHA's final entry, Bemidji State, leads off the NCAA tournament. The Beavers will take on Big Ten power Wisconsin at 1 ET in Bridgeport, and the entire hockey world will see how the WCHA stacks up with college hockey's iron. Bemidji's strength of schedule, including six games versus No. 5-ranked Minnesota State, makes them a very tough out in single-elimination play. Tom Serratore's club also plays a style that translates well to playoff hockey: tight defense, long swaths of puck possession, and supreme penalty killing. They don't have the firepower of the Badgers, but they may not need it. Senior goaltender Zach Driscoll could provide the winning edge
WCHA tournament champ Lake Superior State has also shipped out east, where they will play the formidable Minutemen of UMass. This should be of great interest to pundit Cox and commissioner Robertson: a Hockey East-WCHA matchup. The 2019 NCAA finalists from Amherst should be careful not to overlook the Lakers who have been surging of late.
"If you look at Lake State's record in the second half, it's exceptional," said Robertson, whose Lakers are 12-2 in their last 14 games. This intriguing Round of 16 matchup will probably be settled by an elite international goaltender, either the Finn Filip Lindberg of UMass or Latvian Mareks Mitens of Lake State. National oddsmakers may have been reading Cox; they have made UMass a prohibitive favorite in this game.
The WCHA's flagship hockey program since realignment is Minnesota State, the winningest team in all of Division I since coach Hastings arrived eight years ago. Those wins have only come outside the NCAA tournament, however, where the Mavs remain historically winless. If there were ever a year for Minnesota State to reverse the trend, this would be it. They open the 2021 NCAA's Saturday evening in Loveland Colorado, where Quinnipiac awaits. The Bobcats lost their automatic bid by losing the ECAC championship game to Saint Lawrence, but ultimately replaced their conquerors when the SLU was forced to withdraw from the NCAA's due to Covid protocol.
MSU coach Mike Hastings has had his troops' undivided attention for nearly a week of practice following the Mavs' disappointing semifinal loss on home ice to Northern Michigan. They will resemble a wounded animal in this tourney, looking to avenge decades of NCAA frustration dating back to 2003.
For the next day or two, optimism abounds in WCHA circles, as dreams of a Bemidji-Lake State regional final has Billy Rob dreaming of a Frozen Four appearance for at least one of his clubs.
"Anybody that plays a WCHA team in the NCAA tourney is going to have their hands full."
---
Tim Rappleye is the author of two books: Jack Parker's Wiseguys and Hobey Baker, Upon Further Review. You can find him on Twitter.