2021 Northern Michigan vs Lake Superior State - WCHA Men's Championship
Lake Superior State Ends 25-Year Drought With WCHA Championship Win
Lake Superior State Ends 25-Year Drought With WCHA Championship Win
Lake Superior State broke a 25-year drought with their WCHA tournament win, and now the Lakers are headed to the NCAA Tournament.
Mar 22, 2021
by Tim Rappleye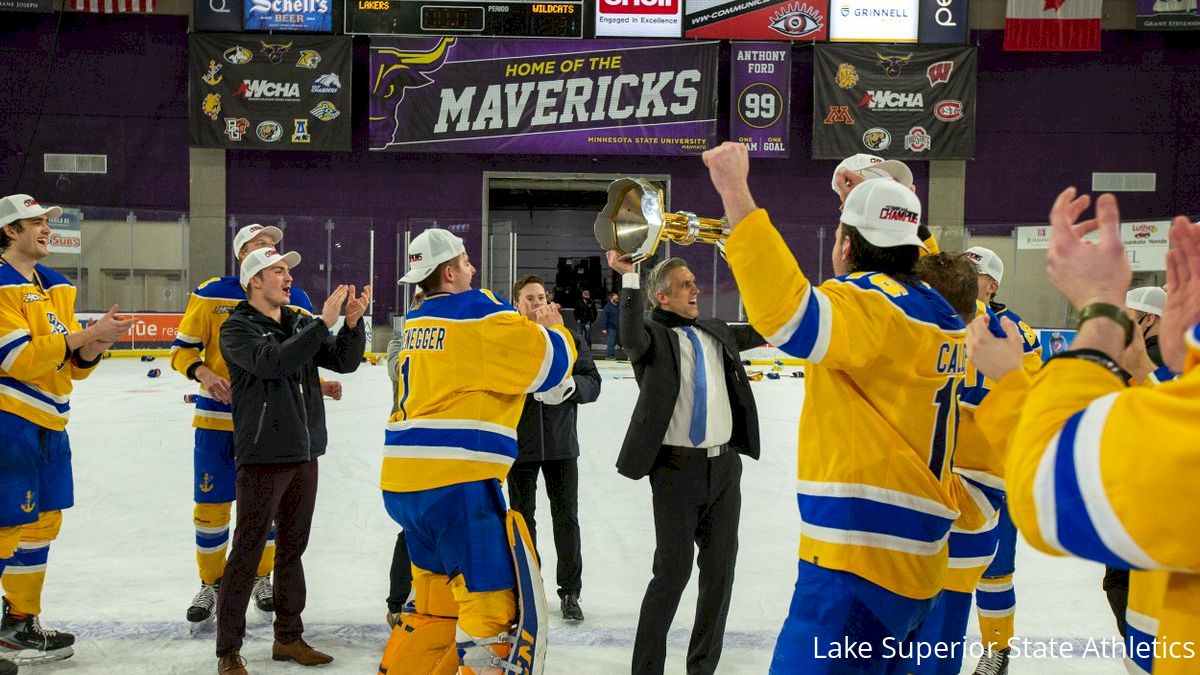 March is not a pretty month in Sault Ste Marie, Michigan: the potholes haven't been repaired. only one tee box is open among the city golf courses, and the sun still cuts a low arc to the south. But on Saturday, the Soo's venerable Christopher Columbus Hall felt like Mardi Gras. A robust collection of college hockey lovers gathered to root their beloved Lake Superior State Lakers into the NCAA tournament. It had been 25 years since the former champs attended college hockey's marquee event.
"I really like this team," said Bill Crawford, who happened to be the LSSU Director of Athletics in 1995-96, the last season the Lakers made the NCAA tournament. He now commands the broadcast booth for Lake State home games, and is duly impressed with the latest WCHA champs. "They can skate, they can play, and they're all good kids."
Former Soo mayor Tony Bosbous was around for the glory years, when the Lakers won three national championships between 1988-1994.
"We were at all those NCAA games and the finals and all that," said Bosbous. "It sure feels like that again."
The 25-year NCAA tourney drought generated more frustration than glory in Laker hockey nation, instability that colored much of coach Damon Whitten's tenure. Seven seniors were among the gold-clad celebrants at the conclusion of Saturday's championship, seven survivors from the infamous 2017-18 season. That was when Lake Superior failed to make the WCHA playoffs, let alone the NCAAs — rock bottom of the Whitten era.
In May 2017, LSSU president Thomas Pleger died suddenly, leaving the school with neither a president nor an athletic director for four months. The healing didn't begin until the hiring of AD David Paitson that September. According to local broadcaster Matt Pocket, Whitten spent that summer selling board-sign advertising to keep the program afloat.
"We were rudderless for many months," said Whitten in his heartfelt post-championship interview with Pocket. "It was a grind, and I'm not sure I can sit here and tell you I always believed."
But the hiring of Paitson stabilized LSSU athletics, and Whitten began assembling a first-rate staff, headlined by Whitten's former Michigan State teammate Mike York. York accompanied Whitten to a memorable visit with former Laker coach Jeff Jackson, the man who led Lake State to two national championships in three seasons.
"You wear a lot of hats at Lake State," said Jackson, who has coached Notre Dame into this year's NCAAs as well. Whitten always wanted to emulate Jackson by hoisting banners in the Taffy Abel Arena rafters.
"Mission accomplished," said Whitten, who has now added two banners unique to Taffy: the WCHA playoff crown and the 2018 Great Lakes Invitational title. "That vision we had, that desire to hang another banner...now I get to look out my office and know we made that contribution. We're glad to bring a tear and some happiness to all those that support the program."
There may not have been tears shed in the Hall Saturday night, but there was raucous cheering throughout. The Soo's own Ashton Calder was the tournament's Most Valuable Player, delighting the locals with a championship game hat trick. It was a contribution that will pay off for years to come.
"The impact Ashton — what I hope he has, in Sault Ste Marie, goes well-beyond [current] Laker hockey," said Whitten. "It's the next generation, the kids that are playing right now, coming to Taffy Abel, and look at the banners, and the new banner. 'Hey, I want to be Ashton Calder.' That's the impact. We need to have locals that can play at this level, guys like Ashton. He's been awesome, a great leader."
The crowd stuck around the Hall well after the final buzzer, clearly enjoying the Lakers' championship deja vu. An elder gentleman wearing both a smile and a vintage Lake State jersey shared some joy.
"This was a real treat to see them play the way they did, tremendous."
The old-timer turned out to be Terry Morgan, a forward from the Lakers original national champions — 1972 NAIA small-college kings.
"We were the first...pretty exciting time for us as well."
Morgan, a Baptist pastor after graduating from LSSU, delivered a lean sermon about the 2021 home-town Lakers: "They carried the game, and fulfilled their mission."
Special Thanks to Matt Pocket of Yes Radio for contributions to this story.
---
Tim Rappleye is the author of two books: Jack Parker's Wiseguys and Hobey Baker, Upon Further Review. You can find him on Twitter.