ECHL
Florida Everblades Star McCarron Leads Unofficial ECHL Midseason Awards
Florida Everblades Star McCarron Leads Unofficial ECHL Midseason Awards
You want awards? We've got awards. Welcome to FloHockey's unofficial ECHL Midseason Awards list.
Mar 18, 2021
by Mike Ashmore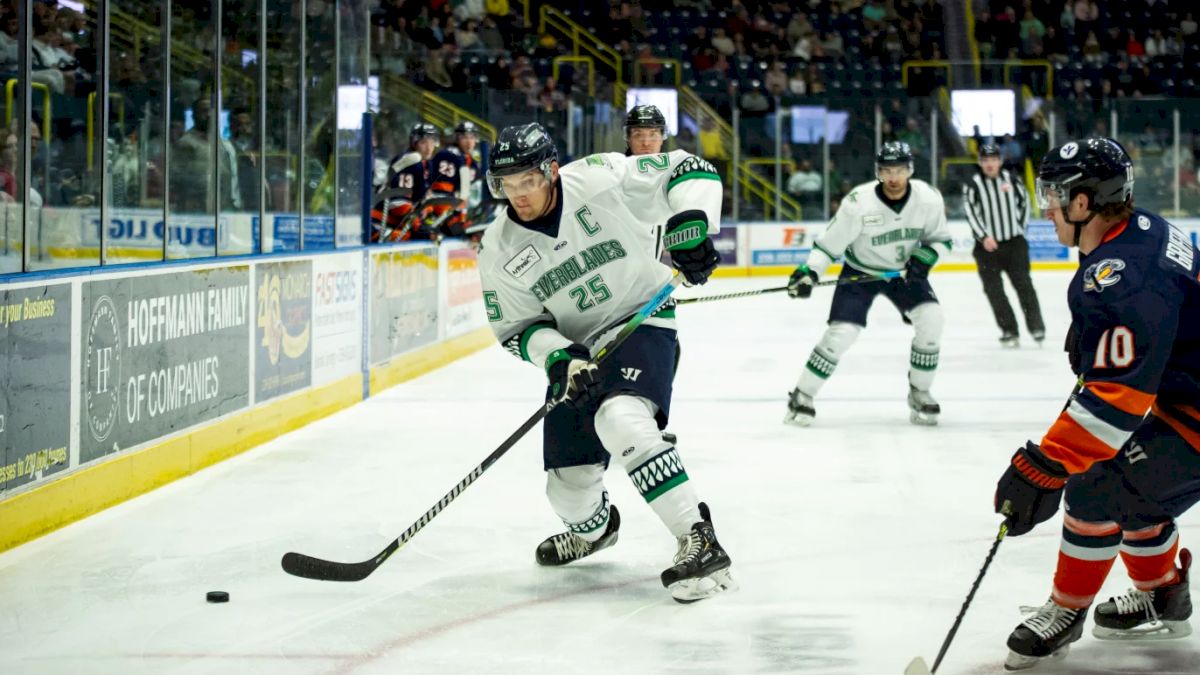 With the ECHL season at roughly the halfway point, we thought it might be interesting to take a look at who might — with a big emphasis on "might" — be in line to win the league's coveted awards.
A reminder that these are all unofficial and for fun, and that we'd love to see you send your "ballots" to us on Twitter at @FloHockey to see who you think should be in the lead for these awards.
MOST VALUABLE PLAYER – John McCarron, Florida Everblades
There was no shortage of good options for a potential mid-season league MVP this year, but ultimately we settled on McCarron, whose 17 goals are tied for tops in the ECHL with teammate Michael Huntebrinker. His +16 plus/minus is the second-best in the league, and he's the captain on what, over the course of the league's full season, has been the best team all year long.
Anthony Beauregard, Brodie Reid and Tyler Coulter were also under consideration for the honors.
This one will surely generate some conversation, as Brad Ralph has done an incredible job, as always, in Florida. But it's hard not to give Boudreau the nod for what he's been able to do in Fort Wayne given the circumstances of their season. The Komets were the only team to join play in-season this year, and not only was Boudreau able to keep his team largely together given the uncertainty of whether or not they'd be playing at all this year, he has them off to a 10-1-2-1 start.
It was just as difficult to not reward Ralph for what he's doing with his group over the course of a full season — the Everblades are 25-8-0-2 in the first half of the year — but he's perhaps hurt in these conversations by just how strong Florida's affiliation has been this season with Nashville, not to mention the unique circumstances of what Fort Wayne had to go through this year.
Indy's Doug Christiansen and Orlando's Drake Berehowsky were also under consideration.
GOALIE OF THE YEAR – Jake Hildebrand, Florida Everblades
Hildebrand's numbers are simply too good to ignore. In 16 games this season with Florida, the Michigan State alum is the only ECHL goaltender to post a sub-two goals against average (1.90) and his .940 save percentage is also easily the best in the league. It would be easy to discredit him both based on the Everblades roster that's been playing in front of him or the success of both Cam Johnson and Devin Cooley before him this season, but there's no arguing with his numbers.
Evan Weninger, Roman Durny and Dan Bakala were also under consideration here.
ROOKIE OF THE YEAR – Matthew Boucher, Utah Grizzlies
This one seemed pretty cut and dry. Boucher, who was signed a few games into the season, has been a revelation for the Grizzlies and emerged as the league's top rookie so far. In 29 games, he's posted 11 goals and 16 assists, which are both tops among ECHL freshmen this season. A former QMJHL standout in his junior days, the 23-year-old played at the university level for two years before heading over to the E this year, and seems to have put himself on the map for a possible National Hockey League contract after this season.
Weninger and Mike Lee also received consideration.
DEFENSEMAN OF THE YEAR – Les Lancaster, Allen Americans
This may have been the most difficult "award" to hand out of them all, as there are plenty of candidates who are neck-and-neck at the top of the leaderboard here. Ultimately, Lancaster takes home the honors by virtue of leading all ECHL blueliners with eight goals and three game-winning goals on an oft-overlooked Allen Americans squad.
Greenville's Sam Jardine, who leads the league in points by a defenseman with 29, as well as Orlando's Mark Auk were also in strong consideration here.
---
Mike Ashmore has 17 years of experience covering professional and college sports. You can follow him on all social media channels at @mashmore98.