Men's WCHA Hockey
Julian Napravnik Continues The German Influence & Potulny Phones A Friend
Julian Napravnik Continues The German Influence & Potulny Phones A Friend
Minnesota State's Julian Napravnik has continued the trend of German gems in NCAA hockey and beyond.
Mar 18, 2021
by Tim Rappleye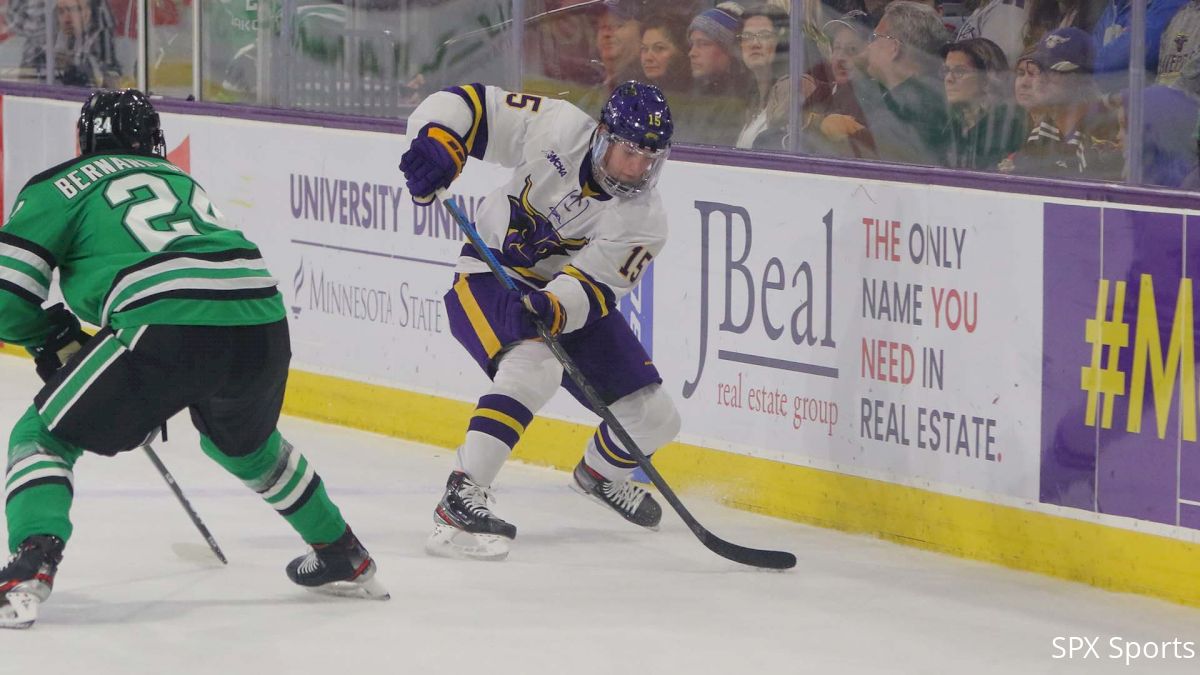 On Tuesday, the WCHA announced the All-Decade team, and former Minnesota State center Marc Michaelis was named to the squad. A week prior, his former Mavs teammate and countryman Julian Napravnik had been named the WCHA's Offensive Player of the Year, the same honor Michaelis won this time last year.
The two compatriots played junior hockey in Mannheim together, tearing up Germany's development league (DNL) in 2014. Last year they could have been mistaken for each other on Mankato ice: both are 5-foot-11, smooth-skating left shots that play both center and wing.
Watch the WCHA Semifinals & Championship LIVE on FloHockey
"I remember him [Julian] being similar to Marc in many ways," said Jay Luknowsky, a former Michigan Tech Husky that has spent the last quarter-century in Germany immersed in all aspects of hockey.
On March 4 Michaelis made his NHL debut for Vancouver, and this past Saturday he enjoyed a tremendous thrill playing against his German World Championship teammate Leon Draisaitl of the Edmonton Oilers, the NHL's reigning MVP.
Meeting at the German Consulate.

🇩🇪🇩🇪🇩🇪🇩🇪🇩🇪🇩🇪#LetsGoOilers pic.twitter.com/wsYRGnr70F

— Edmonton Oilers (@EdmontonOilers) March 14, 2021
Germany may not have the quantity of NCAA players as Nordic countries Sweden and Finland, but they certainly have quality. In 2018-19, Michaelis was the leading scorer and wore the captain's "C" for Minnesota State, just like Clarkson's Nico Storm, another German native.
In fact, the No. 3 overall pick in the most recent NHL Draft, Tim Stutzle of Viersen, Germany, fully intended to play at the University of New Hampshire before choosing to forego college and jump directly to the NHL.
"He felt terrible de-committing from New Hampshire," said Luknowski.
One can only imagine Stutzle's impact on NCAA hockey had he made his way to Durham.
"He would have probably only played one year," said UNH coach Mike Souza.
Although disappointed that he didn't land Stutzle, he knows there will be more NCAA talent coming from Germany thanks to Michaelis, Napravnik and others.
"Active NHL players like Michaelis are making the [German] kids more aware that the NCAA is a path to the NHL," said Souza.
The next NCAA impact player from Germany will be heading to the Green Mountains of Vermont this fall. Luca Munzenberger of Dusseldorf will be patrolling the blue line for the Vermont Catamounts of Hockey East for years to come. He is not flashy, but insiders say he is a tremendous leader.
Potulny Phones a Friend
In late January, Grant Potulny's Wildcats were sinking fast in the WCHA standings with a 2-10 record. Rather than lament the rash of injuries his club had suffered, Potulny took action. The hockey world is well aware that all-rookie goaltender Rico DiMatteo was rushed out of juniors and into the Wildcats starting lineup, but Potulny also phoned former college rival Jeff Tambellini (Michigan) to see how he could best utilize another Wildcat freshman, Mikey Colella.
Tambellini had been Colella's junior coach and GM in the British Columbia Junior League, where the 5-7 pepperpot had fired in 27 goals and 68 points for Tambellini's Trail Smoke Eaters. Potulny wanted to learn as much as he could about his freshman to help him get untracked.
"Grant reached out in January," said Tambellini. "I think Mike [Colella] was having a hard time finding out how to play his game within a new team. I had seen Mikey in a different role, more fast-tracked. We talked about how I got him over a little bit of a hump at the start of our year at Trail, and how that might be able to translate to Mike's game going forward."
Tambellini also got permission to talk to Colella directly, and reminded the Wildcats rookie about the attention to details that is required — on a nightly basis — to generate the quantity of chances needed to become a bona fide NCAA goal scorer.
Shortly thereafter, Colella found himself on a line with two of the league's most gifted players: Andre Ghantous and Joe Nardi, and his output got a bounce along with his self confidence. Tambellini reminded Colella that he had to pay some dues to play with the big dogs.
"You've got to make sure you're ready to help them, and not just have them help you," said Tambellini. "You have to show Grant and his staff that you can do everything off the puck, that [you aren't] going to hurt them having you out there."
As anyone who saw Northern Michigan end the season of nationally ranked Bowling Green will tell you, Mikey Colella has arrived. He potted three clutch goals in the series, including the game-winner and the insurance dagger in the clinching gamer. His positive energy resonated throughout the Cats lineup.
WIDLCAT GOALLLL@colella_mikey with his 𝙨𝙚𝙘𝙤𝙣𝙙 𝙤𝙛 𝙩𝙝𝙚 𝙣𝙞𝙜𝙝𝙩!

It's 4-1 'Cats with less than 14 to play.

💻 https://t.co/zErSVSWMQ2
📻 https://t.co/fNEF90URFV
📈 https://t.co/ScuVtpzdt3#NMUwildcats pic.twitter.com/nHK1BKNmgt

— NMU Men's Hockey (@NMUHockey) March 14, 2021
"He can elevate a team with his energy," said Tambellini. "There's nobody in college hockey more excited to score goals than Mikey Colella. He plays with so much emotion, living and dying playing the game."
Potulny will need all of Colella's energy as they take on WCHA juggernaut Minnesota State in Mankato.
"You've got the team that's been on the top of the hill for a long time looming on the horizon," said Potulny, who hasn't had a complete roster since opening day. But he has salvaged a season destined for the scrap heap, arriving in Mankato playing with proverbial house money. He has a clutch goalie, a core of veteran talent, and a freshman sniper who has rediscovered the joy of scoring. Potulny has pulled out all the stops to get his Cats into this compelling showdown: the champ versus the challenger steeled by adversity.
"You can only go and give your best effort," said the fourth year coach, one win away from his second WCHA Championship game. "Let the chips fall where they fall."
---
Tim Rappleye is the author of two books: Jack Parker's Wiseguys and Hobey Baker, Upon Further Review. You can find him on Twitter.