WCHA
WCHA RinkRap: Minnesota State Heavyweight & Bemidji Goaltending Clinic
WCHA RinkRap: Minnesota State Heavyweight & Bemidji Goaltending Clinic
A sleeping giant rumbles, a wake-up call for the league heavyweights, a goaltending clinic in Bemidji, and a dangerous floater steeled by adversity.
Mar 16, 2021
by Tim Rappleye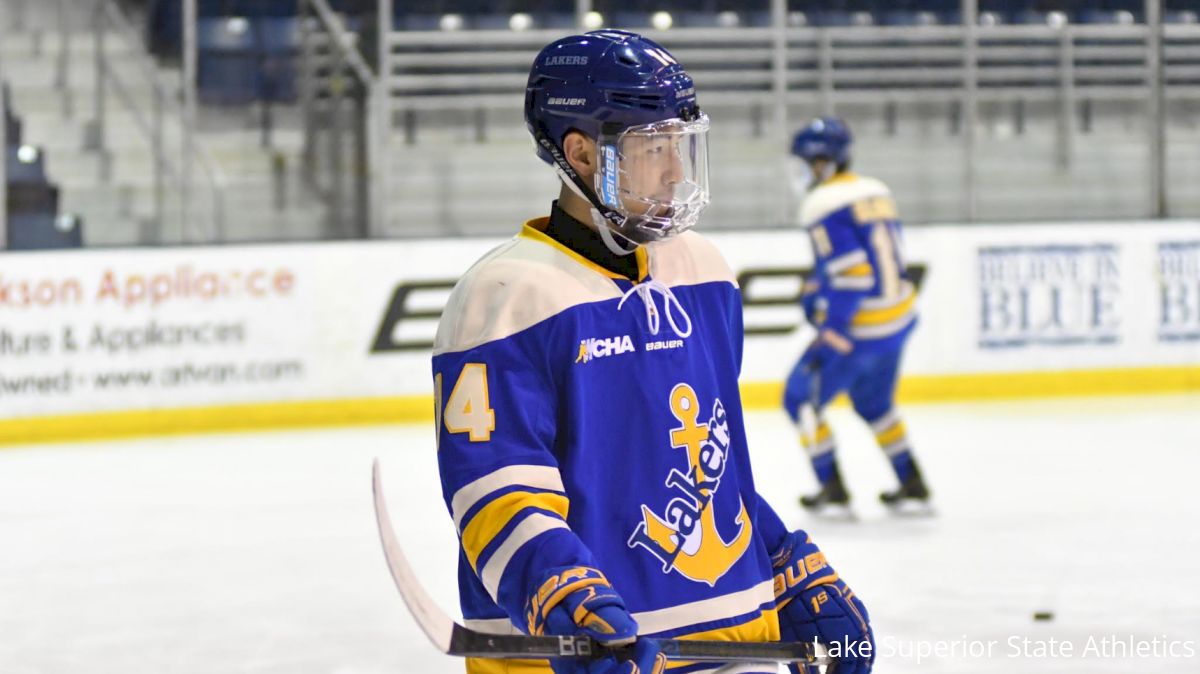 This week on RinkRap: a sleeping giant rumbles, a wake-up call for the league heavyweights, a goaltending clinic in Bemidji, and a dangerous floater steeled by adversity.
For the first time in five years, the WCHA will determine its champion in a classic four-team, one-weekend format, as Minnesota State hosts two semifinals beginning Friday and a prime-time championship game Saturday night. All four entries have compelling stories, but let's begin with the league's Cinderella, Northern Michigan, and their dramatic road upset of nationally ranked Bowling Green.
Watch the WCHA postseason LIVE on FloHockey
Ever since Wildcats coach Grant Potulny took the reins in Marquette four years ago, he has been facing the WCHA's answer to the Four Horsemen of the Apocalypse: Bowling Green's 100-point men Connor Ford, Max Johnson, Brandon Kruse, and Cameron Wright. Potulny has become all too familiar with BGSU's Fab Four, especially in the postseason.
"Those guys, they jump over the boards, and they're a scary crew," said Potulny. "For us to play them in the playoffs three of the last four years...the story has been their top players, whether we advance or they advance."
In this latest chapter, the Wildcats subdued Bowling Green's century club to a single goal (Ford's 53rd career tally) in their three-game set, stunning the hometown Falcons two games to one to advance to Mankato's WCHA jamboree.
"The mantra was team defense," said Potulny. "To play as a group of five, defending first. We weren't going to be able to go blow-for-blow with a team like that."
The Cats' best defender was between the pipes, the notable pre-freshman Rico DiMatteo, who shook off being replaced in Game Two after allowing four goals. He returned the next day and stifled Bowling green's elite snipers, turning away 39 of 40 shots.
In a season that saw the Cats scrape rock bottom in January, the junior goalie from tiny Brasher Falls, N.Y. (population 796) has sparked this team, demonstrating maturity beyond his 20 years.
"He's very even-keeled," said Potulny, who has spied DiMatteo reading books about forming positive habits during their long bus rides. "That maturity allows him to re-set. Win or lose, he's been the same."
The Wildcats were ravaged by injuries this year, but have learned to thrive in adverse conditions. Two hours before Sunday's game, Potulny learned that junior sparkplug Griffin Loughran was scratched. Next man up was freshman Mike Colella, who answered the call with a pair of goals. The Wildcats now translate adversity into opportunity.
"The guys look around the room and understand that we've been through this, it's not like reinforcements are coming, so this is our group" — a group led by senior captain Joe Nardi. "He's the one that steers the ship for us."
The Cats' next port of call is Mankato, home to national power Minnesota State. NMU is playing with proverbial house money, having escaped a stretch that appeared fatal. Northern Michigan now faces WCHA's Goliath in his own house Friday afternoon, but having already faced their own mortality, the Cats have been reborn as a Giant Killer.
The Champs Get a Wakeup Call
Four-time MacNaughton Cup champion Minnesota State sleepwalked through much of their Friday night opener against No. 8 seed Ferris State, entering the third period in a scoreless tie. As expected, the Mavs found a way to win, as the WCHA's offensive player of the year Julian Napravnik notched his NCAA leading sixth game-winning goal of the season in the 3-0 victory.
Although their undefeated home record remained intact, senior Jared Spooner called his team out after the game, looking to shake the cobwebs off the sleeping giant.
"We can't play as arrogant and ungrateful as we did tonight, it's just unacceptable," said Spooner, the alternate captain who popped in an insurance goal in the third period. "It's not like our group, and it's a good wake-up call."
Mavs fans hope the return of Reggie Lutz will revitalize the offense, and keep the squad from relying too heavily on the near-perfect form of junior goalie Dryden McKay.
"He's such a calming piece back there," said Hastings. "I'm glad he's in our posts."
Goaltending Clinic in Bemidji
One can measure goaltending success in a variety of ways: by the numbers, by the images of show-stopping saves, or by how deep his presence has gotten into the heads of his opponents. Bemidji State's Zach Driscoll has pinned the needle on all the metrics in his last four games — all victories — against Michigan Tech.
"I can just hear it in my head—'Another Driscoll save!''' said Tech coach Joe Shawhan to broadcaster Dirk Hembroff in the series post-mortem. Shawhan was flummoxed; his team had won his admiration and "love" with their long stretches of dominance against the Beavers, yet their season had ended in a sweep. "Their goaltender showed why he is all-league."
The statistical analysis of Driscoll versus Bemidji swerves at least two standard deviations beyond what hockey analysts have come to accept as elite. Here are the numbers that will haunt coach Shawhan over a fitful offseason: In Driscoll's four starts against Tech from late February through this past weekend he faced a total of 150 shots, allowing but four goals, one in each game.
That computes to a .973 save percentage, meaning a team would have to generate 70 shots on goal to get the two goals necessary to win a hockey game. It's theater of the absurd, but that's the nature of college hockey in March. The team with the best goaltender usually wins, and Driscoll was just that up in Bemidji.
As Shawhan pointed out in his Game 1 post-game, Serratore's club is not "the Edmonton Oilers of the 1980s" — they are not a flashy offensive bunch. In fact, it was Tech who resembled an offensive juggernaut, especially at the start of the second period when the series was determined in a four-minute stretch Saturday. The Huskies had a 1-0 lead and did not let Bemidji out of their zone while generating a half-dozen Grade-A chances. It was breathtaking, it was at times spectacular, and it was all for naught.
Driscoll and company kept the deficit at 1-0, having survived the onslaught. Tech broadcaster Hembroff and every other hockey lifer heard the faint tolling of a death knell for the Huskies. Bemidji benefitted from two "magic bullet" goals, shots that changed direction multiple times before hitting their mark, and that spelled doom for the star-crossed Huskies.
Tom Serratore's Beavers are not going to win any beauty contests with their style of play, but they have mastered the art of playoff hockey; in fact, that is what they play every regular season under his command. The Beavers engage in multiple layers of defense, with dialed-in Zach Driscoll defiantly guarding the last line. It's not pretty, but it's maddeningly effective. Just ask Joe Shawhan.
The Once and Future Kings?
Lake Superior State was a frightening force in college hockey in the 1990s. Who can forget Jeff Jackson's Lakers throttling a good Jack Parker BU team 8-1 in the 1994 NCAA Championship Game?
For the second time in three years, LSSU head coach has the Lakers talking NCAAs once again, hoping to restore the roar to a venue whose rafters are crowded with dusty CCHA banners from bygone years. Their home sweep of chippy Alabama Huntsville gave Whitten a bully pulpit to spout optimism about filling his dance card.
"Solidified my opinion that we're the next team in the WCHA after Mankato," said a satisfied Whitten. "We've earned that right to represent the league, and control our own destiny."
He will be facing Bemidji Friday night in Prime Time, playing for what the WCHA hopes is an NCAA at-large berth. According to the polls, both teams need a boost to penetrate the tournament "bubble," one that has never been more clouded due to lack of inter-league play.
Whitten, whose special teams took nearly a month to score its first goal this year, has converted on four of its last 11 man-up attempts. "The power play is sizzling," said Whitten, "ready to handle business."
The Lakers have a solid team, but have no marquee wins to ensure an invite to the NCAAs. This trip to Mankato, as one of the league's elite four, will answer the most important question about the current edition of LSSU hockey: contender or pretender?
---
Tim Rappleye is the author of two books: Jack Parker's Wiseguys and Hobey Baker, Upon Further Review. You can find him on Twitter.