2021 Ferris State vs Minnesota State - Men's QF, Game 1
WCHA Preview & Predictions: Minnesota State Arrives A Heavy Favorite
WCHA Preview & Predictions: Minnesota State Arrives A Heavy Favorite
Everything you need to know for the 2021 WCHA Playoffs, starting with annual national title contender Minnesota State.
Mar 10, 2021
by Tim Rappleye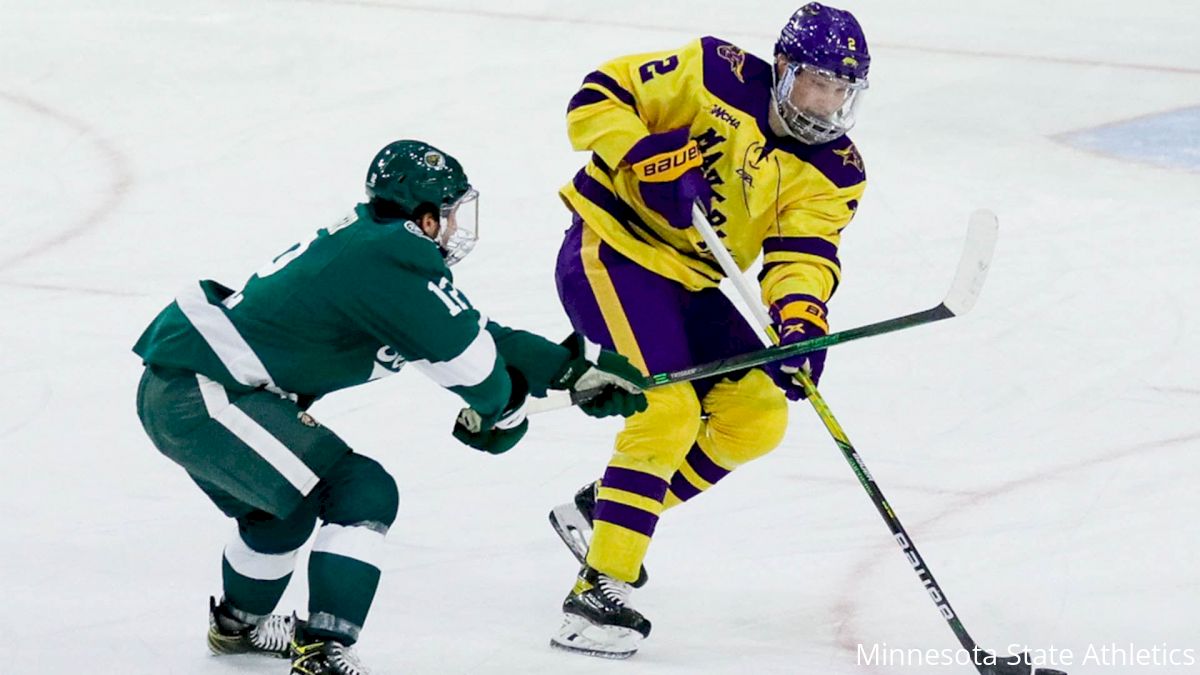 With full appreciation to the efforts of the WCHA league office and its member institutions, a full league schedule was played. It's a remarkable achievement considering that this hockey season was defined by its uncertainty.
The finale presents fans with four quarterfinal series, a potential 12-game feast as eight teams pursue the Jeff Sauer Cup. It's the WCHA's version of March Madness — Survive and Advance. Time to handicap the respective series.
#1 Minnesota State vs #8 Ferris State
Although Ferris State has shown more fight this season than their record indicates, it appears that Bob Daniels' once-proud Bulldogs will finish this forgettable season without a Division I victory. Their opponent is a juggernaut, the MacNaughton Cup Minnesota State Mavericks, #3 in the country, undefeated at home.
Even if Ferris goalie Roni Salmenkangas comes up with a gem, Ferris will only be able to stay with Minnesota State for a period or two. The Mavs have extraordinary talent and motivation from the goal on out, and appear to be on a mission. For those looking for an upset in these playoffs, it won't be found here.
Prediction: Minnesota State in two.
#2 Lake Superior State vs #7 Alabama Huntsville
This is a series that should play out more competitively than the records suggest. The three-win Alabama Huntsville Chargers have given the Lake Superior State Lakers fits up in the Soo this season: a tie and two one-goal losses in their four games at Taffy Abel Arena. Their goalie "Big Save Dave" Fessenden matches up well against solid veteran Mareks Mitens. Charger coach Lance West enjoys his trips to the U.P. ("It feels like winter"), with his Chargers picking up a win in Marquette and a tie in the Soo. Australian-born rookie Tyrone Bronte is a potential game-breaker for the inevitable tight contests ahead.
But can they cobble together two wins over a Laker squad that has gelled under Damon Whitten? Probably not. Look for Ashton Calder and his francophone linemates to generate enough offense to put away the pesky Chargers, who have yet to master closing out games.
Prediction: Lakers in two tight contests.
#3 Bowling Green vs #6 Northern Michigan
Ninety-nine goals. Bowling Green snipers have lit the lamp more than than any other WCHA squad this year, second nationally only to Wisconsin. They have four scorers with at least 10 goals, and defenseman Will Cullen leads all WCHA defensemen with 22 points. The Falcons can blow open a tight game in a speedy blur.
Northern Michigan coach Grant Potulny deserves credit for salvaging what appeared to be a disastrous season, plucking goalie Rico DiMatteo from juniors to stabilize their previously porous goaltending. Northern has two of the most talented forwards in the circuit in Andre Ghantous and Joe Nardi, but it won't be enough. The Falcons have simply too much experience combined with a home-ice boost.
Prediction: BGSU in a sweep.
#4 Bemidji State vs #5 Michigan Tech
For all intents and purposes, the Michigan Tech Huskies from Houghton are already in playoff mode, tasked with winning in Mankato last weekend to secure home ice. Although they fell a goal short in both games, they appeared to be on equal footing with a national contender on enemy ice. This will be a popcorn series between the northernmost teams in the conference.
The soul of Michigan Tech is in their junior class: Parrottino, Halonen, Gotz, Bliss, Swoyer and Broetzman, a half-dozen veterans who have powered the Huskies to the last Great Lakes Invitational and MacInnes Cup titles. Both the Huskies and Bemidji have flirted with the national polls throughout this season, and they match up well. Although the Beavers won the season series, Tech has fought through a scoring slump since then and are a hardened bunch. Both teams possess elite goaltenders, so there is no edge between the pipes.
Prediction: Michigan Tech in three games.
---
Tim Rappleye is the author of two books: Jack Parker's Wiseguys and Hobey Baker, Upon Further Review. You can find him on Twitter.