Men's WCHA Hockey
7 Minnesota State Seniors Make History With 4th MacNaughton Cup
7 Minnesota State Seniors Make History With 4th MacNaughton Cup
Minnesota State's seven seniors have made history in Mankato. Here's a look back at their tenure with the Mavericks.
Mar 8, 2021
by Jacob Messing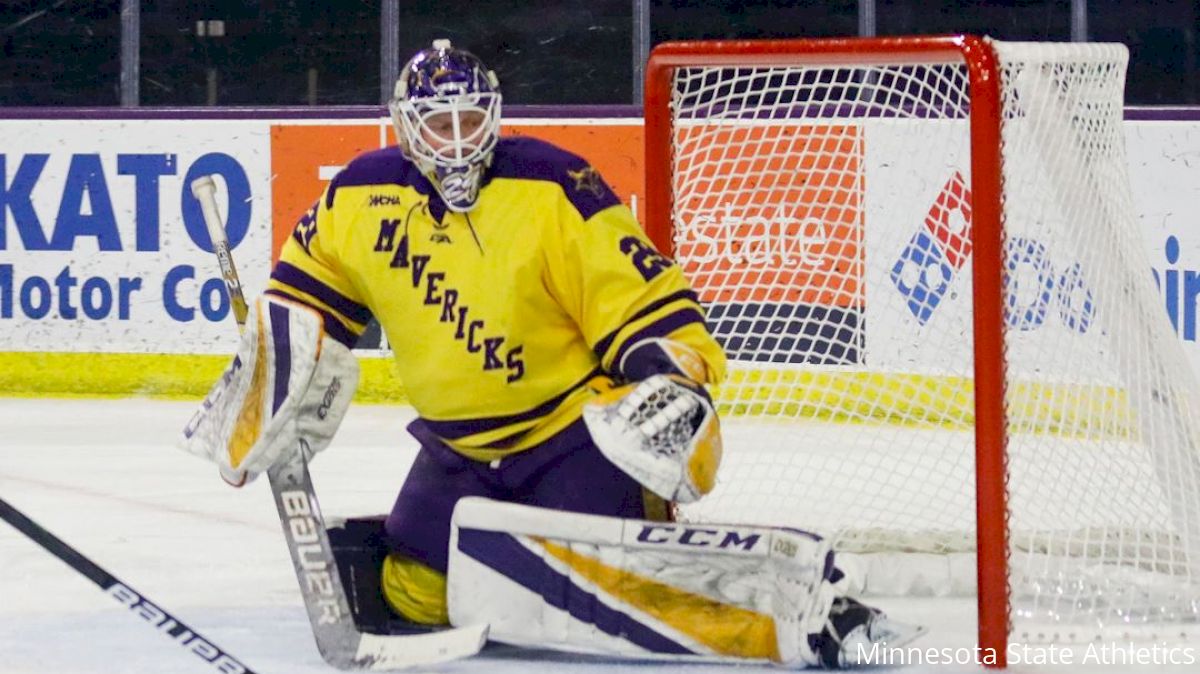 The No. 4-ranked Minnesota State Mavericks are used to contending at the highest levels of college hockey, but as the years go by new chronicles develop in Mankato, and in 2021, it's the celebration of a fourth-consecutive MacNaughton Cup for seven seniors.
Three years ago, freshmen Reggie Lutz, Dallas Gerads, Jared Spooner, Jake Jaremko, Walker Duehr, Jack McNeely, and Riese Zmolek were each finishing up their first regular season for the Mavericks.
Watch the WCHA Playoffs LIVE on FloHockey
Jaremko finished fourth in team scoring with 15 goals and 39 points in 40 games, Lutz and Spooner finished seventh and 10th, respectively, as the trio of freshmen helped the Mavericks go 29-10-1, win the MacNaughton Cup, and earn their first NCAA Tournament bid since 2015. The Mavericks fell in the opening round to eventual champ Minnesota Duluth, who successfully defended their title the following season.
The Mavericks lost their two leading scorers in seniors CJ Suess and Zeb Knutson, who had combined for 37 goals and had each recorded 43 points. But the junior class led by Marc Michaelis, Parker Tuomie, and Charlie Gerard stepped up the next season to build on their success with an NCAA-best 32 wins for a 32-8-2 record.
The sophomores also contributed as Spooner finished fourth in team scoring, Gerads seventh, and Jaremko 10th. The Mavericks won their second straight MacNaughton Cup as the WCHA regular-season champions. They lost in the first round of the NCAA Tournament again.
Enter 2019-20. Seniors Michaelis, Tuomie, and Gerard, finished first, second, and fourth in team scoring. Gerads and Spooner finished seventh and eighth. The Mavericks claimed their third-straight MacNaughton Cup, which had been done just once before by Colorado College from 1993-1996.
The Mavericks went 31-5-2 with an .842 win percentage, primed for their third-straight NCAA Tournament berth before COVID-19 caused the season cancellation. A promising last chance at a national title for their seven-player senior group led by Michaelis was crushed.
COVID chaos challenged the sports world at every level and just five months after intense uncertainty of a 2020-21 season, the Mavericks are right back on top.
With an 18-3-1 overall record, the Mavericks sit at No. 1 in the PairWise Rankings, sealing their at-large bid to what would have been a fourth-straight NCAA Tournament. The winning culture in Mankato is undeniable, even with a 0-5 national mark in coach Mike Hastings' first seven seasons (excluding 2019-20).
Right in the thick of it this season are Lutz, Jaremko, Duehr, and Gerads, who each finished top 10 in team scoring. Lutz, Duehr, and Zmolek each posted career years for points-per-game leading the Mavericks to WCHA history as the first program to win four consecutive MacNaughton Cups.
Each of the past four years has been a collective effort in Mankato, with players of every age group contributing to the overall team success that has created one of the premier destinations for Division I college hockey.
But that 2017 recruiting class of Lutz, Gerads, Jaremko, Spooner, Duehr, Zmolek, and McNeely has made history.
Mood: @RZmolek21 's face 😝

In the history of the WCHA, here are the only players who have won it 4 years in a row #HornsUp😈 pic.twitter.com/lf36owyTCp

— Minnesota State Hockey (@MavHockey) February 26, 2021
In their four years, the seven seniors have played their role in the history being made in the WCHA. They have combined for 160 goals and 436 total points. This season, the seven players have combined for 30 of the team's 81 goals and 80 totals points.
But their work is not finished. No one in that locker room, from freshmen to senior, is looking beyond the next game. Their ticket to the National Tournament is booked, but this group is not looking ahead of the pending WCHA Tournament to earn the best national seed they can.
"Anytime you get to the playoffs … it's a new season, we're turning a page," Hastings told Kevin Dudley of The Mankato Free Press.
The Mavericks are set to host Ferris State for a best-of-three series in the opening round of the WCHA Tournament with games on March 12th, 13th, and 14th (if necessary). Catch all of the WCHA Tournament this weekend live, right here on FloHockey.
---
Have a question or a comment for Jacob Messing? You can find him on Twitter @Jacob_Messing.