Men's WCHA Hockey
WCHA RinkRap: Surprise Minnesota State Hero & Lake State's Ashton Calder
WCHA RinkRap: Surprise Minnesota State Hero & Lake State's Ashton Calder
This week on RinkRap: a practice player makes good in Mankato, a Soo local carries the hopes of Laker Nation, and three-on-three overtime takes a hiatus.
Mar 8, 2021
by Tim Rappleye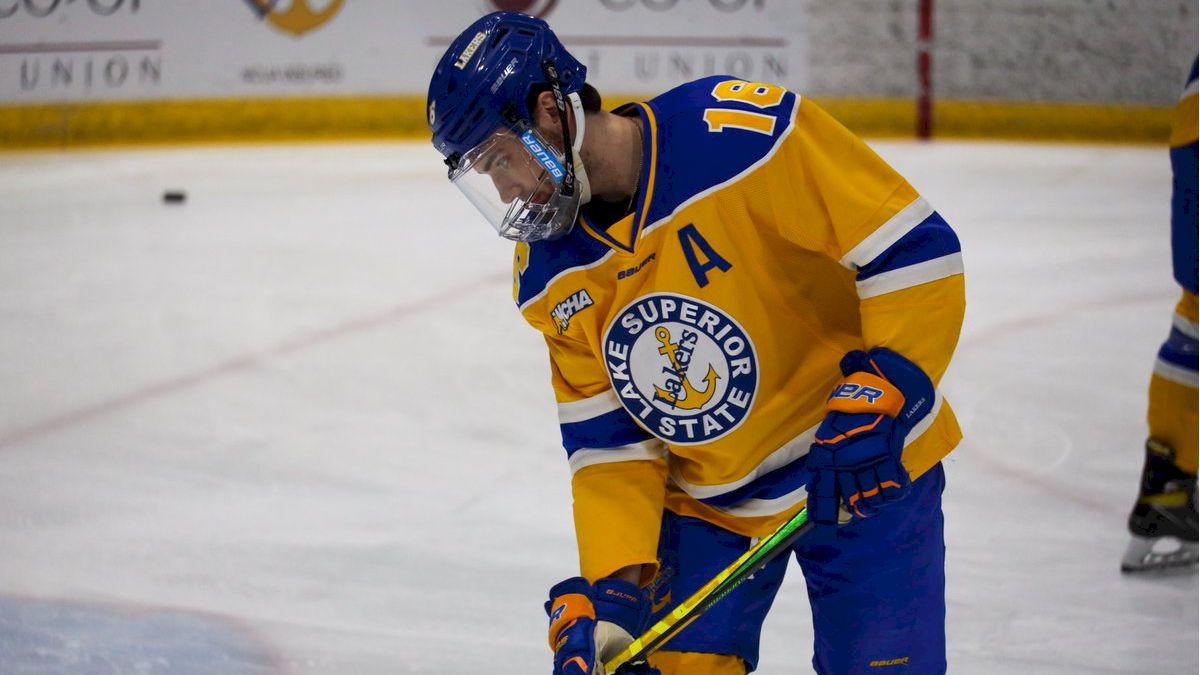 This week on the WCHA RinkRap: a practice player makes good in Mankato, a Soo local carries the hopes of Laker Nation, and three-on-three overtime takes a hiatus
Maverick Malinowski Makes Good
Minnesota State sophomore defenseman Tony Malinowski is what's known in college hockey as a "body." He's a depth player on a team that relies on aggressive musical chairs in their weekly practices to settle the final roster spots for each game. Malinowski has been scratched from the Maverick lineup 14 times this season, dressing for eight. Despite spending most game nights in street clothes, Malinowski remains deeply committed to the MSU cause.
"We got eight great D and great coaches who push us," said Malinowski to Jason Feldman of The Rink Live. "Every day is an opportunity to get better. I look at the positives."
Watch the WCHA Playoffs LIVE on FloHockey
He did exactly that Saturday night, banging home a goal and a helper on consecutive shifts, powering the Mavericks to a 3-2 win over a desperate Michigan Tech squad. Three times within a minute he snuck 20 feet down from the blue line to take Bunyanesque swings from the hash marks: 1) deflection, 2) inches wide (resulting in an assist), and 3) driving the disc high into the back of the net.
🎥 Tony Malinowski scores his first career goal as a Maverick in the second period! #StickTap 😈 pic.twitter.com/VUVm7jTG3C

— Minnesota State Hockey (@MavHockey) March 7, 2021
It's not like Malinowski was a scoring star in juniors waiting to find his Division I stride; he's a guy who averaged less than a goal a year over his last four seasons. He's more Clydesdale than thoroughbred. Yet there was the scoreless sophomore asserting himself as a central figure in MSU's critical offensive push. The two-goal squall propelled the fourth-ranked Mavs to their gutty come-from-behind victory. Malinowski sure didn't look like a guy mired in a two-year scoring slump. What gives?
"I jumped up in the rush and I kind of blacked out," said the man who bangs bodies more than pucks. "I got my head up, saw the net wide open and I put it home. It was nice to get that first one."
Head coach Mike Hastings has achieved unparalleled regular-season success by identifying survivors of his Darwinian practice regimens. He praised his latest product in Saturday's post-game.
"I know he'd like to be in the lineup more than he has been," said Hastings, "but he controls everything that is within his control — his work ethic, his character, being a great teammate. I'm very happy for him because he works very hard."
It is expected that Malinowski's offensive burst will earn him a roster spot in MSU's quarterfinals versus Ferris State. But a word of caution to the exuberant defenseman. Hastings already has his designated snipers, guys who have earned the right to take necessary chances to generate offense. This brawny sophomore got into the lineup for his force, not his finesse. If he finds himself leaning toward the latter instead of the former, he could be victimized by the age-old hockey axiom: "From Crusher, to Rusher, to Usher."
Soo Local Revives Lake State
Lake Superior State junior Ashton Calder has become a force in the WCHA, never more apparent than last Wednesday against Bemidji State. In a road game with major implications, Calder put his team on his back, scored a hat trick, and led the Lakers to a 5-2 statement victory. The second of his three goals was quintessential Calder: separation speed and a deadly right-handed shot.
.@HockeyLSSU Ashton Calder can beat you with his legs, his shot, and sometimes both. pic.twitter.com/htGyUjlffL

— Tim Rappleye (@teeraps) March 7, 2021
Former LSSU athletic director turned broadcaster Bill Crawford is an astute observer of Calder, and he's convinced that this star was made, not born.
"He works at being better," said Crawford. "Ashton realized early that strength training and nutrition are important to play at the highest possible level. He's a strong skater...explosive speed, much faster than earlier in his Laker career. He's matured a lot in his three seasons."
The youngster who was raised minutes away from Taffy Abel Arena has elevated his game to help lead his hometown Lakers. With Calder playing a vital role, the Lakers have earned home ice for a WCHA playoff series for the second time in his young career.
Despite Calder's obvious scoot and shoot ability, he is not a one-dimensional corridor player.
"He prides himself on playing well all over the ice, an outstanding backchecker," said Crawford.
Calder melds with creative linemates Pete Veillette and Louis Boudon, a troika that has combined for 30 goals. Then there are the intangibles that only careful observers can see: a guy who directs traffic on the ice, a scorer who eagerly kills penalties, a leader who uses his body not just to generate offense, but to establish a physical presence,
Every Division I player strives to win, but Calder has extra motivation. He has been playing and attending games at LSSU for as long as he can remember, and knows full well that the Soo was once college hockey's version of Title Town. He has spent three seasons doing everything in his power to return the Lakers to the podium. On the eve of the WCHA playoffs, Ashton Calder has to be considered a person of interest.
Serratore Exhales, 3-on-3 OT Relegated to Back Burner
Bemidji State coach Tom Serratore wears his heart on his sleeve. NCAA hockey's edict to settle regular-season games via three-on-three overtime has given the veteran coach heartburn on eight different occasions. From Serratore's perspective, having but six combined skaters share an entire sheet of ice is no way to determine a hockey game.
"It's just chaotic," said Serratore who concedes that he rarely takes up practice time with something that can't be coached. When teams exchange odd-man rushes for five minutes at a stretch in sudden death, Serratore can only throw up his hands. "It's a player's game, period."
Serratore was subjected to three straight overtime games during the Beavers WCHA stretch run, something he clearly didn't enjoy. Angered by both subtle and flagrant offensive picks in an overtime loss to Minnesota State, Serratore took to the ice to share his objections with the officials.
The next series versus Lake State, his Beavers survived a certain overtime loss thanks to a miraculous defensive play by defenseman Elias Rosen, who then banked a 140-foot pass to set up the game-winner. From the agony of defeat to the thrill of victory in mere seconds.
"You just got to make a play," said Serratore about regular-season overtime. "There's always going to be a couple of times — both teams — they got to make a play."
Starting Friday, the WCHA playoffs revert back to NCAA rules, where if a game is tied after regulation, you will see the Zambonis take the ice. Then 10 skaters and two goalies will grind out 20-minute sudden death periods. Coaches will be back in control of overtime, directing their troops to shut down the best offensive players in the land.
Coaches like Serratore will appreciate the renewed sense of order, but there are fans (and writers) who will miss the delightful chaos of three-on-three sudden death.
---
Tim Rappleye is the author of two books: Jack Parker's Wiseguys and Hobey Baker, Upon Further Review. You can find him on Twitter.