ECHL
The Breakout Campaign Of Florida Everblades Goaltender Jake Hildebrand
The Breakout Campaign Of Florida Everblades Goaltender Jake Hildebrand
Jake Hildebrand of the Florida Everblades wasn't even supposed to be in Florida, but the former Michigan State star has made the most of his opportunity.
Mar 1, 2021
by Mike Ashmore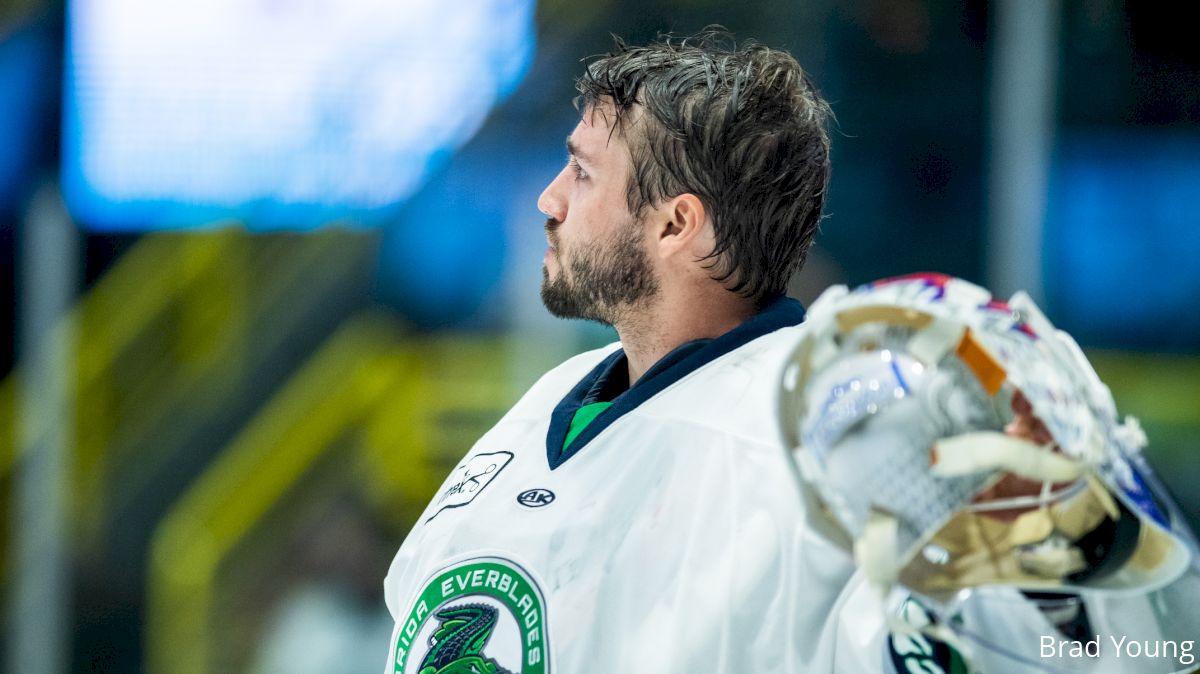 There can be no ignoring the numbers this season for Jake Hildebrand.
After four full seasons in the ECHL with statistics that would put him in the middle of the pack among league goaltenders, the 27-year-old has finally found his stride in a breakout campaign with the Florida Everblades.
With the former Michigan State standout set to re-join the Kalamazoo Wings for a third year, this was a marriage that was never supposed to happen. And while he was quick to credit playing on arguably the league's top team for some of that success, what he's done this offseason to help better his own game shouldn't be overlooked either.
"I felt like I had a pretty good summer, and I tweaked a couple things in my game," Hildebrand told FloHockey.
"I was working with a few different goalie coaches back in Michigan, and it's nice to work on a few different things. You always try to grow and adapt your game, and better it in any aspect. We also have a great goalie coach here in Josh Robinson, who's been awesome to work with. That's such a nice feature that Florida offers, most places don't have a full-time goalie coach, so to have him every practice and game to look at video and do our goalie sessions before practice, it helps take your game to the next level."
Two of the adjustments Hildebrand says have made a world of difference — he posted an .889 save percentage last year with the K-Wings compared to a .931 so far in his first nine appearances with the Everblades — are tucking his chin to better track the puck, as well as a narrowing of his stance in net, which he says improves his agility and helps him beat more passes on his feet.
The casual observer may find it odd that a goaltender may want to get slightly smaller in net at times by making himself more narrow, but it actually makes perfect sense once he talks you through it.
"Honestly, to put it in the simplest terms, if you put your feet really wide and you try to jump in the air, it doesn't really work," Hildebrand explained. "Essentially, it makes you more athletic and more mobile in the net. If your feet are narrower, you can get to more places. It probably doesn't make sense to the outside person, but when you do it and work on it, it's actually mind-blowing the difference that it makes."
Apparently so.
Hildebrand is 7-0-0-1 so far this season with Florida, and his 2.09 goals-against average is good for third-best in the league among qualifying goaltenders.
"I think a lot of that plays into the team," he said. "We have an unbelievable team here, just the guys buying in to play good defensive hockey, and I'd probably say this is the most skilled team I've ever been on offensively. Not only that though, they buy in defensively, they play the game the right way and they make my life easy. I'm just making the saves I'm supposed to make. They haven't put too much stress on me, and it's been nice."
It's been an unexpectedly nice recovery to a year that got off to a rough start for Hildebrand and many players who were set to play for teams that ultimately ended up opting out on the season, like Kalamazoo ultimately chose to do. Particularly for goalies, however, finding a new team, no less one that was actually willing to provide an opportunity of any significance, was extremely difficult given the small number of spots available.
"It was pretty different than anything I've ever been through actually," he said. "Just going through the summer and not knowing if we were starting on time, and then it kept getting pushed back. The more it got pushed back, we were thinking this all didn't sound too good. But, as it got closer, and (Kalamazoo) canceled, it was tough because most teams had at least three guys and a bunch of contracted guys were down at that point. So, it was a waiting game and waiting for things to open up. I was hoping there would be a spot available…for a while, there were no spots out there at all, but then the NHL starts and the American (Hockey) League starts, and with each of those teams holding three goalies per team, now everybody seems to need a guy…it all worked out, so I was very fortunate."
Hildebrand has settled in to form one of the top tandems in the league with rookie Devin Cooley, who took over the reins once Cam Johnson was signed to an NHL deal with the Columbus Blue Jackets early in the season. He credited Cooley, who, in his first pro year, is on an NHL deal himself with the Nashville Predators, for being great to work with.
He just hasn't adopted Cooley's well-known yoga and Pilates routine just yet, however.
"He's a big stretcher, I see him in the gym a lot," Hildebrand said through a chuckle. "Every goalie is different and has their own routine, and he's certainly seemed to have found his with that."
Hildebrand certainly seems to have found what's working for him as well, and given that he's strung together a season that's resurrected his career, it's fair to wonder if he might be next in line to get to add to a resume that somehow only features three games at the AHL level.
"I think that's always the goal," he said. "You still play hockey because you have that dream to keep moving up, but I think it's also just wanting to focus on the task at hand for right now. If you take care of business, usually things fall into place."
---
Mike Ashmore has 17 years of experience covering professional and college sports. You can follow him on all social media channels at @mashmore98.