No different than the hockey world as a whole, the landscape of the ECHL has changed considerably this year.
However, given the E's unique position as an oft-entry-level spot for many looking to get their start in professional hockey, the challenges for rookies within the league have been particularly difficult.
With a condensed group of only 14 teams playing this year, more veterans than ever before were left looking for jobs, which squeezed out some players fresh out of college or juniors who were looking for that first opportunity.
The Orlando Solar Bears have been one of the teams to make it work, however, having integrated key pieces like first-year standouts Michael Lackey and Luke McInnis, among others, early on this season. Ironically enough, having a solid core group of veterans has been key to making it all come together.
"It's been hard for everybody," Solar Bears head coach Drake Berehowsky. "We have so many American League guys playing in the league this year compared to other years, and for young guys, I think it's a weird year. It's been hard for the young guys. Here, we have a pretty good core and we've had a pretty good core for the past few years, but it's important for myself and Chris and Jared to always bring in good kids. We look for quality kids above anything else. When we have a good core, we trust that the guys will show those guys what we want done and how we want it done, to act a certain way. We want them to show that Solar Bear way."
So far, so good.
Lackey, 23, is fresh off of a four-year collegiate career split between Harvard and Providence, and signed on with the Solar Bears this offseason to ultimately become their third goalie in training camp behind Garret Sparks, who has since left for an American Hockey League deal in the Calgary Flames organization, and Clint Windsor. Orlando's history of successfully carrying three goaltenders hinted that Lackey might be able to see some playing time, but perhaps nothing like what he's had already this season; with Windsor up in the AHL himself recently, Lackey got the start in each of the Solar Bears' three games in four nights stretch, and leads the team with 10 appearances between the pipes.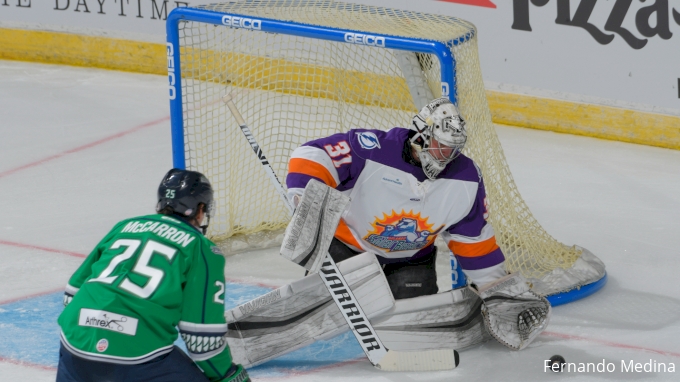 Lackey minding the net.
"It's been awesome," Lackey told FloHockey via Zoom. "I can't think of many guys who have been given the opportunities I've been given here, and having the two goalie partners I had coming in, they both took me under their wing and helped me. It really made that transition process a lot easier."
Making things even smoother is that he's joined on the roster by fellow Beanpot Tournament participant, Boston College alum Luke McInnis, who is in his first year on the Solar Bears blueline after completing a four-year NCAA career, one in which his Eagles were never able to capture the Boston area's most coveted college hockey prize, but Lackey's Crimson did, albeit with Lackey himself on the sidelines recovering from double labrum surgery in 2017.
"I wasn't fortunate enough to win one while I was there, so I don't like talking about it all too much, but we've got a couple funny stories," McInnis cracked in a Zoom meeting with FloHockey.
In Orlando, McInnis has worked to become a steady presence in the Solar Bears lineup; he's appeared in 10 of the team's first 21 games, and although he's still looking for his first professional point, his play has steadily improved ever since he first slotted into his spot on the back end.
"I'm really enjoying myself, and I think it's a great switch from college," he said. "Four years at BC was a long time, and I definitely loved it, but this adjustment hasn't been easy either . . . I think Hockey East is a fast division, and the teams that I played against in Hockey East were always (ranked) high in the country; UMass was very good, BU is always very good, Northeastern was always good. So, the level of hockey and players in that division was outstanding. I think that really helped me to prepare to jump to the pro game so it didn't feel as fast, and it wasn't as big of an adjustment.
"Here, when you're out there against good players, it makes you play better. That's been a really good thing, and the league's been so good this year that it makes it even that much more fun and that much more competitive."
Lackey, who played collegiately both in the highly-regarded ECAC and Hockey East, echoed similar sentiments in his college experiences having helped making the difficult transition to life as a rookie in the ECHL, while also continuing to give credit to his veteran teammates.
"It's definitely a jump," he said. "Everyone here, it's a better skill level, so that took an adjustment. But just working on things with the other two guys, since they've been around, they know what adjustments needed to be made. Getting to be with them, it's been huge. When plays are happening that quick, positioning is the biggest thing, and those guys have helped me the entire time with situations and with what to do."
---
Mike Ashmore has 17 years of experience covering professional and college sports. You can follow him on all social media channels at @mashmore98.