Men's WCHA Hockey
Michigan Tech, Lake Superior & Northern Michigan Revitalize The UP
Michigan Tech, Lake Superior & Northern Michigan Revitalize The UP
Although Minnesota State lords from atop the standings, the soul of the WCHA resides in Michigan's Upper Peninsula.
Feb 19, 2021
by Tim Rappleye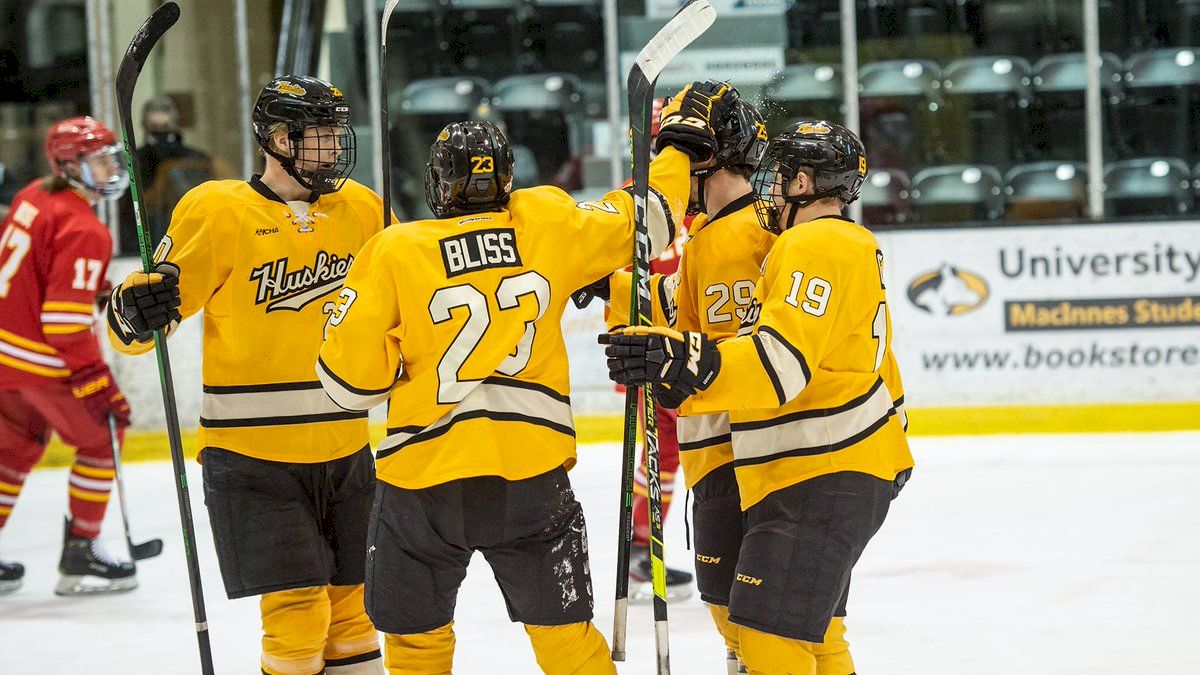 Although Minnesota State lords from atop the standings, the soul of the WCHA (and next year's CCHA) resides in Michigan's Upper Peninsula. Whether it is the seven Division I championship banners distributed across its three universities or the fact that pro hockey was born on this rugged spit of land, Yooper hockey is the frozen bedrock of whatever conference that adopts them
All three UP fan bases — Lake Superior, Northern Michigan and Michigan Tech — were rewarded this past weekend with convincing sweeps against WCHA opposition, two coming on the road versus nationally ranked opposition. Michigan Tech collared Ferris State to capture the MacInnes Cup for the first time since 2018, as captain Alec Broetzman skated away with MVP honors in front of merry widow Jerry MacInnes.
Three-hundred-fifty miles due west, the Northern Michigan Wildcats served notice that reports of their demise were greatly exaggerated. Revitalized by a virtual stranger in the crease (newcomer Rico DiMatteo), and the dynamic play of Andre Ghantous and Joe Nardi, the Cats tore asunder the blue-ribbon special teams of Tom Serratore's 18th-ranked Bemidji State Beavers. Goaltender DiMatteo's greenhorn status is immediately recognizable because he still sports the bulky red and blue leg pads of his junior club from Texas.
"We have new gear ordered!" spouted coach Grant Potulny, but he might want to consider letting Rico's undefeated streak play out with his clashing wardrobe. Superstitions reign in hockey locker rooms, changing one's routines comes with significant risk.
But of all the Yooper hockey success this past weekend, it was Lake State who sent shudders through the corridors of college hockey. The Lakers, a proud program that has shown promise through fits and starts this season, swept then-No. 12 Bowling Green this past weekend. This has thrust them into the NCAA tourney conversation as this truncated season hits its stretch drive. LSSU's sweep displayed both the sterling goaltending of Mareks Mitens and the Lakers devastating quick-strike ability off the rush. Three times in a nine-minute stretch in Saturday's middle stanza, the Lakers converted on odd-man rushes where they traveled at least half the length of the rink in mere seconds. It transformed a tight 1-0 game into a 4-0 rout.
With a roster known as the United Nations of college hockey due to the nine countries represented on its roster, Saturday's blitzkrieg should actually be called a guerre éclair because of the perpetrators' French flair. Pierre-Luc Veillette (Quebec) and Louis Boudon (Grenoble, France) converted barely a minute apart, and a few shifts later Veillette found dead-eyed Ashton Calder across hockey's "Royal Road" to complete the binge. With Mitens performing at his career peak 200 feet away, the game, and the series, were over with six minutes remaining in the second period. A convincing early-round knockout of a BGSU team that earlier this month hockey pundits had declared a national contender. Just. Like. That.
The rafters of Taffy Abel Arena are overcrowded with banners: three NCAA titles, two NAIA championships, and too many CCHA regular season and tournament titles to count. But coming up with a Laker team with this kind of quick-strike firepower requires some serious head-scratching. The dynastic LSSU clubs of the Jeff Jackson era (1992-94) were known for wearing squads down with their heavy bodies down on the goal line. Jackson's teams were not known for fleet attackers that Damon Whitten has been rolling out, sprinters who can flip a game by seizing on neutral ice turnovers, converting them into red-light celebrations within seconds. Former LSSU A.D. and current broadcaster Bill Crawford hopped into the time machine to recall the Laker arsenal from the title years.
"Jim Dowd, Doug Weight and Brian Rolston were great off the rush. Jim Roque, Scott Johnson and others were very good," said Crawford. "Keith Aldridge was a fabulous rushing D-man, as were Mark Astley and Steven Barnes."
Today, Whitten has his own stable of horses eager to gallop from goal line to goal line. Rival coaches are watching the Lakers on tape, wondering if their video controllers are operating on Fast-Forward. Their message to their players before taking on Lake State: manage the puck over the entire 200 by 85; turnovers can prove fatal.
---
Tim Rappleye is the author of two books: Jack Parker's Wiseguys and Hobey Baker, Upon Further Review. You can find him on Twitter.