Atlantic Hockey 2020-21
Atlantic Hockey's Canisius Taking What It Can In 2020-21
Atlantic Hockey's Canisius Taking What It Can In 2020-21
The Golden Griffins of Canisius haven't played many games, but when they have they've made them count in Atlantic Hockey.
Feb 18, 2021
by Jacob Messing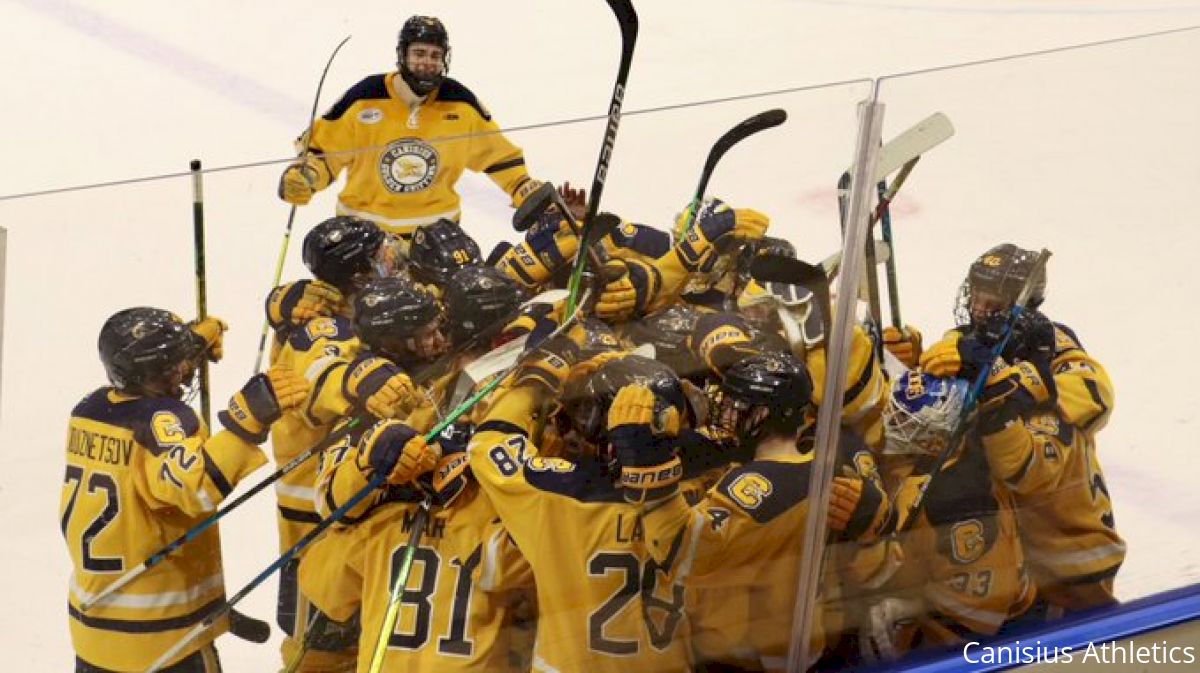 When Atlantic Hockey announced a reformat of standings via points percentage for the 2020-21 season, it was partially due to the lack of a guarantee when it came to all 11 teams playing a full league schedule.
Now, as the regular season nears its end, Canisius has just five games left on its schedule after the clashing of postponements and time have the Golden Griffins on the low end of games played.
To put it bluntly, the switch to points percentage has done exactly what it was put in place to do, but the drastic imbalance of games played for the Golden Griffins versus the rest of their Atlantic Hockey rivals could skew seedings when it comes to the conference tournament.
The Golden Griffins hold a 6-2 record that accounts for both conference and overall play, a strong indicator of a bounce back from a 10-win 2019-20 campaign. With their record earning them a .750 point-percentage, the Golden Griffins sit in second place in the conference between AIC (.889 Pt. %) and Robert Morris (.744 Pt. %) despite having played four and five fewer games than each team, respectively.
We're one step closer to the end of the regular season. Here's a snapshot of our standings as we enter another week of hockey. @ArmyWP_Hockey solidified their hold on the #2 spot in the East with the nation's longest unbeaten streak and @GriffsHockey jumped into #1 in the West! pic.twitter.com/DTprs7cT7c

— Atlantic Hockey (@Atlantic_Hockey) February 15, 2021
Over the final week of November, the Golden Griffins kicked off their season splitting a series with Robert Morris, which sits ranked at No. 19 in the nation.
After that season-opening series, the Golden Griffins sat idly by as five games were postponed through December. Then, they hit the ice for another pair of wins, sweeping Mercyhurst in the first week of the new year.
But as luck would have it, their next six games were all postponed.
The Golden Griffins have significantly lacked the chance at regular play with a stop-and-start schedule derailed by postponements. Good teams are supposed to live up to adversity and playing two games every 14-30 days is about as difficult as it comes.
But the team's impressive offense, sturdy defense, and impeccable goaltending have come through with each passing game to lift the Golden Griffins to second place.
The uncertainty of tomorrow has the players competing hard each game and the goaltending tandem of Jacob Barczewski and Matt Ladd, who have both dominated in their 50/50 time split to combined for a team save percentage of .938 and team GAA of 2.00 along with a shutout each has the Golden Griffins defense playing confidently and offense adding real goal support.
But there are two sides to the conference's games played imbalance: on the first side, the Golden Griffins are favoring from the usage of points percentage and their record reflects their ability; on the second side, regression may be anticipated over a longer schedule for a team that went 10-20-6 last season.
Prior to the season, there was a reason the Golden Griffins were even picked to finish 10th among all 11 teams by USCHO's Chris Lerch and Dan Rubin. Writers have been wrong before; some are even seemingly paid to be wrong. But it goes to show that the Golden Griffins' 2020-21 season was not as projected.
Perhaps the Golden Griffins are in for the aforementioned regression in their final five games—each added due to postponements—which could leave their season win percentage anywhere from .461 (worst case, 6-7 record) to .846 (best case, 11-2 record).
But with two games coming against a .273 Pt. % team in Niagara (ninth place) and another two contests versus a .121 Pt. % team in Air Force (11th place), perhaps the Golden Griffins are being favored by the hockey gods.
The Golden Griffins are taking what they can, when they can, in an unprecedented season that has them prepared for whatever lies ahead.
---
Have a question or a comment for Jacob Messing? You can find him on Twitter @Jacob_Messing.