Atlantic Hockey 2020-21
Competition, Growth & Confidence Drive Army West Point's Streaking Play
Competition, Growth & Confidence Drive Army West Point's Streaking Play
FloHockey caught up with Army head coach Brian Riley to talk about the Black Knights' recent surge and much more.
Feb 12, 2021
by Jacob Messing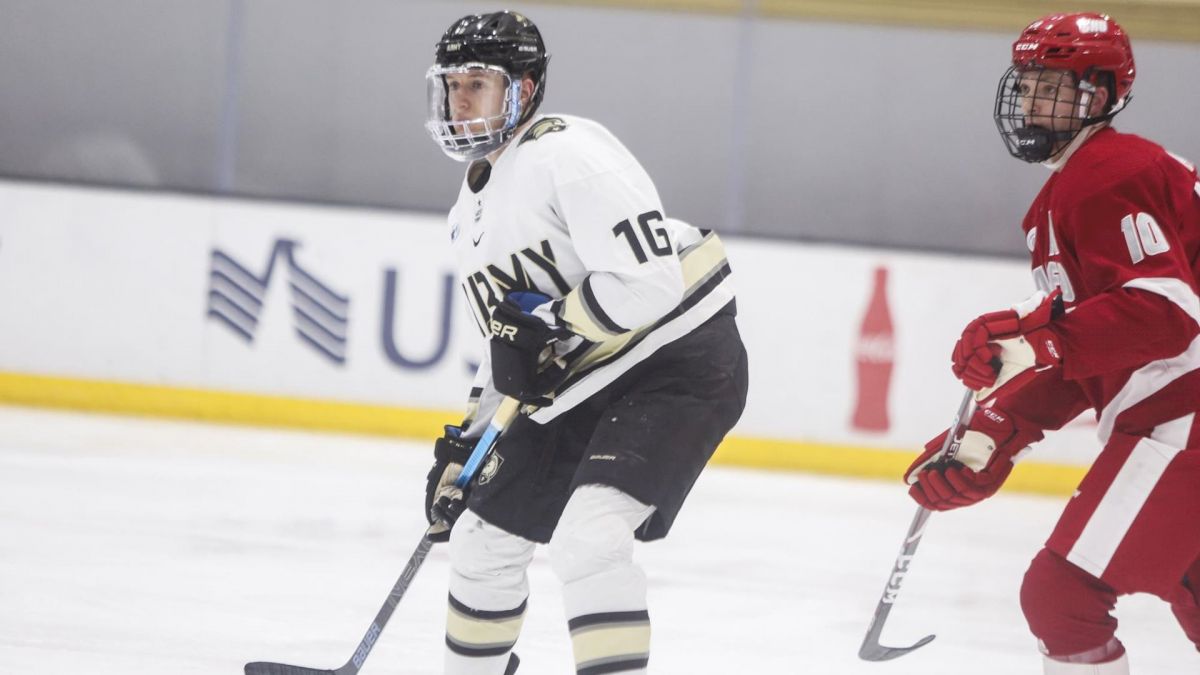 After a 1-4 start to the season, Army holds a nine-game streak without a regulation loss and is continuing to gain momentum with each passing series.
With the nation's second-best unbeaten streak, sitting at 5-0-1 in their past six contests, the Black Knights are proving to be resilient and simultaneously putting Atlantic Hockey on notice by taking 17 of their past 18 possible points.
"At the start of the year was a little bit of stop and start and we never really gained a lot of traction. Then, ever since we've been able to play games, we just seemed to have found our game a little bit and found our confidence level," coach Brian Riley told FloHockey.
The Black Knights' on-and-off schedule saw them play just five games over the first month of the season, but as the schedule gained consistency, so did the team. Now that 1-4 start has turned into an 8-5-1 overall record and 7-4-1 conference mark, placing them third in the standings via the points percentage format being applied to conference seeding in 2020-21.
"Every year you have to kind of figure out what's your identity as a team and at the start of the year we were kind of searching for that."
Even for a team without a regulation loss in nine games, there is always room for improvement. Despite finding their identity and being on the right side of the scoreboard, the Black Knights have struggled to start games on time. In 14 games this season, the team has surrendered the first goal in 11 of them, including allowing five total goals in the first five minutes.
But like their slow start to the season, Riley's team has continued to overcome early struggles with a plus-11 goal differential in the second and third periods this season.
"Our guys just have a high belief factor that they're going to win regardless if they're down. There's a huge difference between hoping to win and expecting to win and right now our guys are expecting to win."
Riley attributes the players' competitive drive for their confidence in expecting to win and overall success this season. Confidence can be contagious in a locker room and breakout players including Colin Bilek, Tucker DeYoung, and Trevin Kozlowski are the cumulative patient zero.
Regardless of level, league, age, or even sport, finding players with unrelenting competitiveness is no easy task, but Riley sees that drive in Bilek with his work ethic and energy that he brings every day both during games and in practice.
" makes our practices better and also other guys kind of feed off that."
It is what has helped Bilek take a step forward in his junior season and earn a letter on his jersey. Bilek leads the Black Knights with 15 points in 14, 10 of which have come as goals, which place him second in the NCAA in goals per game (0.71 G/gm).
Just four goals shy of reaching the output of his freshman and sophomore seasons combined, he's grabbed an offensive role left open after the loss of seven seniors, including the Black Knights' top two scorers in Dominic Franco and Michael Wilson.
But Bilek isn't the only one to expand his role on the team, as this year's seniors have stepped up, including Kozlowski and DeYoung
"First of all, you're really only as good as your goaltending is and you know what, we've been on a bit of a roll here lately and no surprise during that roll Trev has been really, really good for us. He's another kid that's such a competitor and wants to win in the worst way."
Kozlowski was recently named to the Mike Richter Award watch list, reserved annually for college hockey's most outstanding goaltender.
The senior has gone 7-0-1 during the calendar year with a 1.84 GAA and .929 SV% and was Atlantic Hockey's Goaltender of the Month in January.
We're inching closer to the conference tournament, but we have some awards to hand out for January. Congratulations to @ArmyWP_Hockey's Colin Bilek and Trevin Kozlowski, and @RMUMHockey's Randy Hernandez on their monthly honors!

🔗https://t.co/YHZGlIJde2 pic.twitter.com/xcCxzuNM8z

— Atlantic Hockey (@Atlantic_Hockey) February 8, 2021
After recording five goals and 13 points in 65 games over his first three years with the program, DeYoung has already registered five goals and eight points in 13 games during a breakout senior season.
"I always hope that a guys' senior year is their best year," Riley said in reference to DeYoung, followed by a compliment on the work he put in over the offseason to position himself for the year he's having.
With West Point graduates positioned to become officers in the U.S. Army following graduation, Riley prides himself in that part of the job.
"Coaching at West Point is both an honor and a privilege because as a coach, you play a small role in helping to shape and develop young men to be future leaders of our country."
"Whenever their final game is this year, that will be their last hockey game."
---
Have a question or a comment for Jacob Messing? You can find him on Twitter @Jacob_Messing.