Atlantic Hockey 2020-21
Atlantic Hockey ROY Race Loaded With Robert Morris & Mercyhurst Candidates
Atlantic Hockey ROY Race Loaded With Robert Morris & Mercyhurst Candidates
Robert Morris and Mercyhurst boast some of the most impressive Rookie of the Year candidates in Atlantic Hockey.
Feb 10, 2021
by Jacob Messing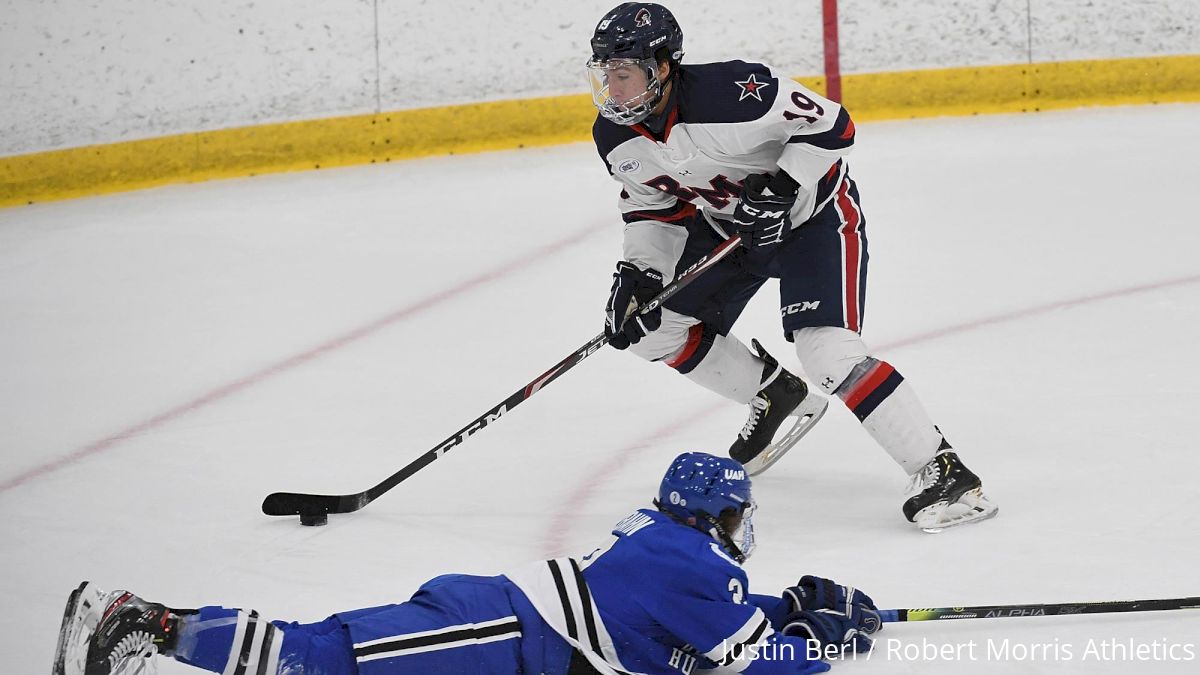 Six players highlight the Atlantic Hockey Rookie of the Year race this season as Robert Morris and Mercyhurst combine for the freshmen to watch with the 2020-21 regular season nearing its end.
Last season, Sacred Heart's Braeden Tuck took home the title after a 34-game campaign in which he recorded 28 points (5 G, 23 A), a mark good enough to place him atop AH rookie scoring and 10th in freshman scoring nationally.
Tuck has taken another step this season, sitting above a point per game pace as he leads Sacred Heart in scoring during a transition year. His development shows the confidence freshmen can develop and how it can help build a program.
With this season's Rookie of the Year race coming down to six players across two programs, the race shows the bright futures for the respective programs in Atlantic Hockey, despite the final result.
Robert Morris
The Colonials hold a 14-5 overall record, taking a big step forward from last season's 13-9-5 finish. The play of freshman Randy Hernandez has played a significant part in the offseason growth.
Hernandez leads all Atlantic Hockey freshmen with 8 goals and 20 points through 19 games, earning him a 1.05 points-per-game mark second among rookies. Hernandez sits first in goals among his teammates and second in team scoring. His three game-winning goals show the tenacity and 60-minute effort he brings each night.
We're inching closer to the conference tournament, but we have some awards to hand out for January. Congratulations to @ArmyWP_Hockey's Colin Bilek and Trevin Kozlowski, and @RMUMHockey's Randy Hernandez on their monthly honors!

🔗https://t.co/YHZGlIJde2 pic.twitter.com/xcCxzuNM8z

— Atlantic Hockey (@Atlantic_Hockey) February 8, 2021
On the blue line, few Atlantic Hockey freshmen have been as noticeable or strong as Colonials defenseman Brian Kramer. Kramer is fifth in conference defensive scoring with 11 assists in 19 games.
He's learning from two sturdy defensive teammates in Nick Jenny and Brendon Michaelian, who are teaching him how to be reliable on both ends of the ice.
In the crease, Noah West is the clear-cut top rookie goaltender in Atlantic Hockey this season and holds an 8-3 record with a 2.51 GAA, .923 SV%, and one shutout. West is tied for seventh nationally with a .727 win% and sits in the upper half of every other national goaltending category.
His sturdy play has solidified the team's defensive play while allowing the offense to blossom with a 3.95 goals-per-game average tied for first in NCAA hockey.
Mercyhurst
The Lakers' 7-8-1 overall record is a complete turnaround from 2019-20. Coach Rick Gotkin told FloHockey several weeks back that he had no problem trading scoring chances with opponents so long as his team can find a way to regularly outscore those opponents. Cue the rookie class, a trio led by Carson Briere, Dante Sheriff, and Austin Heidemann.
Briere, son of former NHL forward Daniel Briere — who recorded 696 points in 973 games played between the Phoenix Coyotes, Buffalo Sabres, Philadelphia Flyers, Montreal Canadiens, and Colorado Avalanche — leads all Lakers players with 17 points (4 G, 13 A) in 16 games.
Briere leads all conference freshmen with a 1.06 points-per-game mark which is fourth nationally. His speed, vision, and play control have helped his team play a more possessive style and significantly cut down their team shot-differential.
We have three nominees for this year's @HobeyBakerAward Jonathan Bendorf, Carson Briere and Joseph Maziarz. Take a minute to cast a vote for these guys.

📰 https://t.co/HgTa73LnN9
✅ https://t.co/bdSzajK8uX pic.twitter.com/KSvFoIEbod

— Mercyhurst Men's Hockey (@HurstMensHockey) February 5, 2021
Right behind Briere, Sheriff's gritty edge and balanced offense have gone a long way in the team's step forward with 13 points (5 G, 8 A) in 14 games.
Sheriff hasn't been afraid to do the biggest thing that creates goals: shots. His tenacity has rubbed off on his teammates and the Lakers are playing a team game and the buy-in for Gotkin has gone a long way in the Lakers' revamped play.
Heidemann sits second on the team with seven goals and his team-leading four powerplay goals have put some life into the Lakers' man advantage, operating at a 20.4 percent efficiency mark that places the team's powerplay 25th in the nation, up 4.3 percent and 20 spots from 2019-20.
No matter how the conference tournament shakes out or the Lakers' season ends, Heidemann and his rookie teammates are putting the conference on notice as a team to fear in 2021-22.
Honorable mentions
Christian Gorscak (Niagara)
Drew Bavaro (Bentley)
---
Have a question or a comment for Jacob Messing? You can find him on Twitter @Jacob_Messing.