ECHL
Better Late Than Never: Fort Wayne Komets Are About To Enter The ECHL Fray
Better Late Than Never: Fort Wayne Komets Are About To Enter The ECHL Fray
The Fort Wayne Komets are doing something no team in the history of sports has ever done.
Feb 8, 2021
by Jason Guarente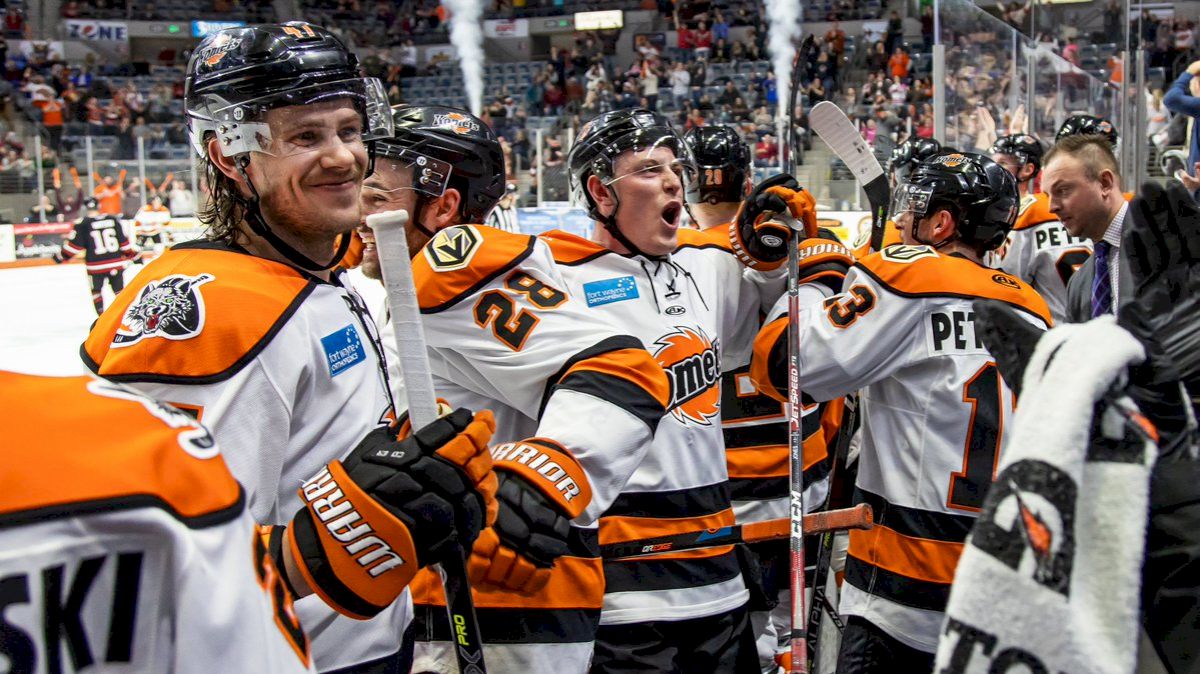 For nearly two months, 13 ECHL teams have been skating at full speed and ironing out the kinks in their system.
There's no substitute for games. No better way to get into shape and discover what works and what doesn't.
The Fort Wayne Komets, idle for all this time, are arriving late to the party.
"I don't know if anybody has ever been in this situation," coach Ben Boudreau said.
It's hard to find a precedent for one team joining a season long after it started. When the ECHL announced an unusual split format, with 13 teams dropping the puck in December, five more were planning to begin play in January.
That never happened.
Cincinnati, Idaho, Kalamazoo, and Toledo also opted out due to concerns over COVID-19. The only one that didn't was Fort Wayne. The Komets will have their opener Friday.
No one knows how it'll go in the beginning.
"We don't have an exhibition game," Boudreau said. "There's nobody to play. We don't have a chance to evaluate properly with these guys. We're going to go through it for a little bit. We hope we start out good but we're definitely going to be behind the 8 ball."
Even Fort Wayne didn't know it was going to have a season until about four weeks ago. There was a long stretch of time when the Komets looked like they'd opt out as well.
Boudreau has been recruiting for games that might not happen when other teams were lacing up the skates each day. It wasn't an easy sales pitch. He said four of his top players elected to retire or head overseas.
Fort Wayne might be the only ECHL franchise that could navigate these difficult waters. The Komets, owned by the Franke family, have been around in some form since 1952. They have a strong reputation within the league.
They rely on star players like A.J. Jenks and Shawn Szydlowski and a recruitment video to lure talent to Indiana.
"One of the biggest selling points is we've had 31 years of the same owners treating their players exceptionally well in a league that's going to try to cut every single corner in order to save money," Boudreau said. "They're going to be taken care of. They're going to be in good hands here."
Boudreau's task is getting his players in regular-season form when they haven't had ample time to prepare. Training camp is supposed to begin in October. Teams should be 40-some games into their schedules at this point.
How does a coach overcome a truncated preseason combined with so much downtime? Boudreau is learning as he goes.
"In a perfect world you come in and skate the piss out of everybody," he said. "You try to get these guys going. But they haven't been on the ice in 10 months. Now you're more worried about injuries with them not being in any sort of game shape. It's really a delicate balance of how to operate."
Fort Wayne has been a perennial power since joining the ECHL in 2012-13. The Komets made the playoffs six years in a row before last season's premature ending. They've had a winning percentage of at least .565 during that time.
Continuing that success will be a steep climb this season.
"There are going to be challenges for sure," Boudreau said. "The benefit is if you rise above them it bodes well for you. If you don't, you sort of have a built-in excuse although nobody likes that. There's going to be some growing pains."
---
Jason Guarente has covered the Reading Royals and ECHL for 10 seasons. He can be found on Twitter @JasonGuarente.