ECHL
Former Denver Standout Devin Cooley Helps Everblades Reload In The Crease
Former Denver Standout Devin Cooley Helps Everblades Reload In The Crease
Devin Cooley was an ace in the crease at Denver before an injury derailed his senior year; now the 23-year-old has a shot with the Florida Everblades.
Feb 8, 2021
by Mike Ashmore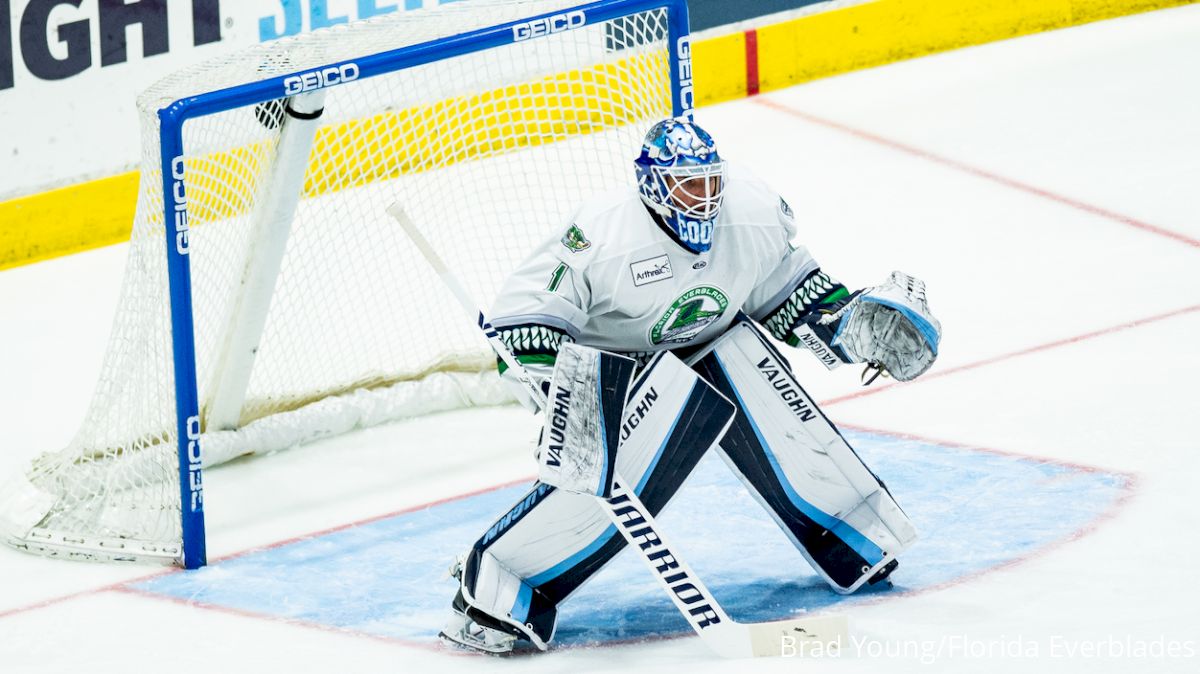 Not long after the ink dried on an entry-level contract with the National Hockey League's Nashville Predators, goaltender Devin Cooley has quickly shown them he's worth the investment.
A late-September signing after a three-year run at the University of Denver, the 23-year-old California native has not only played well, he's played far more than anyone expected he might early on this season. After Florida Everblades tandem-mate Cam Johnson signed an NHL deal of his own with the Columbus Blue Jackets, Cooley became the de facto starter, and has played well in his first professional season, posting a 2.80 goals-against average and .903 save percentage in his first eight appearances this season entering Saturday night's games.
"It's been great," Cooley told FloHockey. "I've honestly been having a lot of fun, the hockey's been good and obviously the team's doing really well, and that's been great. I've had some ups and downs, but I think I'm starting to get my feet settled here and feel really good and confident. I'm excited for the games coming up."
Getting the bulk of the games is something that's taken a bit of an adjustment for Cooley, who entered last season as the Pioneers' starter heading into his junior year, but played in just nine games after a lower-body injury sidetracked him. While it may have made the decision to leave for the greener pastures of the pro game easier, getting back in the flow of playing regularly again has taken some getting used to.
"There's been a huge difference," he said. "I think last year, I played nine games, and this year we're not even a quarter of the way through and I've already played somewhere around that. But, it's been a ton of fun, and I like it so much more because I get to play a lot. That's the fun of hockey, you get the adrenaline going, and I really love to play games. Getting to play a lot more here is great."
It's also something he's made sure he's well prepared for. Once the college season came to an abrupt and premature end, Cooley was stuck back in California, where he says he had access to a full range of dumbbells, a bench, a bunch of stretching bands and the like.
But in between a trip to Boston to train with Stop It Goaltending and some time in Nashville after he signed his contract, Cooley also credits his commitment to yoga and pilates – his mom, Heynia, is an instructor – to getting himself back on track.
"It's everything," he said. "My whole family, we're huge into yoga, but I do it every day. A little bit before practice, I like to get a session in, and then after practice as well. The way your body feels, it's just amazing. You don't really have the aches or pains that most people do after playing, you feel good and you've got a lot of energy constantly. And it helps with injury prevention, so especially as a goalie like myself who plays a more mobile and flexible game, having that flexibility and confidence in my body to move a certain way is huge for my game."
While that's always been a big part of his preparation, the move to pro hockey has made it significantly easier to increase his commitment to it.
"It's something I've always been doing, but I really put a lot of effort in this year, especially that I have the time," he said. "In college, it's tough because you've got class all day and then you go straight from class to practice. Right after practice, you've got to go straight to class again, so it's hard to find that extra time to be able to do the necessary recovery and preparation before and after practice every single day. You can do it a few times a week, but here, it's you can wake up in the morning, get to the rink any time you want and we've got a full gym where you can get a good warmup in. Then you skate, and that's your entire day. So, you can stay after as long as you want, do as much recovery as you need. Florida has done a really good job of providing all the necessary resources in order to be successful and be healthy."
So far, so good.
Not far removed from a sophomore season in college in which he posted a .934 save percentage that was the second-best in program history, Cooley is still looking to get his pro numbers near that level, which he's hopeful will come as he continues to gain experience at this level.
"The quality (of play) is great, I think it's been amazing," he said. "As far as comparing it to (college), it's challenging to do because it's a very different style of game. I would say the (ECHL) has been a lot more erratic, where teams play a little bit different and you never really know what you're going to get going into the game. Whereas in college, everything was very systems-oriented and you'd be playing against those same teams and those same coaches for three years, and you knew exactly what you were going to get.
"But, I think it's just getting that experience here, and finding little things in my game that I can work on every single time I play. Obviously, I've been working a lot with 'Robo' (Josh Robinson) here, the goalie coach, and he's done a really, really good job. We go over video every single day, and I speak a lot with the Nashville goalie development coaches, and it's been great. It's just working hard every day and doing everything I can to prepare for the next game. If you have a bad game, it's learning as much as you can from it, and making sure it doesn't happen again. But, every game, despite what some of the stats are saying, I feel like I've been improving and am really looking forward to continuing down this path."
Wherever that path takes him, though, he'll always be grateful for his time with the Everblades, especially with the American Hockey League only now starting their schedule.
"It's crazy valuable," Cooley said. "Just being able to get that experience to play pro hockey, and get on the ice and get in some games, it's second to none as far as development and transitioning from college to the pro game."
---
Mike Ashmore has 17 years of experience covering professional and college sports. You can follow him on all social media channels at @mashmore98.