ECHL
Hayden Hawkey's Wild Ride From Montreal Canadiens To The Wheeling Nailers
Hayden Hawkey's Wild Ride From Montreal Canadiens To The Wheeling Nailers
It was never supposed to be this hard for Hayden Hawkey, but the former college standout is finally getting his shot in the ECHL.
Feb 4, 2021
by Mike Ashmore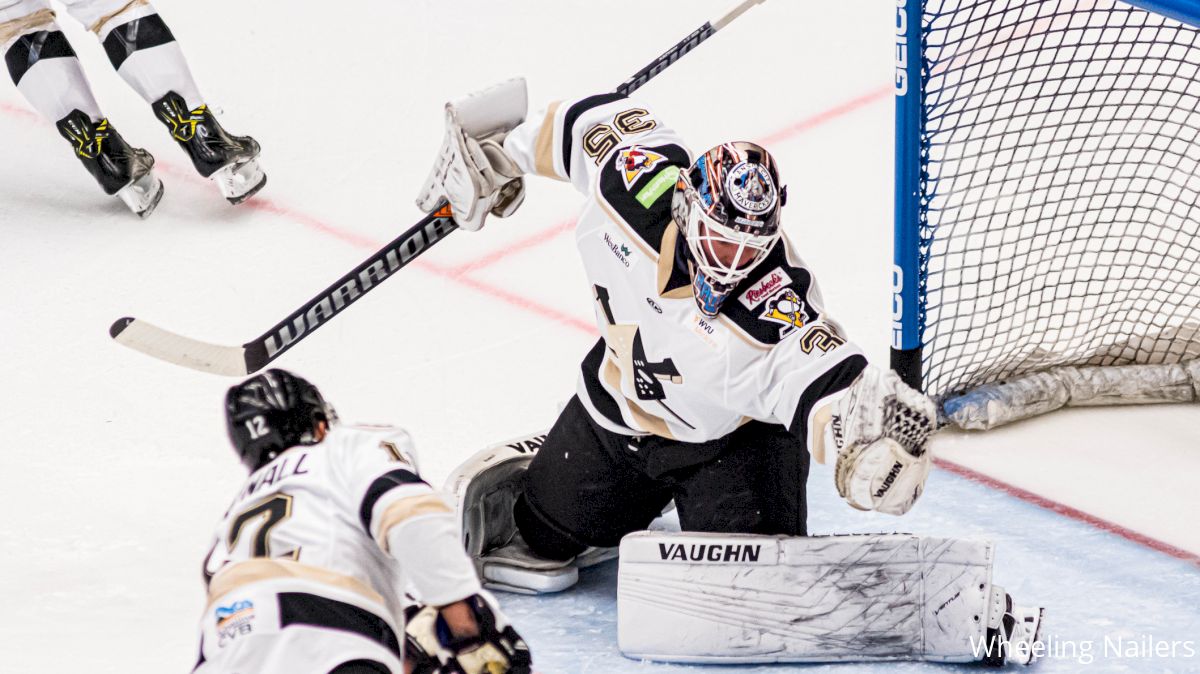 It was never supposed to be this hard for Hayden Hawkey.
Not after getting taken by the Montreal Canadiens in the sixth round of the 2014 National Hockey League Draft.
Not after a subsequent trade of his rights to the Edmonton Oilers.
And certainly not after leaving Providence College as one of the top goaltenders in the history of the program, a run in which he'd seemed to establish himself as one of the better pro prospects to come out of the ultra-competitive Hockey East conference in the past decade.
The guy with the catchy name always proved he had the game to back it up, and seemed destined for a quick climb up the ladder to the NHL. But that isn't how it's gone.
Not yet, anyway.
For the first time in his pro career, the affable 25-year-old finally has some momentum. Better yet, he has an opportunity.
Coming off of picking up his first pro win with the ECHL's Wheeling Nailers – he stopped all nine shots he faced in a relief outing against the Indy Fuel on Sunday, helping to pick up a 4-3 victory after starter Brandon Halverson got hurt – Hawkey will get a chance to take the reins in net for a team that's set to have a very active month of February.
"I wasn't really expecting that," Hawkey told FloHockey of his first win coming in the fashion it did.
"It didn't really click for me until one of the guys on Indy skated over holding with Halvy's stick and tried to bring it to the bench, and I was like, 'What are you doing with that.' And then I saw (Halverson) getting helped off, and I was like, 'Well, I guess I'm going in here.' It didn't look pretty from our end, but I thought he might be all right. It's not something you ever want to see happen, but at the same time, it's something I've been waiting for, an opportunity."
No stranger to high-pressure situations – Hawkey led Providence to the Frozen Four in his senior season and is the Friars all-time leader in wins and shutouts – he insists that this next stretch of games, one in which Wheeling is set to play 13 times over the month of February, isn't one of them.
"I wouldn't really call it pressure," he said. "Honestly, it's the only the chance I've had in the past year and a half, so the only pressure really would be not knowing when a chance like this would come around again and you want to make the most of it, but at the same time, I'm confident in myself and my abilities, and I know what I can do on the ice. I just want to put my best foot forward and take it one game at a time."
Cliché? Perhaps. His path to get to this point has been anything but.
Hawkey's career path seemingly changed when the Oilers traded for him in the summer of the 2018 in exchange for a fifth-round draft pick, which was a move that, on the surface at the time, would clear a better development path in Montreal for a fellow Hockey East standout, Northeastern's Cayden Primeau.
What it meant for Hawkey, however, at the time, was unknown. As it turns out, it marked the beginning of having to battle for everything he'd get in professional hockey.
Despite a senior year in which he posted career bests in goals-against average (1.88) and save percentage (.921), the perpetually goaltending-poor Oilers elected not to make him a contract offer despite having gone out of their way to acquire his rights. This sent Hawkey to free agency, and started off a whirlwind 2019-20 season; he had a short stint with the Washington Capitals in training camp, then did the same with the AHL's Stockton Heat, who also let him go, but not before assigning him to their ECHL affiliate, the Kansas City Mavericks.
But, with the parent Calgary Flames already having six goaltenders under NHL contract, including two in Kansas City, opportunities were few and far between. As the team's third goaltender, he appeared in only three games before moving on, and had a lengthy gap between finding his next team, when he was set to join the Greenville Swamp Rabbits towards the end of last season for another chance to show what he could do.
However, when the ECHL was abruptly shut down in early March, it meant that opportunity got ripped out from under him as well. He was originally slated to return to Greenville this year, but experienced a similar situation to what he did in Kansas City; a glut of NHL-contracted goaltenders essentially forced his release, but the Nailers picked him up a day later and had kept him on ever since behind Halverson and another former Oilers prospect, Shane Starrett.
"It's really just been bouncing from one place to the next and trying to find someone who's willing to give me an opportunity," Hawkey said. "Right now, it seems like Wheeling is the place for me to earn an opportunity. I'm trying to get back to feeling good in myself and confident in myself for 60 minutes in a game. Hopefully, I can use this opportunity to get a good chunk of games and hopefully turn it into something more and see how the season progresses. We're playing a lot of hockey coming up here, and it's an opportunity to get what I've been missing out on for the last year and a half, basically. So, I'm really excited. I'm excited to show my teammates what I can do when I get a chance."
A chance? That's all Hawkey's ever wanted.
Is it as hard to believe for him, as it seems to be to others on the outside looking in, that it's taken this long for it to come?
"It's funny you ask that," he said.
"A lot of my buddies at school and other guys that I played with along the way that I still keep in touch with, everybody in the offseason is kind of talking about what their plans for next year, and that always comes up. Guys are always talking about how I got screwed and things didn't work out for me the way they should have. But, at the end of the day, you're only as good as your last game and the only thing that matters is the next one.
"I obviously had expectations for myself coming out of school, and that was a tough pill to swallow at the time, but I made my peace with it a while ago. I still would have been playing in the same league I'm playing in now, so it's all about getting an opportunity, and that's all I was fighting for. When I came out of school, it was a pretty flooded market of goalies, and even looking at this offseason, I wasn't sure I was going to get a sniff. That was tough to deal with too, but I've dedicated so much time in my life to playing hockey and doing things the right way, that you've just got to have faith that things will pan out and you'll get a bounce to go your way. Whether this is it or it's not, we'll see. But now, given an opportunity to show people I can play the game at a high level, I'm excited to do so."
---
Mike Ashmore has 17 years of experience covering professional and college sports. You can follow him on all social media channels at @mashmore98.