ECHL
Doug Christiansen Leads 'Sleeping Giant' Indy Fuel To The Top Of The EHCL
Doug Christiansen Leads 'Sleeping Giant' Indy Fuel To The Top Of The EHCL
Head coach Doug Christiansen is taking advantage of the fertile hockey grounds in the Midwest and making a national contender out of the Indy Fuel.
Jan 28, 2021
by Jason Guarente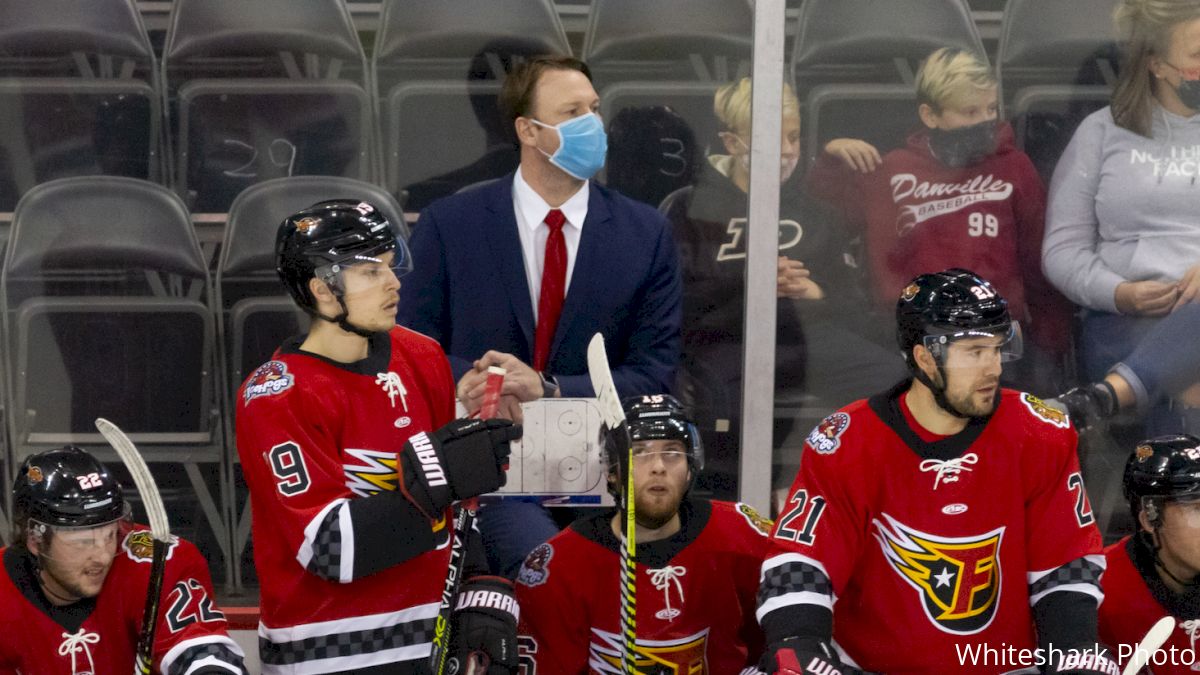 A perfect landing spot was waiting for Doug Christiansen after he was unexpectedly thrown into coaching free agency.
The Indy Fuel, Christiansen believed, were poised for better days. He considered it a stroke of good luck to even be considered.
"I told them before I took the job, 'Indianapolis is a sleeping giant,'" Christiansen said. "There's no reason they can't have all the success that some of the other teams in this division have."
After some time overseas and serving as the director of player development in the USHL, Christiansen moved to the ECHL with Manchester in 2018-19.
The Monarchs posted 39 wins, won a playoff round and tussled with eventual Kelly Cup champion Newfoundland in a hard-fought series that went six games.
Most coaches in that situation would have plenty of security. Nothing was secure in Manchester.
The Monarchs were one of the teams that migrated to the ECHL from the AHL when the American League underwent its westward expansion in 2015. Attendance declined all four seasons they played in the ECHL.
Manchester ceased operations less than two weeks after the Newfoundland series ended.
"It was tough," Christiansen said. "I really enjoyed Manchester. It's where I played my first American League game. It was a place where I had family. But you knew the business was in a tough spot when you attended a game. There were not a lot of fans. Whether or not we were going to play years moving forward, we didn't know."
About a month later, Christiansen was named the third coach in Fuel history.
Indy hasn't enjoyed much success since joining the league in 2014-15. It never topped 78 points and failed to make the playoffs in four of its first five seasons. Christiansen knew that could change.
"Indianapolis is a fertile recruiting ground," he said. "Michigan, Chicago and Minnesota are all drives for players and their families. There are a lot of really good college programs in the area. So you can build relationships."
Christiansen had Indy on track to make the playoffs when last season was canceled in March because of COVID-19. The Fuel have the best record in the league this season at 11-2-0.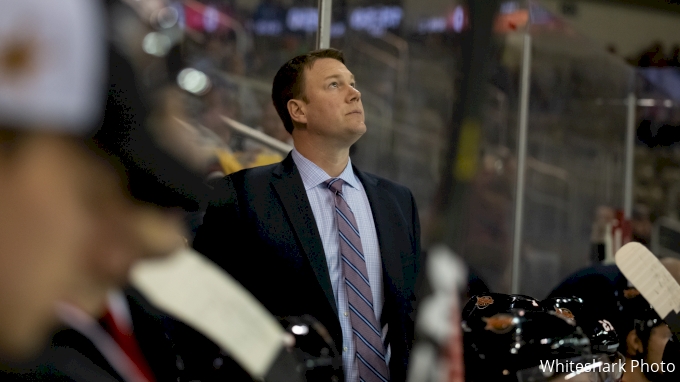 Christiansen on the bench last year before the pandemic.
The goal is to turn Indy into a consistent winner, like division rivals Toledo and Fort Wayne.
Although the Fuel have only one player in the top 20 in scoring, forward Matt Marcinew, they've still managed to pile up wins. Sixteen players have goals and 25 have points.
"We have really good people in our dressing room," Christiansen said. "They work hard and they genuinely care. We aren't as good as our record but we have a good team."
Christiansen played parts of four seasons in the ECHL from 2002-07. He scored 35 goals in 63 games for the Reading Royals in 2005-06. He knows the league well.
Success is always fragile at this level because of the revolving-door nature of rosters. That's in normal times. With a pandemic raging, every coach knows his team could change dramatically at any moment.
For now, Indy is at the top of the standings and Christiansen is excited about where his career has taken him.
There are signs the sleeping giant is coming to life.
---
Jason Guarente has covered the Reading Royals and ECHL for 10 seasons. He can be found on Twitter @JasonGuarente.