Men's WCHA Hockey
WCHA RinkRap: Minnesota State's Dryden McKay & His Namesake Ken Dryden
WCHA RinkRap: Minnesota State's Dryden McKay & His Namesake Ken Dryden
Minnesota State's Dryden McKay is playing a lot like his namesake these days — the legendary Ken Dryden. Hear more about the Maverick's latest exploits.
Jan 26, 2021
by Tim Rappleye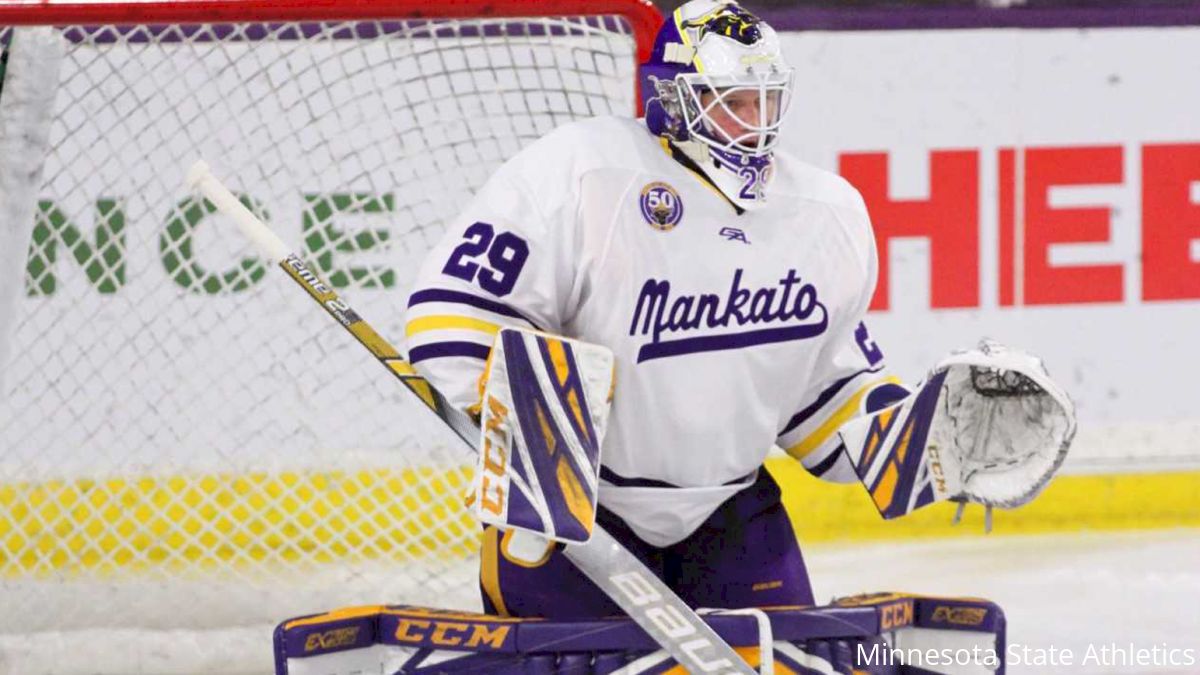 As most WCHA fans know, Minnesota State's supreme goalie Dryden McKay was named after Hall of Fame goalie Ken Dryden, a fact that resonates when you consider that McKay followed his namesake between the pipes to become an elite goalie.
It is not entirely coincidental: McKay's dad Ross is a former minor league goalie who played one NHL game. As a youth hockey goalie, Ross watched his hero Ken Dryden lead the Montreal Canadiens to six Stanley Cups. Once Ross spawned Dryden McKay in 1997, he became his son's goalie coach until Dryden McKay arrived in Mankato.
Last weekend, McKay notched his 20th career NCAA shutout against Ferris State, climbing the ranks of college hockey's all-time greats. He is now tied for third, six shutouts more than Ken Dryden logged for Cornell, a college hockey juggernaut back in the 1960s.
Statistically, the two Drydens have uncanny parallels when you compare their respective NCAA careers.
Tale of the Tape
| | | |
| --- | --- | --- |
| Ken Dryden | | Dryden McKay |
| 83 | NCAA GP | 81 |
| 1.59 | GAA | 1.45 |
| 0.939 | SV% | 0.936 |
| 14 | SO | 20 |
| 94.4 | Win % | 82.3 |
In addition to their uncanny statistical symmetry, they both encountered a similar challenge from tending goal for teams that frequently dominated the opposition (see the chart's staggering win percentage). The two goalies often found themselves facing no action for swaths of game time. For example, McKay faced but a single shot in two of the six periods in MSU's sweep of Ferris. The ability to stay focused through long periods of inactivity is particularly challenging for goalies, who often need to feel rubber bullets to stay sharp. McKay got plenty of help from his father in combatting the mental fatigue.
"He taught me some tips when I was younger," said McKay, who proceeded to reel off Ross McKay's pointers for bored goalies: "Going for a little skate; doing your own skating in the crease; talking to your defensemen; playing the puck; just do something that keeps you involved in the game — then you'll find you stop that next puck when it comes."
Ken Dryden's most famous game was one in which he faced a mere 13 shots, a game the superstar still laments. It was the historic 1975 New Year's Eve exhibition versus the Soviet Red Army. His Montreal Canadiens outshot the Soviets 38-13 but had to settle for a 3-3 tie. Despite winning six Stanley Cups, Dryden remains haunted by that historic game, one in which he recorded only 10 saves. He was bettered that night by another Hall of Fame goalie, the immortal Vladislav Tretiak.
After that painful New Year's lesson, Ken Dryden went on to win four straight Stanley Cups. He learned to master those long stretches of inactivity, as described in his book Scotty. In this passage, Scotty Bowman spoke to Dryden's mental prowess. "We had no goalie coaches then," said Bowman in a conversation with Dryden the author. "I always talked about how you could concentrate; when the game started, you'd get into a zone. You'd be there to make the big saves, the right save at the right time."
Namesake Dryden McKay has also made a habit of quality over quantity between the pipes, fighting through those aggravating stretches of inactivity. His supreme focus has helped Minnesota State remain college hockey's winningest team during the Mike Hastings era. Playing on a powerhouse took some adjusting for McKay; the season before he arrived in Mankato he was playing for a losing Madison Capitals junior team.
"I don't think there were many games when we didn't give up at least 30 shots," said McKay. "It was something I had to get used to in college, definitely a big change."
Of his school-record 20 shutouts, 11 have come in games where there have been fewer than 20 shots on goal. He remains proud of them all, because they represent collective achievement.
"Anytime you go a full 60 without giving up a goal, it's a pretty cool feeling," said McKay. "Most of them have been team shutouts, as far as how well we've been playing defensively."
Protégé Dryden has done his homework on the NHL hero with whom he shares a name. Surprisingly, it is not the six Stanley Cups that tops his list.
"I know that he was the first goalie to win the Conn Smythe (playoff MVP) before the Calder (Rookie of the Year). That's probably my favorite stat."
There is one college award that the elder Dryden owns and that the younger still seeks. Fifty-four years ago, Ken Dryden led Cornell to the NCAA championship. McKay has at least one more crack at equaling his namesake in that greatest of all college hockey accomplishments— the national title.
---
Tim Rappleye is the author of two books: Jack Parker's Wiseguys and Hobey Baker, Upon Further Review. You can find him on Twitter.