This week on RinkRap, Bowling Green's hockey program reaches a magic milestone as it unveils another Hobey contender, Minnesota State transfer Sam Morton punctures the scoresheet at last, and a bow to a hockey ambassador from the Land of the Rising Sun.
The 2018 departure of Bowling Green head coach Chris Bergeron and its inspirational power forward Lukas Craggs brought out the doubters regarding the Falcons' hockey fortunes. Long-time assistant coach Ty Eigner had spent no prior time behind the bench as an NCAA head coach and was taking over a team that had stumbled down the stretch in 2018.
A year and a half later, Bowling Green hockey is bathed in light. The Falcons are now a top-10 team, leading the nation with 12 Division I wins. On Saturday night, the program recorded its milestone 1,000th NCAA victory, only the second wcha school after Michigan Tech to reach the millennium mark. College hockey's most influential fan, ESPN's John Buccigross, gave a lengthy testimonial to the Falcons after they swept rival Northern Michigan.
Few know #cawlidgehawkey like @Buccigross. #AyZiggy #CongratsOn1000 pic.twitter.com/zdg6xz8lWU

— Bowling Green Hockey (@BGFalconHockey) January 17, 2021
Eigner has been with the club for 300 of those victories — as a player, assistant, and now head coach.
"We just felt like it was a really cool thing, a chance to sit back and think about what Bowling Green hockey has meant to this university and this community — it's really cool," said Eigner. "We've had a program for just over 50 years, so that's nearly 20 wins a year over the course of 50 years, which is a pretty cool accomplishment."
A program's greatness is measured historically by Frozen Fours, Hobey Baker Awards, and for the special few, alums who played in the Miracle on Ice. The Falcons have two checks in each of those boxes, including the 1984 NCAA Championship. Bowling Green now has a new Hobey Baker candidate: the electric Will Cullen. Filling the vacuum created by departing All-American defenseman Alec Rauhauser, Cullen's offensive flair is generating his own ripples of attention.
The school does not have a PR machine comparable to Notre Dame or the Big Ten schools, but Cullen's mad dashes within the attacking zone are creating a cache of highlights that speak for themselves.
So what do you think @ESPNAssignDesk? #SCTop10 worthy? Did we mention it helped clinch the program's 1,000th win?#SCTop10#SCTop10 #SCTop10 #SCTop10#AyZiggy pic.twitter.com/Tjb2pMfvdG

— Bowling Green Hockey (@BGFalconHockey) January 17, 2021
Despite Cullen's insistence that his instincts are "pass-first" during those forays, his ability to undress defenders — and finish — makes him an outlier within the college game, fresh air in a sport suffocating from clutch and grab defense. His five-point weekend against Northern, three of those scoring plays worthy of SportsCenter Top 10 consideration, raised his scoring total to 16 points in 16 games, vaulting him to the top of the heap as the nation's top-scoring defenseman.
BGSU assistant Maco Balkovec, who has seen several greats during his playing days at Wisconsin, compares Cullen to NHL star Drew Doughty. He concedes that it might be time to start talking about Cullen and the Hobey.
"He's so dangerous," said Balkovec. "He should be part of the conversation."
Historically, hockey suffers from the paradox that individual attention erodes team success, and Cullen gets it and speaks to it.
"I am not able to operate without my teammates putting me in a position to be successful," said Cullen in a note to FloHockey.
Following his breathtaking display this past weekend versus Northern, Cullen was awarded the club's symbolic championship belt in BGSU's raucous post-game dressing room. His acceptance was clearly more "we" than "me."
#Hobey https://t.co/OVKvRfNL8V

— Maco Balkovec (@MacoBalkovec) January 17, 2021
Cullen is not alone in Eigner's brigade of snipers whom he recruited: seniors Cameron Wright and Brandon Kruse rank second nationally in scoring with 19 points apiece, while Max Johnson is tied for the team lead with nine goals. NCAA teams led by upperclassmen usually equates to success, particularly in the postseason. Eigner, a man of integrity who bleeds brown and orange, looks to lead his alma mater into the next millennia of victories. After some speedbumps in year one of the Eigner era, Bowling Green hockey is now poised to add another banner to the Slater Arena rafters and fatten its burgeoning trophy case.
Reloading in Mankato
Last spring's departure of Minnesota State's "big three" — scorers Marc Michaelis, Parker Tuomie, and fleet defender Connor Mackey — left observers wondering if the WCHA throne might be vacant for the 2020-21 season.
But the MSU power vacuum was soon filled by committee: new recruits, transfers, and player maturity. WCHA box score watchers might have raised eyebrows this weekend when they saw the name Sam Morton jotted all over Saturday's scoresheet. In the Mavs' 6-2 victory over Lake State, Morton — a previously unknown transfer from Union college — had plenty of ink: two goals, including the game-winner on the power play, a helper, two shots, and a plus-three rating. This from a guy who hadn't notched an NCAA point in nearly two years. What gives?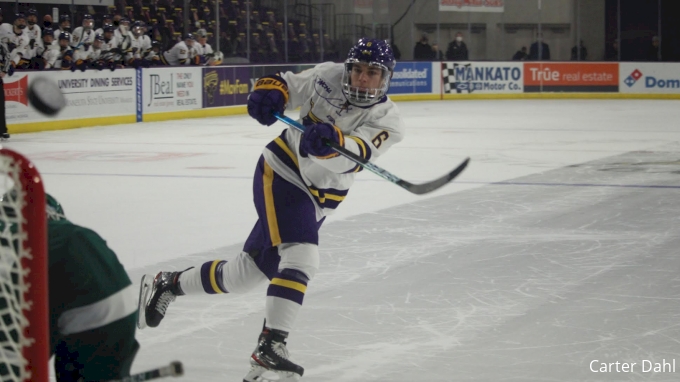 Morton was a machine over the weekend
"We were hoping he'd be able to fill a role," said Mike Hastings, whose staff had been scouting Morton since 2017, the first of his two stints in the BCHL. "Centers that see the rink like Sam does are hard to find."
Once Morton entered the transfer portal from Union College last season, Hastings made his move, bringing the skinny playmaker into Mankato. He deposited him in the David Backes weight room with two sets of marching orders: get stronger and stay patient.
"His practices were going to be his games until he was eligible," said Hastings. "It didn't bother him . . . he said, 'OK, I just want to come in, spend the time in the weight room, and try and immerse myself in what's going on here, so that I'm prepared when I get an opportunity.'"
That is exactly how it played out, with Morton watching four games from the stands as the Maverick staff deliberated with the NCAA to got him back on the ice. His debut against Bemidji, however, was not of the storybook variety.
"His first game he struggled," said Hastings. "I think the game was moving at a pace he wasn't prepared for. But his ability to adjust and adapt, in a very short window, really has impressed me."
His play improved exponentially over the next three contests leading up to Saturday's breakout, where Hastings used Morton as the "bumper" on the power play. For the uninitiated, think of rolling a five on a game die, the middle spot is the bumper, a spot where only cerebral players can thirve, finding seams in the defense and making instantaneous decisions when the puck arrives. Hastings likes what he sees from his new centerman.
"His processor, his hockey sense, is what makes him a good player."
So the winningest coach at the winningest program reloads and remains elite. Star freshman Akito Hirose quarterbacks the power play, sophomore Cade Borchadt has transformed from a scoreless freshman to the Mavs leader scorer, and transfers like Morton and Todd Burgess fill vital top-six forward vacancies.
Another year, another top-five national ranking, and the Mankato wagon rolls on. On Saturday, the Mavericks wore out Lake Superior goaltending with an astonishing 57 shots on goal. This weekend Ferris State comes to the Mayo Clinic Health System Event Center in search of its first DI win of the season. They may have picked the wrong spot.
Land of the Rising Sun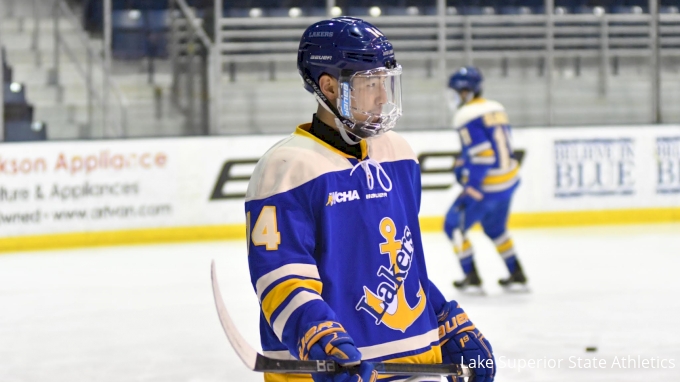 Yuki Miura in his Lake State jersey
For lovers of international hockey, Lake Superior State is a smorgasbord: impact players from Slovakia, two former Soviet states (Belarus and Latvia), not only French Canada but France itself, another old European nation (Germany) along with Scandinavia (Sweden). The Lakers are also one of only two schools in the country with a player from the Land of the Rising Sun: senior Yuki Miura of Tokyo.
Against juggernaut Minnesota State Saturday, Miura had his best game of the season, killing penalties, hunting pucks on the forecheck, and generating scoring chances often through sheer will. He managed a short-handed tally late in the second period to pull the Lakers back into the contest at 4-2. In the eyes of seasoned broadcaster Bill Crawford, Miuri was the Lakers' best player on the ice — again.
"Had a goal, protected the puck well, blocked shots, made some heady passes and plays," said Crawford. Miura's only shortcoming on the ice is something that cannot be taught — scoring touch. His ratio of Grade-A chances generated to his six career goals is wildly disproportionate.
In person, Miura is cheerful, exceedingly polite, and respectful, a true ambassador of the game and his nation. He has less than two months remaining in his distinguished NCAA career. Fans should make a point of seeing Miura dutifully ply his craft before he exits the WCHA stage.
---
Tim Rappleye is the author of two books: Jack Parker's Wiseguys and Hobey Baker, Upon Further Review. You can find him on Twitter.