Atlantic Hockey 2020-21
AIC Head Coach Eric Lang Discusses The Rise Of Yellow Jackets Hockey
AIC Head Coach Eric Lang Discusses The Rise Of Yellow Jackets Hockey
FloHockey caught up with AIC head coach Eric Lang to talk about the rise of the Yellow Jackets in Atlantic Hockey.
Jan 14, 2021
by Jacob Messing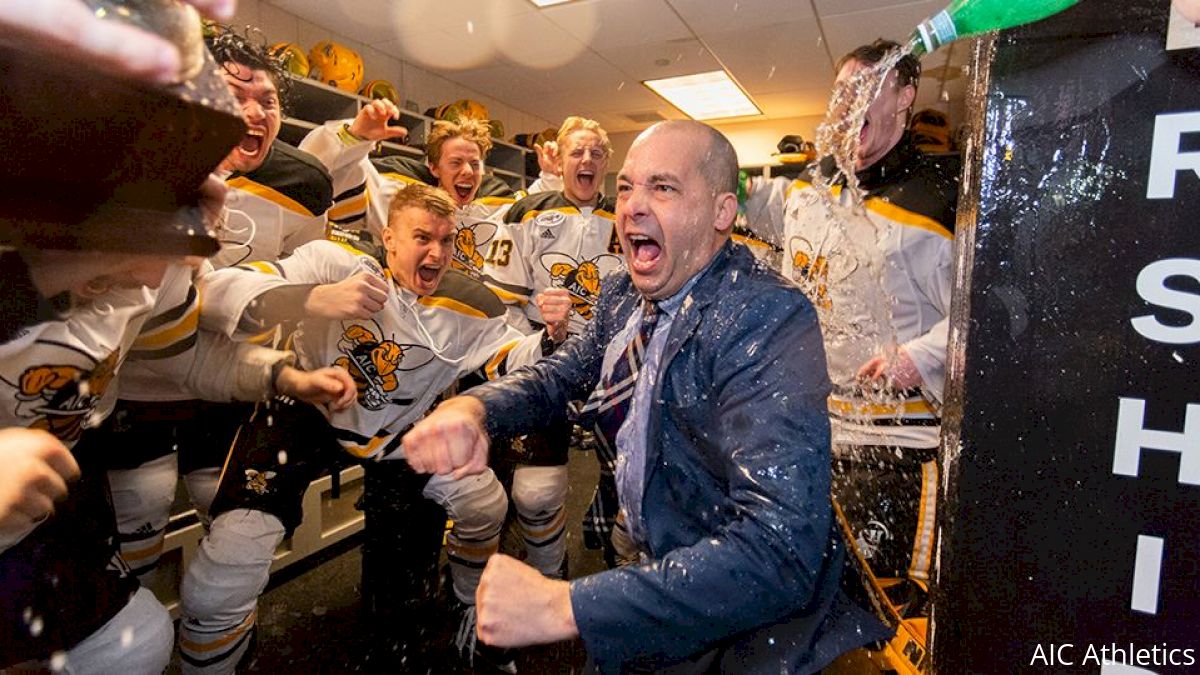 "In 2018-19 we were the only team in the country to win a regular-season championship, playoff championship, and an NCAA Tournament game. It was important for us to not be a one-hit-wonder."
Those words from Eric Lang, head coach of the American International Yellow Jackets, have proven to be true. His formula— built on defense, buy-in, and teamwork — led the Yellow Jackets to its first winning record at the Division I level since joining making the jump in 1998-99.
But before returning to his alma mater, Lang spent 10 years in four various coaching roles, accumulating experience and navigating numerous exclusive circumstances at each stop.
His first taste was as a graduate assistant at AIC. His second stint was as the head coach of the Manhattanville College women's team, followed by the same role for the men's team. Then he landed a DI role as an assistant with AHA rival Army.
"Working in Division III hockey taught me that your player pool has to be very big," Lang said. "You better know just about every player in all of North America because you are going to get told 'no' a lot. You can't win DIII hockey without DI talent on your team.
"Recruiting at Army is arguably the toughest place in the country to recruit; first you need to be American, have Ivy league grades, and upon graduation have the willingness to serve our great country. The pool of players shrinks very rapidly when you have to meet that criteria. Those are two experiences that I wouldn't trade anything in the world for."
Lang's 10 years of learning finally led to his first DI head coaching role, returning to Springfield, MA, to run the program that launched his coaching career.
When Lang took over AIC ahead of the 2016-17 season, he inherited a team that had only two double-digit win seasons over the past 13 years. It was no shock that in his first season on the bench the team failed to reach 10 wins again, finishing 8-20-8.
But the groundwork had been laid; the Yellow Jackets were going to be a relentless team with undying effort, defensive awareness, puck possession, and leadership to ensure accountability.
"We believe anybody can be great defensively if you care about winning, love your teammates, and have some grit in your game," Lang said. "Our players have great flexibility to make plays with the puck; the trade-off is we demand our players play hard away from it."
Progress was both undisputable and encouraging in Lang's second season. The Yellow Jackets went 15-20-4, their most wins since the 1992-93 season as a DIII program. Their goals-for per-game average decreased from 2.28 GF/gm in 2016-17 to 2.26 GF/gm in 2017-18; the team moved the needle by improving in their own zone.
AIC cut their team goals-against average from 3.39 to 2.97 GAA, jumping 17 programs in the category from 2016-17 to 2017-18. Lang's groundwork was now a frame — a mindset being instilled in his players with tangible results.
Enter 2018-19, Lang's third season on the bench, and AIC was on the path to its greatest DI season ever. Their defensive numbers improved for the second consecutive season (2.90 GAA), leading to a more possessive game that resulted in finishing 12th in the NCAA with 3.15 GF/gm.
The culmination of scoring, defending, and goaltending led the Yellow Jackets to a first-place finish in Atlantic Hockey, followed by a conference tournament title and a trip to their first National Tournament. In that tournament, the Yellow Jackets knocked out the No. 1 seeded St. Cloud State, flexing their defensive muscles to hold the Huskies to just one goal for a 2-1 win.
A disappointing loss to powerhouse Denver ended their season, but the program's rise was palpable. Lang credits the return of his that roster and his players' "buy-in" mentality for staving off his pledge to not be a one-hit-wonder.
"We returned our entire team from the year before that had the longest winning streak in the country, and we believed we were primed for an NCAA Tournament run."
That hopeful run, backed by another step forward with a national ninth-place finish in defensive rating (2.19 GAA), ended with the season cancellation stemming from the coronavirus pandemic.
"It was beyond disappointing — the word that comes to mind is 'devastating' — for those seniors that gave so much to the program."
But the steady evolution remained the same. The Yellow Jackets sit at 8-3 overall this season, with a .727 win percentage, which places them seventh nationally among teams to have played 10 games. Nationally, Lang's team had the second-best win percentage in the calendar year of 2020. The best is yet to come for AIC, which Lang said was "begging people to play here four years ago."
"I am extremely proud because we believe we have developed AIC Hockey into a destination," Lang said. "At one point AIC was your last resort to play D1 hockey. Now we are getting some of the top players from all over the world and we are very proud of that."
---
Have a question or a comment for Jacob Messing? You can find him on Twitter @Jacob_Messing.