ECHL
Family Tradition Helps Moynihan Capitalize On His Incredible Second Chance
Family Tradition Helps Moynihan Capitalize On His Incredible Second Chance
Danny Moynihan is lighting up the ice after a health condition forced the forward into temporary retirement. Hear more about his story here.
Jan 11, 2021
by Mike Ashmore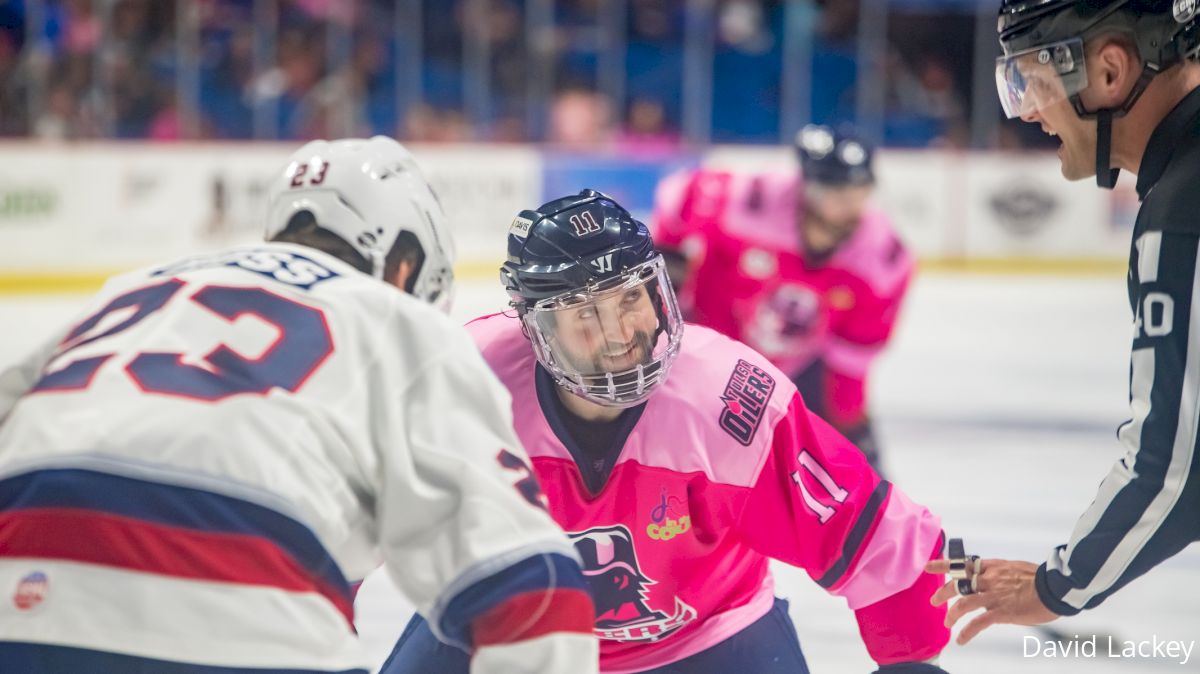 Improbable as it may have seemed just three years ago, Danny Moynihan is keeping the family tradition alive.
The Tulsa Oilers forward can be seen in his fourth ECHL season exclusively on FloHockey, but has had two cousins, an uncle, and even his own brother suit up for various teams in the league over the years.
"I kind of grew up in a hockey family," Moynihan explained in a recent phone call with FloHockey.
"Ever since I was a little kid, I was bouncing from rink to rink . . . I was lucky enough to play with my brother, Connor, last year in Tulsa for a little bit. It's a big hockey family in general, and yeah, it's kind of funny that we've all spent some time in the ECHL."
Connor Moynihan, who played for the Indy Fuel as well as the Oilers over the past two years, and his cousins — Chuck Tomes played in 30 games over parts of three seasons with the now-defunct Columbia Inferno, and Scott Tomes played for the Cincinnati Cyclones during the 2006-07 campaign — are surely proud of the start that Danny Moynihan has gotten off to this season with Tulsa.
In his first seven games, Moynihan has potted four goals while adding two assists, and the 25-year-old finds himself on pace for a career year even with a shortened season.
"I've had a solid start, and I think my offseason, I put a lot of hard work in even though everything was kind of limited with just getting on the ice and gyms being closed there in the beginning," he said.
"I think we're playing really well as a team right now too, and that hard work is there as a team. We're still trying to fine-tune some things system-wise, but my linemates are playing well, which is really helping me out a lot, and hopefully we can keep things going here."
While it was a productive offseason for the Boston native, it was, as he alluded to, also a difficult one. With the prior year having been shortened due to the pandemic, and many players unsure when this season would start or if there would be one at all, it presented a unique challenge on just when the skilled winger should start amping up his training.
"Everyone was kind of waiting to hear news on when everything was going to start, and messaging each other on if they'd heard anything, that type of thing," he said. "I took a few weeks off, and then I got right back into it at the gym until I could find ice again. That was probably the hardest thing, I was off the ice for the longest I'd ever been in an offseason. Gym-wise, I was able to get back into as soon as I could, and then when ice started opening up, I hopped up on at least three or four times a week so I could focus on the upcoming season whenever it was going to happen."
A tough offseason is, of course, better than a season off, something Moynihan unfortunately knows all too well.
Via his @dannymoynihan12 Instagram account, he abruptly announced his retirement at just 22 years old in an emotional October 2018 post that read: "The last several weeks have been an extremely difficult time for me and my family. After an on-ice incident this summer I was diagnosed with a heart condition that has forced me to retire from the sport I love. I want to thank all of the amazing people and life-long friends I have met along the way who have made my journey so incredible. I will always treasure the experiences I have had and how extremely blessed I am to have made so many special memories. I miss hockey every day that goes by. Hockey is such an amazing sport and it's extremely hard to say goodbye. I will miss it forever."
Incredibly, "forever" only lasted eight months.
"Sometimes life gives you second chances," he posted in a June 2019 update on Instagram. "I am excited to say I have been officially cleared to play hockey next season by the amazing team at Massachusetts General Hospital. I made the tough decision to retire after the initial diagnosis last fall. However, after much additional testing throughout this past year, I am cleared to play again with no restrictions. It goes without saying how excited and grateful I am and can't wait to see what the upcoming season brings!"
It's safe to say Moynihan has made the most of his second chance. After a standout year each with the Alaska Aces and Kalamazoo Wings – not to mention an 11-game stint with the American Hockey League's Utica Comets – he picked up right where he left off after getting cleared last season, his first with the Oilers, in which he posted a 19-24—43 stat line in just 53 games.
"Last season, that was my first one back, and I didn't get to play the year before," he said. "I wasn't sure if I'd ever get to play again, but I got cleared by doctors and everything is fine now. I don't even know how to explain it, it almost made me want it even more when I got that chance to play again and I was able to train and skate. It gave me that sense again of, 'All right, it's go time, let's really focus down and work hard and see what happens.' I really worked hard, and my goal was to have the best start I could and my main goal was to try to get a call-up in the AHL. That was my goal if I ever got another chance."
He not only got his chance, but he achieved that goal, earning a four-game stint with the AHL's Manitoba Moose where he lit the lamp for the first time at the highest level of the minors.
"I ended up scoring in my first game, and that was really just a big accomplishment for me," Moynihan said. "Ever since that season I didn't play, there's been that mindset of just giving it your all. I've always been like that, but there's a little bit extra after not being sure if I would ever get to play again . . . it definitely drives me. I think players sometimes take hockey for granted, and they don't always understand how lucky you are to be playing the game that you love. When I wasn't playing, I was able to step back and realize that maybe I took it for granted a little bit. When I got that chance to play again, I just put everything I had into it, and I still have that same attitude."
That attitude — combined with his early production — makes him an excellent candidate to once again get an opportunity at the next level in the AHL this season. A condensed season, as well as a February start date in that league, will make once again achieving that goal a challenge, but Moynihan has certainly proven he should never be counted out.
"You're always trying to work your way up and get to that next level," he said. "I want to say this year isn't really any different for me, I'm just trying to stay focused, trying to have a good start in Tulsa and just try to improve on the year before. Once that time comes where the AHL starts up and there's injuries or they need players, hopefully I would have shown them what I can do."
---
Mike Ashmore has 17 years of experience covering professional and college sports. You can follow him on all social media channels at @mashmore98.